Some of the links below are affiliate links, meaning that at no additional cost to you, I will receive a commission if you click through and make a purchase. For more information, read my full affiliate disclosure here.
Looking for a wireless dog fence in which your large dog can run free without running away? With so many invisible fence options, I am trying this one.
Let's face it, containing large dogs is not easy.
Whether you live among the hustle and bustle of an urban metropolis, in a quiet family-friendly suburb, or out where the nearest grocery store is the Food Mart 20 miles away, you need a way to contain your dogs, safely and humanely.
While a physical fence is ideal for large dog owners, it is not always possible. Not only can cost and labor be a deterrent to erecting a physical fence, but considerations such as HOA rules, neighbors, and property landscape can also affect a dog owner's ability to put one up.
In the fall of 2020, we bid farewell to our fenced-in ⅓ acre suburban lot in Arizona and moved to West Michigan where towering evergreen trees and wild deer and turkeys outnumber humans by about 1000:1. Our property in Michigan consists of 7 acres of thick pine and hardwood forest with an inflexible HOA that forbids physical fences.
What is a Big Dog Mom to do?
If you, like me, are unable to reliably contain your dogs with a physical fence, we face a very real dilemma.
A dog fence dilemma can determine not only the safety and security of your dog but also the harmony with which you live in your community.
Pet Containment System Wish List
If you are asking, "What is the best invisible fence for dogs?" you are not alone. I am on a quest to answer this very same question.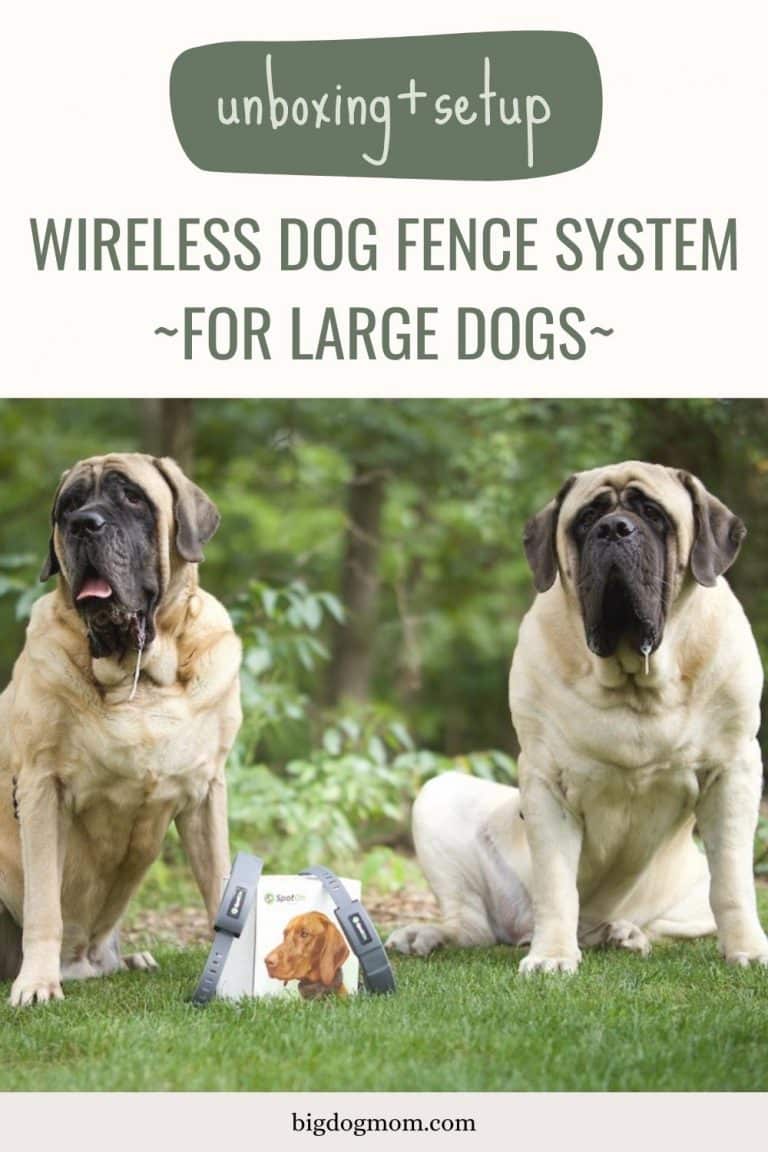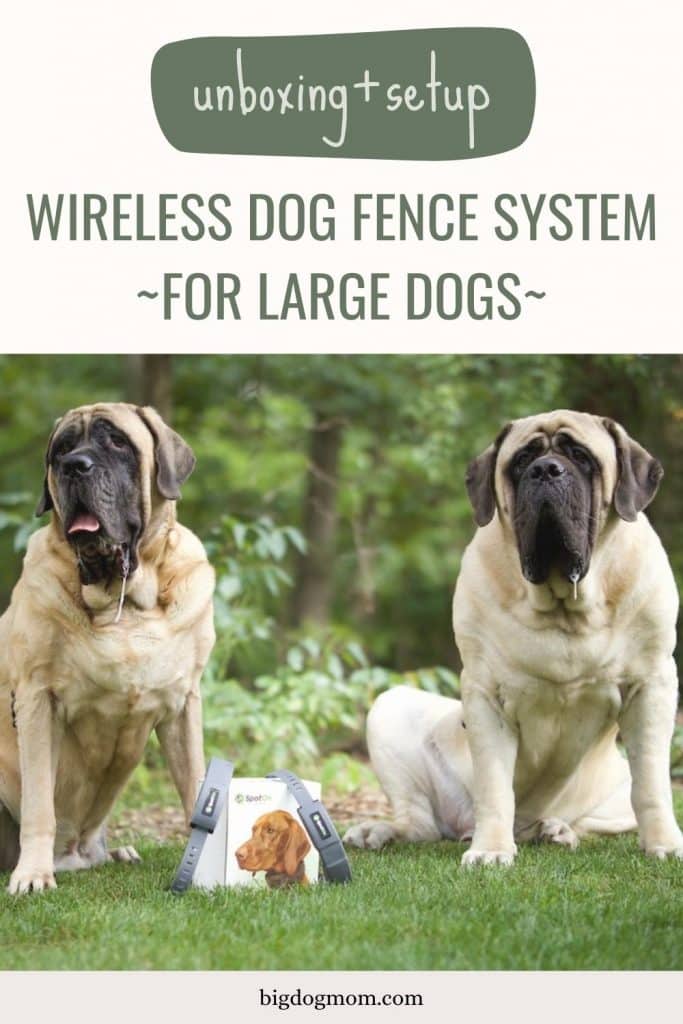 However, to begin we must start with what we are looking for. Keep in mind, that this list may be different depending on you, your dog(s), and your property.
The following is my wish list for a quality pet containment system for my Mastiffs, Junior and Sulley:
Wireless – Ideally, we won't have to bury wire over 7 acres of woods.
Works in a heavily wooded area
Gives my dogs the freedom to access the majority of the 7 acres
Collars that will fit my huge dogs' necks
Easy to set up
Customizable notifications – I am not interested in a shock collar and want to be able to use sound and vibration to alert my dogs when they are near the boundary.
Customizable boundary – our property is an irregular rectangle with a plethora of obstacles
Cheaper than building a physical fence
USA-based company with great product reviews
Unobtrusive to our neighbors and their property
Reliably keep my dogs from greeting pedestrians and dogs on the private drive at the end of our driveway
While I am an experienced dog trainer, I want support for positive training and avoidance of the use of stimulation
Non-subscription-based – I avoid monthly payments when possible.
This list is not exhaustive, but it gives you a sense of just how much I will be requiring of whatever pet containment system I purchase.
What is on your wish list? Do you travel with your dog and need a containment system you can take with you? Share in the comments your pet containment system wish list
Author Notes
SpotOn kindly sent Junior and Sulley their new Gen 2 SpotOn GPS Fence dog collars to test out and share our experience with the big dog community. Like all sponsored content on Big Dog Mom, however, all of the information I am sharing is based on our experience and my opinions – the good and the bad.
So Many Invisible Fence Options
Over the last two years, I have researched every available wired and wireless dog fence product on the market. And after reviewing their pros and cons for our specific property and large dogs, I've come to the realization there is no perfect system out there.
That said, here is a short list of dog fence categories that are on the market for you to choose from:
Wired invisible fence
Wireless invisible fence
GPS wireless dog fence
Geofence for dogs
Remote dog collar
Tracking collars for dogs
Subscription-based pet containment systems
Circular invisible fence around a base
Pet containment systems with a base
Pet containment systems without a base
With so many options to choose from, you may be wondering why I selected the one I did for Junior and Sulley, but the truth is I selected a few.
The first was a placeholder just in case my top pick didn't turn out. Let me explain…
After days and days of research and endless rabbit holes of knowledge gathering, I selected SpotOn GPS Fence as my top pick. It had absolutely every feature I was looking for, including a referral from a friend in Wisconsin who raved about it for her Australian shepherd.
Unfortunately, the SpotOn size large dog collars only fit dogs with a neck size up to 26," which would work for Sulley, but not my melon-headed Mastiff, Junior. Months ago, I reached out to them to see if the company had, or would consider, plans to offer collars in a larger size to accommodate the plus-sized in our big dog community. If not, I asked if it would be possible to extend just one collar for Junior.
As I eagerly waited for an answer from the SpotOn manufacturing team, I still needed a solution to our Mastiff containment dilemma.
I reached out to Invisible Fence®, the company, and had a representative come out and give me a quote on what it would cost to have them install the wire, should we choose a wired option. Invisible Fence® does not just offer wired dog fences now, they have a few wireless systems now as well, all of which use a base station.
For our individual dogs and property, the only workable option from Invisible Fence® was going to be a wired system. But unfortunately, the cost and labor required to bury a wire on our property would cost almost as much as a physical (above-ground) dog fence! The quote I got back for the wired invisible fence was, to put it conservatively, high.
Scrap that idea…
So as I waited for an answer from SpotOn, I found a less expensive secondary option #2, a remote-operated collar that came with an extended size for Junior. From what I can remember, the remote device operates similarly to a Garmin system – as the dog approaches the boundary, you can trigger a sound or vibration notification with the remote. I purchased the collars and remote and got so far as to put out blue flags around our entire 7 acres, a sweaty and inconveniently timed task as all the underbrush was in bloom in the early spring.
Once I got to that point, I came to the realization that the cons of the remote-controlled dog collars simply outweighed the only pro; cheap cost. It was just not a workable or reliably effective option for our property or dogs… or, let's face it, Big Dog Mom.
By the grace of God, the SpotOn manufacturing team are geniuses! They were able to rig up a workable extension for Junior's collar. The elation that followed that awesome news was nothing short of winning the $1 Billion lottery jackpot!
Alright, that may be a stretch… but I was VERY excited.
You may be wondering why, with all of the other decent options out there, was I SO emotionally invested in getting SpotOn GPS Fence to work for us.
Why SpotOn Dog Collars?
Of the plethora of pet containment system options on the market, SpotOn GPS Fence was my top pick for several reasons.
First, on paper SpotOn met nearly every one of the qualities on my wish list. No buried wires. Customizable. No base station. Works in heavy tree coverage. USA-based company and product. In many ways, it seemed too good to be true. There had to be a catch.
No catch. A friend in Wisconsin purchased a SpotOn Virtual Fence for her Australian shepherd and raved about how well it worked for them on their wooded lot at the lake house as well as her home in Green Bay. For them, the ability to set several different fences into the collar was key.
Beyond all of that, the opportunity to work with a USA-based company that both accepted the challenge of Mr. Melon Head and far exceeded expectations with a workable solution is a true blessing and honor for Big Dog Mom.
SpotOn Wireless Dog Fence
So what is a SpotOn dog collar? What makes it unique compared to the other invisible fence dog containment systems on the market?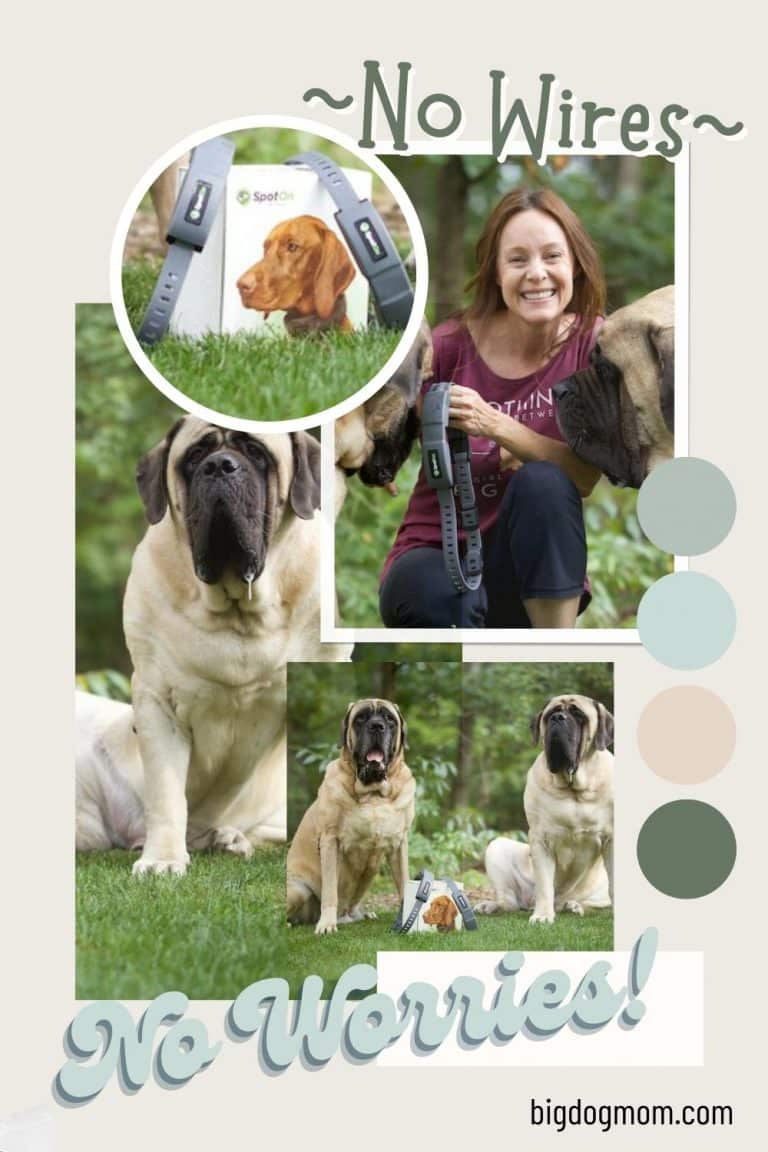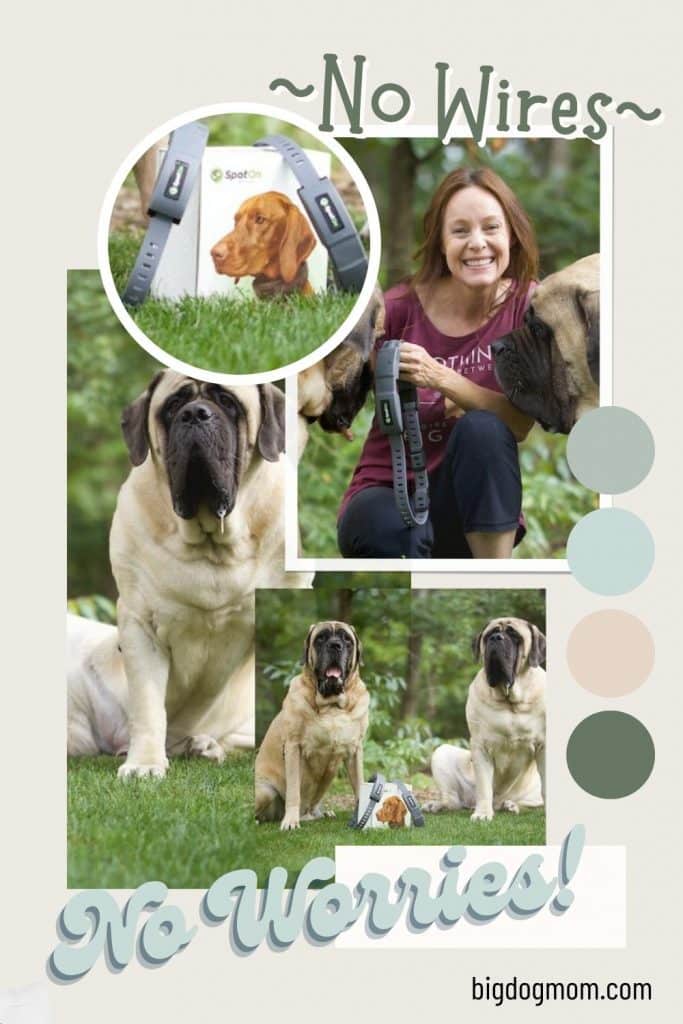 According to the company, SpotOn GPS Dog Fence is the #1 Rated dog collar fence on the market.
"Welcome to a life unleashed. SpotOn puts the easiest, most advanced GPS fence in the palm of your hand. Our next-generation GPS dog fence swaps buried wires with True Location™ GPS technology so your dog can run free, without running into trouble."

SpotOn GPS Fence
With no boundary limit, SpotOn GPS Fence offers flexible, reliable GPS dog fences on properties from ½ acre to 1,000s of acres.
With multiple patents on the most advanced technology in GPS dog fences, SpotOn offers the most accurate GPS coverage and the most flexibility in features such as customization, creating multiple virtual dog fences, and offering a subscription-optional tracking plan.
SpotOn is a virtual dog fence with an attractive, waterproof collar that is entirely portable when you are on the go or a secure and reliable boundary when you are in the comfort of your home.
And lastly, the one feature of SpotOn that makes it truly unique and revolutionary, is its ability to provide GPS coverage for multiple dogs in heavily wooded areas.
In full transparency, these are all just promises at this point. Marketing. And on my part… hope.
After receiving our package a couple of weeks ago, I unboxed our SpotOn GPS Dog Fence collars and, after waiting many days for sunshine, set up our new Big Dog Home virtual dog fence.
Now that we have our new SpotOn GPS dog fence set up, I'm in the process of marking out strategic areas of our property with 21″ white flags for a visual cue for Junior and Sulley and training them to recognize their new boundary and learn what the sound and vibration mean when they hear/feel them.
If you would like to see my unboxing of the SpotOn GPS Dog Fence and how I set up our new wireless fence for large dogs, check out the video below.
Spoiler alert… be prepared for some laughter at Big Dog Mom's expense.
VIDEO: Will SpotOn GPS Dog Fence Work for Large Dogs? | Unboxing & Wireless Dog Fence Setup [INITIAL REACTION]
Interested in SpotOn GPS Dog Fence For Your Large Dog?
If, based on all of this information and what you see in my video, you already know you want to buy your large dog his/her own SpotOn GPS Dog Fence, here are some additional features you will want to know about!
SpotOn offers:
With my unique discount code, BIGDOGMOM, you can get a $100 discount right from the start! Simply add the code at checkout for immediate savings!
Save 15% on multi-dog purchases
Military, Veterans & First Responders get 15% off
Pay over 12, 18, or 24 months with several financing options if you need them
Free shipping (US only). All orders ship within 7 days.
45-day money-back guarantee with no restocking fee.
1-year warranty.
Full SpotOn GPS Wireless Dog Fence Review
As you can see, we are just in the infancy stages of using our SpotOn dog collars and wireless dog fence, so I am not in a position to tell you whether or not the system has earned its place on my Big Dog Mom's top picks list.
Time and experience with the SpotOn dog collars will be revealing.
Be sure to stay tuned to Big Dog Mom here and on YouTube where I will be sharing much more, the good and the not-so-good based on our honest review of using it with two giant breed dogs.
Do you have a wired or wireless dog fence for your big dog? Which one did you get and why? Do you like it? Let me know in the comments your experience with pet containment systems and what questions you have about SpotOn that I can answer in a future blog post or video.