Some of the links below are affiliate links, meaning that at no additional cost to you, I will receive a commission if you click through and make a purchase. For more information, read my full affiliate disclosure here.
With so many wireless dog fence options, which one is best? Narrow your search with the top 10 cutting-edge features of SpotOn GPS Dog Fence.
Pet Containment
Containing a large dog on a property where you either can't or are not allowed to build a physical fence is not easy.
And, while we want our dogs to feel at home as members of our family, it is our responsibility as big dog owners to keep them safe.
This starts with containment.
If you are like me and unable to build a physical fence for your large dog but need a reliable solution for containment, keep reading.
In this post, you will learn:
The difference between a GPS dog fence, a wireless (invisible) dog fence, and an electric dog fence,
Why large dog owners should consider a GPS fence over other pet containment systems,
What a GPS dog fence is and how it works,
What makes SpotOn GPS Dog Fence unique among other virtual dog fence pet tech on the market, and
The cutting-edge features and benefits of SpotOn GPS Fence for large and giant breed dog homes.
Let's dive in…
Author Notes
SpotOn kindly sent Junior and Sulley their new Gen 2 SpotOn GPS Fence dog collars to test out and share our experience with the big dog community. Like all sponsored content on Big Dog Mom, however, all of the information I am sharing is based on our experience and my opinions – the good and the bad.
Invisible Dog Fence Options
Before we take a deep dive into the SpotOn GPS Dog Fence, I want to take a moment and delineate the plethora of dog fence options you have.
Keep in mind, this is not meant to be an exhaustive list or a comprehensive study of the dog fence marketplace.
Instead, here is a quick high-level summary of the different categories of invisible dog fence options and how they compare. I have included an asterisk (*) where only some of the products in the category have the feature, while others do not.
| | | | | | |
| --- | --- | --- | --- | --- | --- |
| Features | GPS Dog Fences | Electric Dog Fences | Wireless (Invisible) Dog Fences | Remote Collar Dog Fences | Wired (Invisible) Dog Fences |
| Buried Wire | | ☑️ | | | ☑️ |
| Base Station | | ☑️ | ☑️ | | ☑️ |
| Remote Operation | ☑️* | | | ☑️ | |
| GPS Satellite Operation | ☑️ | | | | |
| Circular Perimeter | ☑️ | ☑️ | ☑️ | | |
| Large coverage area | ☑️ | | | ☑️ | ☑️* |
| Mobile App | ☑️ | ☑️* | ☑️* | | ☑️* |
| Training Provided | ☑️ | ☑️* | ☑️* | | ☑️* |
| Works in dense tree cover | ☑️* | ☑️ | ☑️ | ☑️ | ☑️* |
| Transportable | ☑️ | | | | |
Is a GPS Dog Fence Right For You and Your Large Dog?
We all have different needs and priorities when it comes to dog fences. For us, the choice to go with a GPS dog fence was an easy one.
For others, it may not be as straightforward.
So, if you are in the market for a pet containment system, but still aren't sure if a GPS dog fence is right for you and your large dog, here is a short survey to help you find your answer.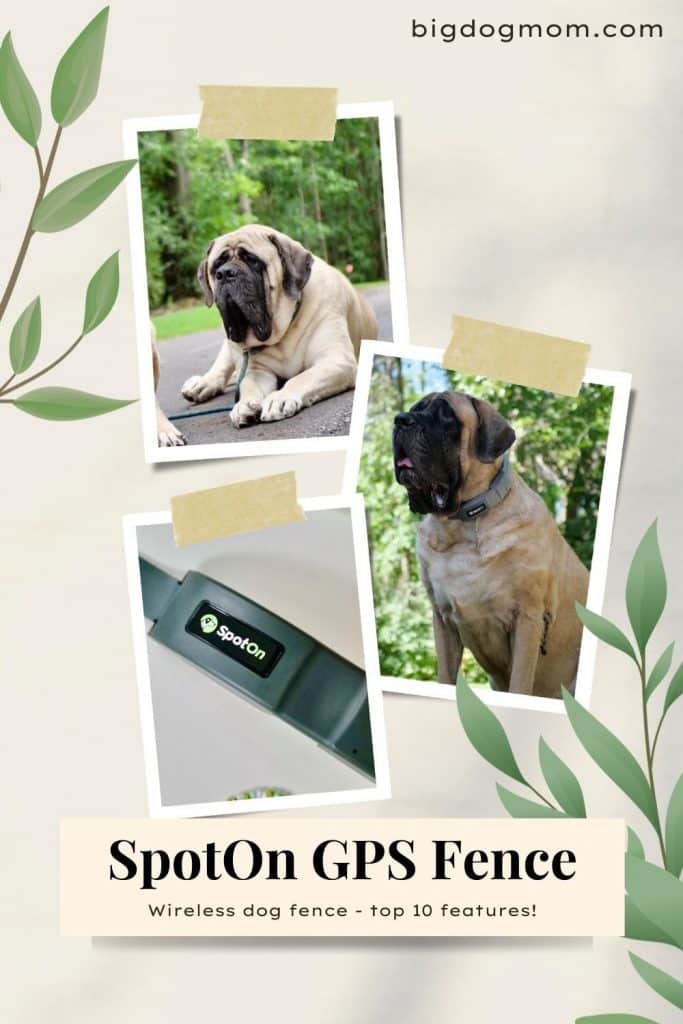 Answer YES or NO to each question or statement.
____ Burying an underground wire on my property would be hard and/or impossible given the space and/or terrain.
____ I like to travel with my dog and want to have a fencing option while we are away.
____ I need a dog fence with a simple setup and user-friendly operation.
____ Accuracy and reliability of my dog's boundary are extremely important. I do not want to worry about false corrections.
____ My property is irregularly shaped and I need to be able to customize my dog's boundary.
____ I have over a half-acre of land that needs to be fenced in for my large dog.
____ I would like help and support training my dog.
____ I would like to be able to track my dog's movement when he/she is out of sight.
If you answered yes to most, if not all, of the questions, a GPS dog fence will be a wonderful fit for you and your big dog!
Congratulations!
Still not sure? Read Top 5 Things to Consider Before Choosing a Wireless Dog Fence.
What Makes SpotOn GPS Dog Fence Unique?
Now that you know a GPS dog fence is right for you, let's get right into the 10 cutting-edge features about the SpotOn GPS Dog Fence in particular that make it uniquely suited for large and giant breed dog homes.
These features are in no particular order.
VIDEO: 10 Ground-Breaking Features of SpotOn GPS Fence | Wireless Fence for Dogs | EASY Boundary Training
1. Superior Satellite Connections
The SpotOn GPS Fence, and by extension the collar itself, is connected to more satellites simultaneously than any other GPS Fence pet tech on the market (other pet tech can access only one at a time).
These include 25-30 satellites across four global constellations – namely GPS, GLONASS, Galileo, and BeiDou.
Let's take this one by one to get a better understanding of the cutting-edge technology contained in the SpotOn GPS Fence collar.
GPS
According to NASA, "The Global Positioning System (GPS) is a space-based radio navigation system, owned by the U.S. Government and operated by the United States Air Force (USAF). It can pinpoint a three-dimensional position to meter-level accuracy and time to the 10-nanosecond level, worldwide and 24/7." (1)
GLONASS
GLONASS is a complementary as well as an alternative option for an operational navigation system with related precision and full coverage. It is a satellite-based navigation system operated by the Russian Aerospace Defence as an alternative to the US-based NAVSTAR.(2)
GALILEO
Like the US and Russia, Europe has its own global navigation satellite system comprised of 26 satellites in all.
Galileo provides a highly accurate global positioning service currently under civilian control in the European Union. It is interoperable with GPS and Glonass and can deliver real-time positioning accuracy down to the meter. (3)
BEIDOU
The BeiDou Navigation Satellite System (BDS) has been independently constructed and operated by China and provides all-time, all-weather, and high-accuracy positioning, navigation, and timing services to global users. (4)
As it turns out, less is not more when it comes to GPS signals. More is more.
The more satellites the GPS collar is connected to simultaneously, the more accurate the GPS signal and the more accurate and consistent your fence boundary will be.
Additionally, SpotOn GPS Fence has a patent on True Location (™) Technology, which builds on conventional GPS and makes it better.
According to SpotOn, their patented True Location™ Technology does this "by gathering the GPS data from motion sensors in the collar that tracks your dog's trajectory, speed, and acceleration and applying patented AI to position your dog's true location with more accuracy than other GPS fences."
In addition to drastically improved accuracy, True Location(™) Technology results in drastically reduced false corrections and never requires calibration.
For more information on this cutting-edge technology, read, Why is SpotOn GPS Fence the most accurate GPS dog fence?
2. Noise-Resistant Antenna
Containing a dog within a virtual fence is only effective with the ability to remove GPS's inherent limitations such as drift, multi-path signals, and interference.
SpotOn has an "active" GPS antenna that dynamically filters out GPS signals affected by trees, buildings, or the horizon, as well as signals like LTE or radio frequencies that cause interference, resulting in less GPS drift and more precise boundaries.
Why is this important?
Imagine you are sitting in a noisy restaurant with your kids and trying to carry on a conversation. The hustle and bustle around you make hearing them difficult.
It doesn't take long before words are taken out of context and misunderstandings ensue. Time is then wasted trying to figure out what went wrong and why.
When you eliminate the background noise, however, words are able to be heard with clarity and precision.
Essentially SpotOn tunes out GPS signals that aren't as accurate… the background noise.
This unique feature generates more reliable fence boundaries and can enable you to pinpoint your dog's location with more accuracy to within three feet with updates every 6 seconds.
3. Subscription Offered, NOT Required
SpotOn GPS Fence offers an optional, inexpensive monthly tracking plan on either Verizon or AT&T which will alert you if your dog goes outside of his fence and show you where he is at all times.
The SpotOn GPS Fence app enables you to see your dog's location with the touch of a button. Furthermore, if you have a cell subscription and your dog leaves the fence, you'll get a notification and SpotOn will automatically start tracking- updating your dog's location every six seconds.
With other GPS dog fence companies, subscriptions are required for their fences to work.
Not with SpotOn!
This, in my opinion, is an extraordinary feature of SpotOn.
I loathe being nickeled and dimed to death with monthly payments and add-on expenses, so I love that SpotOn GPS Fence offers the full functionality of their entire dog fence system for one price without charging a monthly subscription.
In terms of functionality, when I have good reception, the tracking is both timely and accurate. As soon as I trigger the boundary with one of my Mastiff's collars I get an immediate notification that he has left the fenced area and asks if I want to continue to track him. When he (the collar), is safely inside the fence, SpotOn asks if I want to continue to track him.
Unfortunately, spotty cell service where we live has limited how much I have been able to test out this amazing feature. But when it works, it's awesome!
We basically live on 7 acres of thick forest with a small area carved out for our house and a garden.
This towering tree coverage brings me to feature #4.
4. Forest Mode
SpotOn is the only GPS dog fence with a setting designed specifically for dense tree cover.
Forest Mode allows you to increase the GPS sensitivity in areas where the signal may be inconsistent, such as in extremely dense tree cover.
I keep Forest Mode on Junior's and Sulley's SpotOn collars and have been extremely impressed with how accurate and consistent the performance of our GPS dog fence has been.
Here's how it works.
If your dog is outdoors and under trees, brush, or bushes coverage without Forest Mode activated, SpotOn's indoor detection algorithm may (mistakenly) think your dog is indoors, I.e. under the roof in your home, and disable the boundary tones, vibration, and static correction.
This feature is to prevent your dog from being corrected accidentally in your home if you leave the collar on him.
When Forest Mode is on, however, the indoor detection is turned off and the tones, vibration, and static correction will not be disabled.
All alerts will be active, and your dog can enjoy more time outdoors under the trees without the worry of boundaries becoming unreliable.
The only thing you will want to do if you need to use Forest Mode as we do is take your dog's collar off when you bring him indoors.
While Junior and Sulley have had their collars on in our house for short periods of time without issue, I do take them off when they come in from being outside.
5. Long Battery Life
While the SpotOn GPS Fence dog collars do need to be charged nightly, I have had no issues with battery life during the day.
With the tracking enabled, SpotOn says their battery will last 12 hours. Without tracking, it will last up to 18 hours.
Since I use the tracking on and off just to see where the boys are for fun, ours last a pretty consistent 12 hours which is perfect.
For most big dog homes, this feature will be more than adequate.
With these features out of the way, let's move on to the actual fence creation and training.
6. 100% Customizable GPS Fence Creation
I mentioned in my unboxing and setup video and in No More Roaming Rover! A Revolutionary Wireless Dog Fence for Large Dogs, how easy it was to create a 100% customizable fence using the SpotOn GPS Fence App.
There are basically four ways to build your new GPS dog fence.
The most simple method is to create a circular perimeter from 150 feet to 950 feet wide. This method is perfect for simple temporary fences like when you go camping.
The second and most frequently used method is to simply walk your boundary with your phone and the GPS dog collar. As you walk, fence posts will be dropped virtually every 6 feet.
The third method for creating your customized GPS dog fence is to use the pause feature, as shown in my first video, to mark fence posts and have a virtual line drawn between them.
And the fourth method allows you to build your dog fence straight from your phone without walking your boundary.
I used the third method (pause and draw line) for creating the Big Dog Home fence in this video.
Unfortunately, once I went back to test my new fence boundary, I realized that the dogs still had access to half of our garden in the front.
In hindsight, what I should have done is walked the boundary around the garden area and reserved the pause feature for the rest of the property where I was less sure of the boundary line.
Thankfully, I contacted SpotOn and met with one of their product developers and he gave me access to their new editing feature in the app.
As you can see in this video, the new feature for editing a fence could not be more simple!
Editing a fence is accomplished by dropping new fence posts on an existing boundary line and moving them where you want. I.e. out of my garden!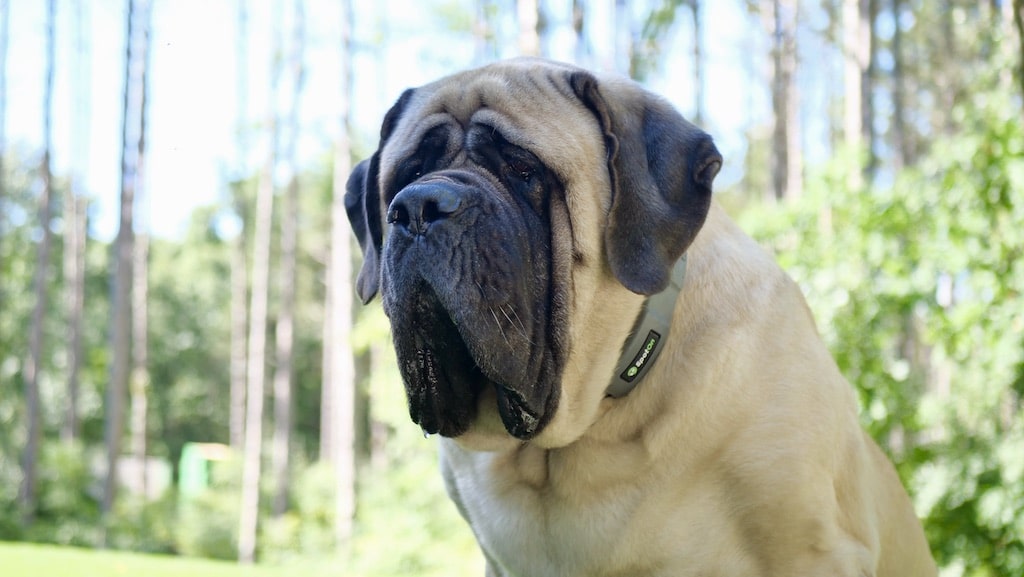 To ensure my posts were placed exactly where I wanted them, I oriented myself by holding the collar where I wanted the fence post. When looking at the app, I was represented by a large blue dot. All I had to do was then connect the dropped fence post on the line to my blue dot to extend the boundary.
If this sounds confusing, check out the entire process of editing my Big Dog Home fence in this video.
Once I figured out what I was doing, it took me about 5 minutes to edit and create my new fences.
The SpotOn GPS Fence app is simply phenomenal and I think one of the absolute best features of the entire system, second only to the GPS Fence dog collars themselves.
While we are on the topic of building and maintaining GPS fences, let's move on to feature #7.
7. Multiple Individually-Activated Fences
SpotOn is unique in the GPS dog fence pet tech world in that you can activate multiple fences individually.
Other GPS dog fences allow you to create multiple fences, but you are not able to activate and deactivate them – they are either all on or all off.
Though you can create as many fences as you like, SpotOn can store up to 20 custom fences at one time and each one can be activated individually.
With the help of the new editing feature, we now have the Big Dog Home Summer and Big Dog Home Winter which are now our two primary dog fences.
I am able to toggle from one to the other depending on whether I want the dogs to have access to our garden area.
Perhaps you are someone who has multiple homes you take your dog to – say your home and your parent's home.
Or that you go camping in the summer and like to bring your big dog with you, but need a way to contain him at your campsite.
SpotOn is entirely transportable and able to activate and deactivate specific fences you have created at the click of a button – say, one for home, one for your parents, and a temporary circular fence for your campsite.
I am absolutely loving this feature of SpotOn and excited to test it out more as we take the dogs on vacation to Maine next year!
You may be wondering how your dog will learn and keep track of each of these new fence boundaries – in other words, how will Sulley and Junior know where their boundaries are when I switch them from the Big Dog Home Summer Fence to the Big Dog Home Winter one?
8. Customizable Alerts and Feedback
Unlike other wireless dog fences, the SpotOn Virtual Dog Fence uses two sets of tones before issuing a vibration or optional static correction and never issues a static correction for dogs returning home.
Here are how the customizable alerts work in practice.
Once you have a fence activated, you begin the process of training your dog to recognize the alert tones before he crosses the boundary line of your fence.
There are two alert tones – one gentler alert tone that gets activated at about 10' from the boundary, and a warning tone that gets triggered when your dog is 5' from the boundary.
If your dog crosses the fence line you can customize what type of feedback you want – either vibration or static correction.
The vibration is similar to the vibration of your cell phone and is at a set level of intensity. With proper training, most large and giant breed dogs will only need the vibration feedback, and most won't even need that.
Mastering the tones means the optional static correction becomes a true last resort.
The optional static correction can be customized for your specific dog and situation, starting at a very low level 1 up to level 30, which I can't imagine ever using.
Here's the deal… I am well aware of the controversy surrounding static corrections. Some dog owners are adamantly against any use of them at all, whereas other dog owners use them exclusively.
It is my belief that both of those extremes are the wrong approach.
Screaming "never" is naive while relying on static is pure laziness and cruelty.
As a rarity for Big Dog Mom, on this issue, I land in the leaning "never" middle.
I believe static corrections should only be used as a true last resort and only following all force-free positive training methods have been implemented.
My approach to these customizable alerts will make more sense once we talk about feature #9, so let's move on…
9. Full-Service Training and Support
One of the best aspects of SpotOn GPS Fence is their support for creating an effective and safe boundary in a loving and humane way.
I think it would be instructive to share my approach to training Sulley and Junior on their new SpotOn GPS summer dog fence and how I have set up the optional feedback at the boundary line.
Keep in mind, Junior and Sulley are still in training.
Each boy has responded a little differently to the alert tones and I have had to adjust my training approach accordingly.
I have been working with both dogs daily for several weeks now and am excited to share our experience with the customizable alerts using the SpotOn GPS Fence training program.
The first step in the SpotOn training was to teach them to recognize the first alert tone which is triggered when the dogs are about 10' from the fence line.
When they hear the tone, they are trained to move back toward the center of the yard. We encourage this using tons of delicious treats, praise, and toys.
In between each training session, I play with the boys inside their boundary to reinforce how much more fun they can have when they are not eating my cantaloupe.
From there we moved on to the second step in the training which is to introduce them to the second alert tone and basically repeat the same process…. several times a day for short super fun sessions each time.
Sulley figured it out within a couple of days and started to bark at me when I moved to the second alert, like, "Hey, the treats are given back here!"
Junior was a little less enthusiastic unless toys were used as a treat.
I repeatedly reinforced the two alert tones at different spots along the boundary line so that the boys knew the sounds were not just the driveway but spanned the entire perimeter of our property.
The next step for us is to proof the boundary by testing the dogs with distractions on the other side.
While we have staged enticements for them which they have passed… most of the time, the true test of containment will be when people are walking on the road in front of our house.
So far, we have not been able to test that.
So for the time being, I am continuing to repeat the process of hearing the alert tone and making running to the center the most fun game in the world at various spots along the front of our property.
One thing I need to mention as it relates to the SpotOn GPS Fence training program is their certified trainers who are available for free 30-minute consultations to help you with training your dog.
Whatever your question or issue, the SpotOn Certified Trainers are one click or phone call away from helping you find a solution.
Thankfully, we have not needed any assistance, but it's wonderful to know they are there for me if I need them!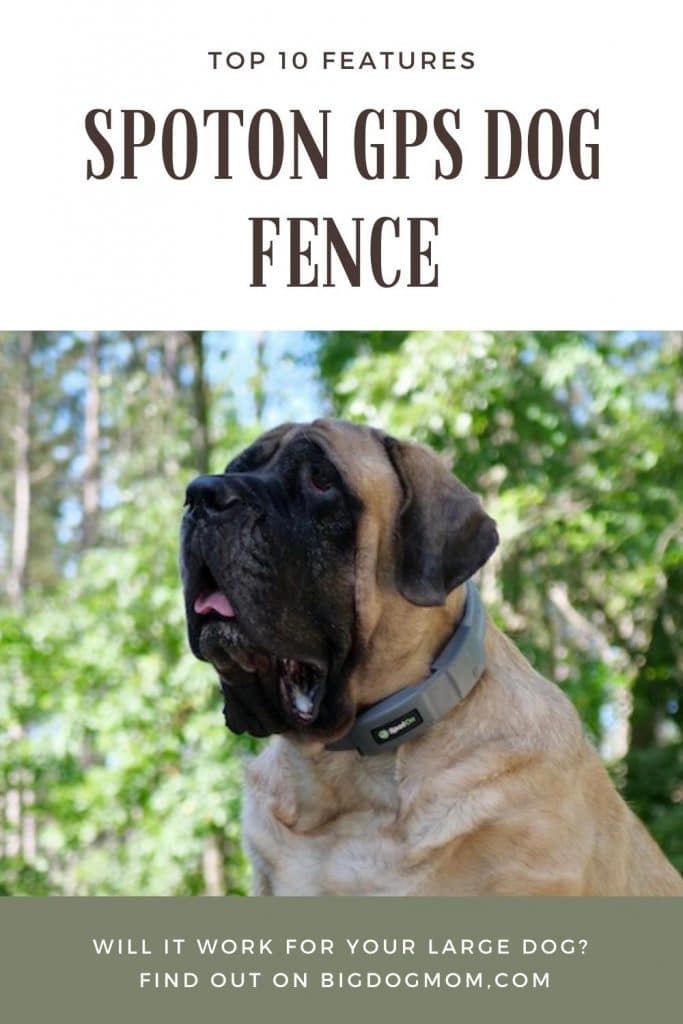 And lastly,…
10. Developed, assembled, & supported in the USA!
Gone are the days when manufacturing was the lifeline of the American economy.
Sadly, far too many products are made overseas with little or no quality assurance required to ensure safety or durability for the American consumer.
Let's face it. Most of this stuff is cheap crap from China.
SpotOn GPS Dog Fence is a USA-based wireless dog fence company with a USA-based product; developed, supported, serviced, and assembled in New Hampshire with an entirely USA-based live customer service team ready to support you and your dog.
Regarding its development, SpotOn states:
"Our team has a history of developing electronics for the US military. These devices HAD to perform flawlessly every time as soldiers were staking their lives on them. This attention to quality and reliability is incorporated into every aspect of your SpotOn Fence."

SPOTON GPS FENCE
With better quality and more reliability, buying a product made in the USA means you are supporting a local small business and the scrappy team of people that keep it running.
As large dog owners, the quality and durability of the products we buy are uniquely important. Because we spend more on everything, we have to be very discerning about the selections we make.
There is a reason that most of the products I recommend are USA-made products.
They are just better.
Thankfully, SpotOn GPS Fence offers a 15% discount for those of us with multiple dogs and for all military, veterans, and first responders.
This definitely helps defray some of the added cost of buying a premium quality USA-Made product.
And don't forget to use my code BIGDOGMOM at checkout for an additional $100 off!
Is SpotOn GPS Dog Fence For You?
If you are like the millions of big dog owners looking for an effective way to contain your large dog without a physical fence on your property, I highly recommend checking out SpotOn GPS Fence.
It has been a true blessing for our family and, especially, for Junior and Sulley. No more fretting over the dogs greeting people in the street or eating my cantaloupe!
SpotOn has given the boys freedom while giving me back my sanity.
What do you think? Is SpotOn right for you and your big dog?
If you are seriously considering dressing your dog in a new SpotOn dog collar, read Top 6 Things to Know Before Getting Your SpotOn Fence, to make sure it will be the right fit for your dog and your property.
References