Some of the links below are affiliate links, meaning that at no additional cost to you, I will receive a commission if you click through and make a purchase. For more information, read my full affiliate disclosure here.
Finding healthy, all-natural treats and chews for big dogs is not always easy. Raw Paws Pet Food makes several great options for raw-fed big dogs.
Those of you who have followed Big Dog Mom for any length of time know what a nutritional journey I have been on with Junior and Sulley.
[If you are interested in the background please go back and read, What To Do About Dog Food? First, Let Go Of The Guilt and Raw Food: A Decision Every Big Dog Owner Should Weigh.]
Because I know you, like me, are busy, I will summarize my roller coaster ride by revealing that in 8 months' time I went from raw feeding "expert" to needing a Raw Feeding For Dummies book to crack the mysterious rules of "balance."
Now that Junior, Sulley and I seem to have finally found that "balance" in their raw diet, I have been on a quest to find sources of healthy, all-natural treats and chews for them to complement their raw diet.
My standards for treats and chews have risen to the point that I am finding it difficult to source not only healthy options but options that are appropriate in both size and strength for a giant breed dog. Not an easy task.
Raw Paws Pet Food was a name that I kept seeing in raw feeding circles, so I reached out to them for information on their treats and chews. They offered to send me a bag of their all-natural beef esophagus for Sulley and Junior to try in exchange for an honest review.
Raw Paws Pet Food – The Company
In business since 2014, Raw Paws Pet Food's mission is to make raw feeding practical, affordable, and accessible for you, as a pet parent, to provide your dog or cat with the healthiest pet food, treats, chews, and supplements.
And something that is very important to me, Raw Paws sources their food from responsible and ethical farms in order to deliver the highest quality products made with the freshest ingredients!
Raw Paws Pet Food All Natural Beef Esophagus Jerky
I received a 16 oz bag of 6" long 100% natural beef esophagus jerky strips for the boys to try. These treats are sourced from grass-fed, free-range beef and they contain no grains or by-products.
According to Raw Paws, these all-natural treats are packed with essential vitamins and minerals which makes them ideal for improving oral and joint health. And, particularly important for us big dog folk, each esophagus strip is naturally rich in glucosamine and chondroitin, which may reduce inflammation and improve your dog's joint function.
Big Dog Mom Review of Raw Paws Pet Food
As a general rule, given Sulley and Junior's size, I am cautious about feeding any kind of chew that is less than 10-12" long due to the potential choking hazard. That said, I found these jerky treats just chewy enough to last for more than 2 seconds (very important), yet able to be crunched into smaller pieces for safe swallowing.
Secondly, they were fairly clean even when chewed up. With the exception of the white slobbery froth around Junior's and Sulley's mouth, these chews did not make a huge mess like some other chews I have tried.
The last thing I will say about these chews is that, while I believe durability and cleanliness are important, the most important review is the one from Junior and Sulley.
Outtakes with Raw Paws
The day I received these treats, I had the brilliant idea to use them in what I had hoped would be a better quality video for my post The Ultimate Guide To Cutting Dog Nails And Having Them Love You For It. In the end, it took me 4 attempts on 2 separate days to get a video that just might be considered an improvement over the videos that are on that nail cutting post. I put this reel of outtakes together to give you a sense for Junior's and Sulley's reaction to Raw Paws treats. I will let the video speak for itself.
Beef 6″ Esophagus Jerky Treats for Dogs (Bundle Deal)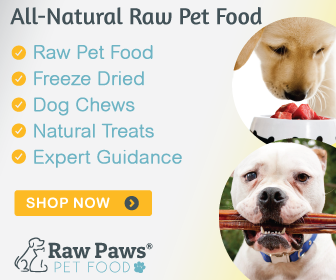 For More Information about Raw Paws Pet Food
If you are a raw feeder, a partial raw feeder, or just looking for healthy alternatives in the food, treats and chews you feed your big dog, I encourage you to check out Raw Paws Pet Food.
As a part of their mission to make healthy feeding affordable, they offer free shipping and numerous discounts on a wide range of products. For example, right now they are offering: