Some of the links below are affiliate links, meaning that at no additional cost to you, I will receive a commission if you click through and make a purchase. For more information, read my full affiliate disclosure here.
Looking for a raw dog food calculator for your phone? Here are the pros and cons of the 6 raw feeding mobile apps for dogs with BONUS tools you won't want to miss!
If math isn't your jam and you are looking for a simple-to-use raw feeding mobile app for dogs – a raw dog food calculator – to tell you what and how much to feed your dog, this is the blog post (and video) for you!
Today I am going to review the 6 raw feeding mobile apps that are currently available both in the Apple App Store for iOS and the Google Play Store for Android devices.
Before we dive into the pros and cons of each of these apps for dogs, however, I want to set the stage with why I set out to find the best raw feeding dogs app.
When I started raw feeding my Mastiffs many years ago, I used an app called the Raw Pet App. This raw dog food app was awesome and had all of the functionality I was looking for as a beginner raw feeder.
Unfortunately, Raw Pet App is no longer available (sigh).
Thus, this review is my attempt to find the next best alternative to what I felt was a nearly perfect raw feeding app for both beginners and experienced raw feeders.
For the record, I am only including dog apps that are available for BOTH Apple and Android. I tested each of these apps thoroughly on my iPhone 14 Pro to provide a comprehensive review of the pros and cons of each one.
In addition to the following six mobile apps, I am including two alternative raw feeding calculators that can be run on a desktop and print. These are obviously not as convenient as a mobile app, however, I think you will find them quite useful in your raw feeding journey.
With that, let's dive in…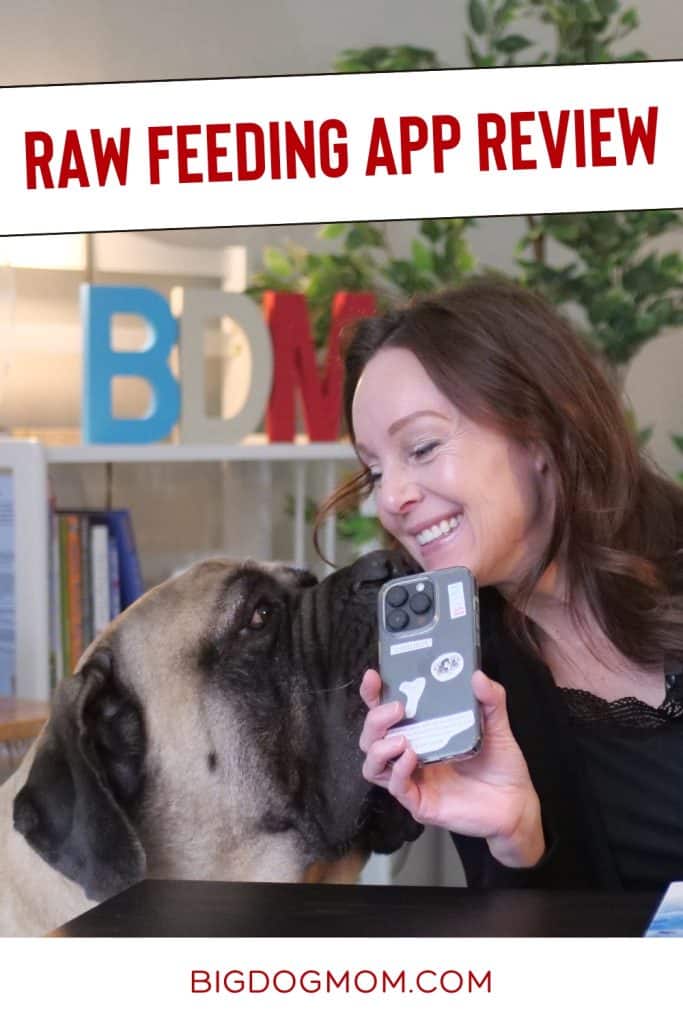 Raw Feeding App Review
As mentioned above, I downloaded each of the following 6 mobile apps on my iPhone 14 Pro and tested them against what I wanted to see in a raw feeding mobile app.
Put simply, I want an app that will calculate what I need to feed and how much of it. I am not looking for a detailed recipe with exact ingredients, but rather the larger category amounts from which I can make my own raw meals.
In addition, I was hoping to find some level of customization in terms of age (puppy or adult), body score (does the dog need to lose weight), and support materials with feeding guidelines (what is safe to feed, what is not, what is considered meat versus organ, etc).
Beyond this basic feature set, I was hoping to see energy needs (KCal) incorporated somehow as well as a simple-to-use and intuitive functionality.
And lastly, most (but not all) of the apps in this review were free to download but required a premium upgrade for a fee for full or extended use.
Based on my testing, I did not opt to pay for the premium feature set for ANY of the apps which I explain in more detail below.
With that backdrop, here are the pros and cons of the six dog apps for raw feeders available for Apple and Android mobile devices. They are listed in no particular order.
Grading Scale Used:
VIDEO: HONEST Review Of 6 Raw Feeding Mobile Apps For Dogs | Raw Dog Food Calculators [HITS and MISSES]
RAW/BARF Pet Dinner
Pros
Simplicity – Easy to add information and navigate from the homepage to specific screens and back using the little paw at the top which acts as a back button
Ability to change units – kg, lb/oz, lb
Option to add veggies or not. Vegetables are added as a TBSP unit or rationed.
Feeding is broken down to meal, day, and week on one screen with a toggle-off switch for each one based on how you want to see your meals.
Easy toggle between what you need to feed today and tomorrow
The Shopping List is terrific for bulk monthly purchases!
Can change the default percentage of meat, bone, and organ
Tripe, Fish, & Egg can be added
FREE to use with no email gateway or premium upgrade required
No advertisements
iOS (iPhone and iPad) & Android – has a new Apple Watch icon
Cons
Weight doesn't go high enough for Junior – stops at 220 lbs.
The menu plan is not a raw dog food recipe – it is simply total amounts in each category to feed each meal, day, and week. This is not a con for me but might be for some dog owners.
Lacks a calendar or way to look back at what was fed. This is not a huge negative if you are only wanting the app to tell you how much to feed today and in the future.
No calories (kCal) were provided or suggested. Amounts are based purely on the percent of body weight.
Information runs off the screen when adding liver/offal and tripe.
Changing the dog's date of birth had no effect, so the unique nutritional needs of puppies are not considered
No way to get rid of cats and ferrets – wish it would only show the animal kinds that you added
When tripe is added, the weight is taken from both bone and meat. There is no way to add in how much tripe you want to feed. When I added it to Monday, Wednesday, and Friday, the app is making me feed over a pound of tripe per meal! When doing my calculations, I feed tripe as muscle meat. And I normally only feed a few spoonfuls – about ¼ – 1/2 cup. Eggs appear to be added as a supplement and not factored into the rest of the daily intake.
Adding a photo for your dog is quite finicky. After trial and error, I figured out that you have to go into and out of the app to get the ability to add another photo if you select a bad one for your dog. The dog has to be positioned EXACTLY in the middle or you will end up with a nose or ear photo off to one side.
Vegetables are added as a TBSP unit or "rationed." If you select rationed, you are able to include vegetables in your dog food ratios as a percentage of the diet. However, if you choose TBSP, there is no option to change those amounts and it's unclear how they arrived at them. Beyond this, I found that I had to change the rationed percentage on both my main settings as well as for each dog for the vegetables to show up on their daily meals.
Overall Impressions of RAW/BARF Pet Dinner
RAW/BARF Pet Dinner is a simple and FREE app that does the calculating for you. What it lacks in raw feeding educational content, it makes up for in its simplicity.
This mobile app is a nice option for experienced raw feeders who already know how to put a raw dog food meal together and are only looking for a mobile app calculator. It is not the best choice for beginner raw feeders due to the lack of nutritional guidance and educational resources which need to inform some of the important choices a dog owner has to make within the app.
RAW/BARF Pet Dinner uses the percent of body weight method exclusively to calculate the weight of meat, bone, and organ to feed, however, it provides minimal guidance for beginner raw feeders.
As I shared in How To Meal Prep 2 Weeks of Raw Dog Food for Large Dogs [EASY], the percent of body weight method often leads to overfeeding dogs, so relying exclusively on this calculation can result in obesity if you don't know what you are doing.
For this reason, it would be wonderful to see KCALs factored into future updates to this app coupled with some education regarding proper percentages based on the dog's age and body score. That said, it is nice that the app does allow you to toggle between reduce (-0.2%), maintain, and increase weight (+0.2%).
Lastly, with respect to how well this mobile app would work for large and giant breed dogs specifically, I found RAW/BARF Pet Dinner to be amazing and utterly useless at the same time.
While the shopping tab for bulk meal planning was fantastic with the ability to plan up to 20 weeks of raw dog food at a time, the limit of 220 pounds per dog renders this app mostly useless for very large giant breed dogs like Junior.
BARF App
Pros
The shopping organizer is nice but needs to be converted from oz. to lb
The additives/supplements list is nice but limited
Love the list of foods toxic to dogs
Components (example foods) for each category (meat, organ, bones, etc) to give you options for what to feed
The fat calculator is nice but complicated for beginner raw feeder
Premium content includes individual daily BARF plans, calculation options (see below), and the ability to print as PDF.
Basic functionality is FREE with no email gateway
A lifetime premium upgrade option is nice versus being forced to pay every month or year.
Available on iOS and Android
Cons
Simple functionality, though not very intuitive
Max weight 200 lbs, so will not work well for very large giant breed dogs
Many locked features only available with Premium Upgrade
Bones are listed, however, the app does not tell you what percent of bone versus meat they have.
Organs ("innards") are dangerously limited – nowhere could I find a breakdown of liver versus other secreting organs. The list of organs is very limited as well and doesn't include basic organs such as thymus and pancreas. Including lung is an interesting choice as it's not very nutrient dense and is difficult to feed in my experience.
Spelling errors (for example, lamp instead of lamb) though it appears this app was created internationally, so grace should be given.
Advertisements can be annoying. Premium upgrade required for Ad-free experience.
Print copy of menu plan very limited (only two days) and does not include the full week totals. Everything has to be converted to lbs as well.
The fat calculator is confusing and requires toggling between the components tab and tools. Meat is the only food listed that includes a fat percentage. Raw meaty bones do not have a percent of fat listed.
Premium upgrade cost is $27.99 for a lifetime license or $10.99 per year.
Overall Impressions of BARF App:
While the BARF App is quite visually appealing with a beautiful and simple modern interface, once I ventured underneath the homepage, I found a number of important limitations for big dog owners looking for a raw feeding mobile app.
First and foremost, there are a number of key features that are held behind the paywall that is required for even the most basic meal preparation.
These include things like getting daily meals (only the week total, Monday and Tuesday are included for free), changing the percentage of animal to the vegetable amount you want to feed, and setting whether your dog is neutered or not. The default percentages in the BARF App are not even close to what I would choose to feed my dogs rendering the BARF Plan calculated unhelpful.
And while the pet overview profile page is adorable, the inability to increase the weight of my dogs beyond 200 pounds was disappointing and a major limitation for giant breed dogs like my Junior who often exceed 200 pounds.
In addition, while the list of components (example foods) in each category (meat, bone, organ, fruits, vegetables, etc) is nice, they are quite limited with many of the listed foods not commonly fed by raw feeders in America.
One easy way to improve the BARF App would be to increase the value of the components section including more food options for each category and perhaps some information about each. Because all of the boxes look the same, the user thinks there is information about each food. A simple upgrade would be to make those boxes clickable with additional support material for beginner raw feeders.
Within this components section, the lack of references or support documents to educate dog owners on how to properly portion out secreting organs in a raw diet was concerning.
Liver appears to be treated like every other "innard." It seems it is up to the dog owner to know that 10% of a dog's diet should be organs, with half of that being made up of liver. Beginner raw feeders not aware of this will not be served by the BARF App without my recommendation to add additional support and guidance.
And lastly, further examination of the weekly totals (which are not shown on the printed copy, only on the app itself) was shocking. Compared to my own calculations, here is what the app wanted me to feed Sulley, my 200-pound Mastiff.
| | | |
| --- | --- | --- |
| BARF App Weekly Totals | Big Dog Mom Weekly Totals | Difference |
| 9.52 lbs muscle meat | 18.55 lbs muscle meat (including tripe) | 12.38-18.55 = -6.17 lbs less meat |
| 2.86 lbs tripe | | |
| 3.8 lbs bone | 2.3 lbs bone | |
| 2.86 lbs organ | 2.3 lbs organ | |
| 4.76 lbs fruit/vegetable | | +4.76 lbs fruits/vegetables |
So with more than 6 lbs less muscle meat per week, I'm supposed to make up for that with nearly 5 lbs of fruits and vegetables?
For a carnivore?
Dog Food Calc
Pros
Ability (it appears) to track your pet's weight over time (see below)
Extensive list of ingredients with the ability to add more from an app database as well as the USDA.
Can customize ratios of meat, bone, organ, vegetables, liver, other (unspecified what is included in that)
Ability to set the percentage breakdown for each meal and how many meals you want to feed per day
Nutritionist information with a full nutrient breakdown is nice
Portion breakdown is very nice with included kcal amounts by day and for a custom date range
Great list of support references for help if needed
Computer planner available from the developer
FREE to download with no email gateway
Available on iOS and Android
Cons
Extremely complicated to navigate and figure out where to go for information. Not intuitive at all.
Payment of $3.49 per year required to remove ads
Very difficult to add ingredients to each recipe
Dog weight would NOT save no matter what I clicked on, therefore the listed weight was 0 lbs for both of my dogs rendering the app almost entirely useless for me.
Percent off weight is advised to be 2-3%, but this is an overestimate for most dogs
Menu is created by you, not the app. You have to add everything, weights and all.
Difficult to find exact matches for the ingredients I have on hand.
Overall Impression of Dog Food Calc:
Dog Food Calc is not a raw feeding app, it is a raw dog food recipe analyzer.
Based on my experience, the use case for The Dog Food Calc app is an advanced raw feeder who wants a full nutrient breakdown of the meals they are feeding, not an app to tell them how much (or of what) to feed.
My hunch is most beginner raw feeders will attempt to build recipes using this app and quickly become overwhelmed by all of the seemingly necessary inputs required by the dog owner.
I attempted to build one example recipe for Sulley based on my own calculations here and found the nutritional information about my meal very interesting. The summary of each meal under the history tab is fantastic – with weight, KCal, ingredients, and macros in an easy-to-review format.
And in addition to an analysis of each meal you create, you have the ability to see a nutritional breakdown of micronutrients as well. Keep in mind, at this time the nutritionist information is still in beta according to my app.
I did not attempt to view this app on my iPad or download the desktop version – both of which may be easier to navigate. You can go to their website to find out more about it here.
Overall, I found the Dog Food Calc extremely complicated and a little frustrating to navigate with very little return on my invested time and effort.
The fact that I could not get my dogs' weights to save no matter what I tried rendered the app useless for me.
BARF Plan
Pros
Visually appealing and modern interface
Weight tracking – including weight and target weight as well as tracking over time
Puppy vs adult option
Supplements section
Protein types breakdown nice
Weight and goal weight nice, but only for one dog
Available on iOS and Android
Cons
Email address required to get into the app
14-day free trial then you have to upgrade to the Pro account to continue access. The cost is $59.99/year or $5.99/month.
Nutrients page only includes protein and fat – would be nice to see kcal here
App is not super intuitive
Dates are Date first, not month – can be confusing for American audiences not used to seeing dates in this format.
Calendar limited to the week you are in
Not able to edit dog information once you set them up. Could not enter Junior's weight – with trial and error figured out the weight won't go up to 230 pounds, but I couldn't get 200 to save for him either. 200 pounds saved for Sulley, but Junior was forced onto a starvation diet for a 50-pound dog.
You have to enter your ingredients and weights to build a raw dog food recipe
Targets and nutrient breakdown are unclear
Supplements section is nice but supplements aren't accounted for in the plan – you seem to enter them and nothing happens. I also didn't love the list of options available. The only two I regularly use are Salmon Oil and eggs.
Norm, goal, planned and target metrics are confusing.
App crashed numerous times in my limited time using it.
Premium Upgrade is $59.99 annually or $5.99/ month after a 14-day free trial
Overall Impression of BARF Plan:
The BARF Plan App is a modern and visually appealing app with a decent layout.
Like the Dog Food Calc App, I would consider the BARF Plan App a raw meal tracking app rather than a raw meal creation app.
You have to know what ingredients you are going to feed and how much to feed – the app won't give you that. For that reason, I would not recommend the BARF Plan App for beginner raw feeders.
Unfortunately, my time in this app was extremely limited due to the constant crashing. I ended up deleting the app and downloading it again from the App Store, which has only helped a little with the crashing.
So with the pros and cons listed above, I would simply summarize my impression of the BARF Plan App with a quote from Thomas Edison,
"I have not failed. I've just found 10,000 ways that won't work."

Thomas Edison
BARF Plan mobile app has a foundation with potential but is not ready for prime time.
Dr. Healthew
Pros
Comprehensive intake of your dog including age, weight, breed, activity level, body condition, and spay/neuter status.
Visually appealing with intuitive functionality
Simple enough for even beginner raw feeders
Calculates the weight and balance of each food ingredient per recipe you configure – given in amount of each ingredient to feed per day as well as the total for the week.
Nice menu of FAQs with supplemental information including things like how to transition your dog to a fresh food diet, information on pregnancy, lactation, and weaning, what ingredients need to be cooked, and how to use the recipes you create.
Easy pet setup with nice explanations for each question
Available on iOS and Android
Cons
You have to give your email address to gain access to the app
Only works with one dog. I did not see an option to add multiple dogs.
Can only configure one dog food recipe before upgrading to a Pro account. The cost of a Pro account is $8.99/ month.
Ingredient menu is very limited
You can't select BOTH kidney AND liver in a single recipe – you have to pick one or the other.
Recipes must contain veggies, fruit, and three sources of carbohydrates to work in the app. In other words, there is no option to feed a traditional prey model raw dog food diet of meat, bone, and organ (including liver and at least one other secreting organ).
Recipe ingredient amounts are given in oz per day and per week with no option to multiply that over a longer period of time for bulk meal prep.
Overall Impression of Dr. Healthew:
The Dr. Healthew App is an intuitive and visually appealing simple app best for dog owners looking for BARF dog food recipes using their selected ingredients.
The app is very easy to navigate and contains a plethora of helpful explanations and answers to frequently asked questions to assist the dog owner in feeding a BARF diet. With all that is nice about the app, unfortunately, it lacks some essential functions for beginner and experienced raw feeders.
First, and most importantly, there is no way to add multiple dogs to this app. If you have more than one dog, too bad. Pick your favorite I guess.
And, like many of the other apps, this one will not tell you what to feed. It gives you a menu of options and forces you to select one ingredient from a limited list for every listed category. If you don't want to feed that category, too bad. The app won't let you configure the recipe without all of the categories being selected.
And if you want to feed BOTH liver AND a secreting organ, forget about it. Like the Soup Nazi says, "NO DOUBLE ORGAN FOR YOU!"
And lastly, having to fork over my personal email address just to get into the app is a huge negative for me.
If I had found a reason to pay for the Pro account based on the one recipe I was able to configure for free, I would have liked to see a lifetime lump sum payment option instead of the slow drain on my dog's budget each month in perpetuity.
Prey Model Praw
Pros
Full functionality for $4.99 with NO email gateway to gain access
Super simple interface
Food Supply Calculator is particularly functional for large and giant breed dog owners
Great app for prey model raw feeders
Fairly comprehensive list of ingredients with the ability to add more
Calculations are done for you once you select the ingredients in your meal and their amounts. This includes incorporating the percent of bone to meat in raw meaty bones.
Nice meal tracking with an easy-to-use basic calendar
No upper weight limit for very giant breed dogs
Available on iOS and Android
Cons
Ingredients and amounts are chosen by dog owner, not the app.
Interface on iOS is extremely basic with an antiquated-looking corner pop-out menu.
Lacks nutrient breakdown and kcal calculations
Limited support materials if you have questions or need support
Not a FREE app – $4.99 is not a high cost, but without a FREE trial option, my guess is most dog owners will not risk a $4.99 investment.
Overall Impression of Prey Model Praw:
The confusing name aside, the Prey Model Praw App is a powerful app for beginner and experienced raw feeders who want a mobile app to assist with basic raw food calculations for an 80:10:5:5 prey model raw dog food diet.
Keep in mind, this app does not provide a nutrient breakdown or any type of calorie metrics to ensure you are feeding the proper amount.
With the prey model raw diet, you are using a bit of faith that as long as you are feeding the right amounts of the key ingredients using multiple protein sources, you will achieve balance over time and provide the nutrients your dog needs for optimal health.
This app would be enormously improved by incorporating calories both in the intake for each dog as well as while ingredients are added to each meal to ensure you aren't overfeeding your dog.
This app is particularly helpful for large and giant breed dog owners purchasing raw dog food and prepping raw meals in bulk. This functionality alone made the Prey Model Praw mobile app a winner in the Big Dog Mom house.
That said, no app is perfect. The Prey Model Praw app does have some pretty big negatives depending on what you are looking for.
If you want modern mobile app bells and whistles… Prey Model Praw is not for you.
If you want explanations and support materials… this mobile app is not for you.
And if you are looking for an app that will tell you exactly what you should feed your dog… this is not the app for you.
In spite of all of those shortcomings, Prey Model Praw offers big dog owners a no-frills alternative to Excel spreadsheets and time-consuming calculations for bulk raw orders and meal prep.
While $4.99 seems steep for a raw dog food mobile app, this is a one-time charge and compared to the others I reviewed, a small price to pay.
Raw Dog Food Calculators – Alternatives to Mobile App for Raw Fed Dogs
If you are wondering how much raw food to feed a dog (or cat), these calculators are truly Perfectly Rawsome!
There are a few different raw feeding calculators to choose from:
Adult Dogs
Puppies
Cats
Raw Meaty Bones
All of these desktop calculators are fairly straightforward with a simple plug-in of your information and click the box to have the results emailed to you.
If you don't want the PDF copy emailed to you, you will need to either print your desktop screen or copy the relevant calculations somewhere where you can keep them on hand. It's up to you. I opted to have the PDF emailed to me and was happy with how it looked on one well-organized page for easy printing.
Keep in mind, like every other app I reviewed, you will need to use two separate calculators – one for the meal amounts, the other for factoring in the percent of bone vs meat content in raw meaty bones.
You will have to combine the two calculators to effectively account for the meat and bone if you are feeding whole bone.
If you are using a concentrated bone powder or crushed bone, you will want to consult the directions on your bone product for the conversion of how much you should feed. The raw meaty bone calculator from Perfectly Rawsome is purely for, you guessed it, raw meaty whole bones.
I am not sure who created this one, but it's absolutely fantastic!
With complete flexibility in the balance of meat, bone, and organ, and the ability to add fruits, vegetables, and/or seeds for a more BARF-formulated diet, the Raw Dog Food Calculator could not be more user-friendly, especially for beginner raw feeders.
It accounts for the dog's age and size, and based on that, tells you the dog's energy needs in KCal. The only piece lacking here is how to determine the proper percentage of food to feed by body weight. There is a link to Perfectly Rawsome at the bottom, which is a reliable source of information, however, it would be nice to provide some guidance at the top for weight loss or gain, neuter, and activity status to ensure dog owners aren't overfeeding their dogs.
What is particularly helpful about this calculator is that it does account for raw meaty bones in the amount to feed each day.
You simply select what raw meaty bone you are feeding and it does the calculation for you. For example, when I put in a turkey neck, it states that RMB is 45% bone. So basically if I'm feeding, say a 10 oz turkey neck, 4.5 oz would be bone content, 5.5 oz would be meat. This calculator does that math for you, which is fantastic!
And finally, one of the best features of the Raw Dog Food Calculator is the Bulk Helper section which allows you to multiply your daily totals by the number of days you want to prep or buy meals for. I was not able to find an upper limit in the Bulk Helper section, as even 365 days worked seamlessly.
What an awesome way to not only bulk meal prep for large dogs but to also plan out your annual dog food budget!
The only real limitation I could find with this calculator is that it only works for one dog. If you have more than one dog you will need to run separate calculators and do the math to get your total raw dog food meal amounts.
If only this calculator was a mobile app!
But wait… maybe it can be! 👇🏻
Here is a genius BONUS tip from Big Dog Mom…
💡 On your mobile phone, go to Safari web browser and type in "raw dog food calculator." From there click on the share button at the bottom (the box with the up arrow) and then click on "Add to Home Screen."
Watch the video linked above to see what this looks like.
Wa La! You have a raw dog food mobile app that does everything you need it to do… well, almost.
Final Thoughts about Raw Feeding Apps for Dogs
Have you used any of the apps in this review? Was your experience consistent with mine?
To be honest, I went into this review hoping to find a replacement for the Raw Pet App but concluded my search utterly dismayed by the lack of raw feeding mobile app options on the market.
So dismayed, I am now mulling over the idea of developing my own app. I know what I want. And it is clear that what I want in a dog food mobile app does not exist.
If you were to create the perfect mobile app for raw feeding dogs, what features would it have? Would you want the app to tell you what (and how much) to feed or simply analyze what you fed in the past? What else would you want the dog app to do for you as it relates to feeding your dog?
Share your thoughts and ideas in the comments below. I would love to hear what you think.
If anyone can create the perfect raw feeding mobile app for dogs it will be the Big Dog Mom audience!