Some of the links below are affiliate links, meaning that at no additional cost to you, I will receive a commission if you click through and make a purchase. For more information, read my full affiliate disclosure here.
Raising a Mastiff puppy into a gentle giant is not easy, but it is possible. This ultimate guide to raising a giant breed puppy is all you need to do it right!
Puppy Overwhelm
Are you overwhelmed or intimidated by all that you need to know in order to properly raise a Mastiff puppy?
If you answered yes, this guide is for you!
Raising a mastiff puppy requires patience, commitment, and a sense of humor. While they grow faster, they mature much slower than other breeds of dogs. This makes raising a mastiff puppy particularly challenging for new owners who may not be prepared for the unique needs of this giant breed dog.
Whether you are welcoming a new Mastiff puppy or another large or giant breed puppy into your family, this guide contains everything you will need to know.
It represents over four decades of my knowledge and experience and covers in detail some of the most frequently asked questions I get from new puppy owners.
Bookmark this page for reference and share it with your friends. This guide will be an indispensable gift to you for the next 12-24 months. Trust me!
Finding a Reputable Breeder
I recommend all prospective puppy owners start here for obvious reasons.
Big Dog Mom is here to serve large and giant breed dogs through educating, empowering, and inspiring one big dog owner at a time.
As such, I repudiate puppy mills and backyard breeders with full advocacy and support for ethical, reputable preservation dog breeders.
[This does NOT include doodle breeders or breeders of mixed-breed designer dogs.]
If you are new to this topic, I encourage you to read:
If you have not yet found or selected a reputable dog breeder from which to buy your new puppy, I recommend you take the following steps to get you started.
1. Research the AKC website.
The American Kennel Club website is a perfect first stop if you have not yet selected a breed. You would be wise to carefully consider the multitude of purebred dogs and educate yourself on the important differences between them.
Take the AKC Breed Quiz to help you narrow down your options and find a great breed that will fit your family.
If you have your heart set on a Mastiff puppy, read some of the most common Mastiff myths to ensure this is the breed for you.
2. Go to a local dog show.
Seek out dogs and breeders on your shortlist of potential breeds to meet them in person. Have some questions ready ahead of time to make the most of these encounters.
**Be mindful of showtimes. Reserve your discussions for AFTER the dogs have shown, not before.
3. Start interviewing breeders.
Read 7 Best Questions To Ask A Dog Breeder Before Buying A Puppy for how to set up and conduct these interviews and here to download your FREE Breeder Questionnaire with over 50 questions to choose from.
4. Planning and Patience
Once you have selected a breeder for your puppy, start to discuss future breeding plans and the next steps for securing your new puppy.
Be patient! Good things come to those willing to wait.
Read Buying a Puppy: The Gap Between Desire and Reason.
---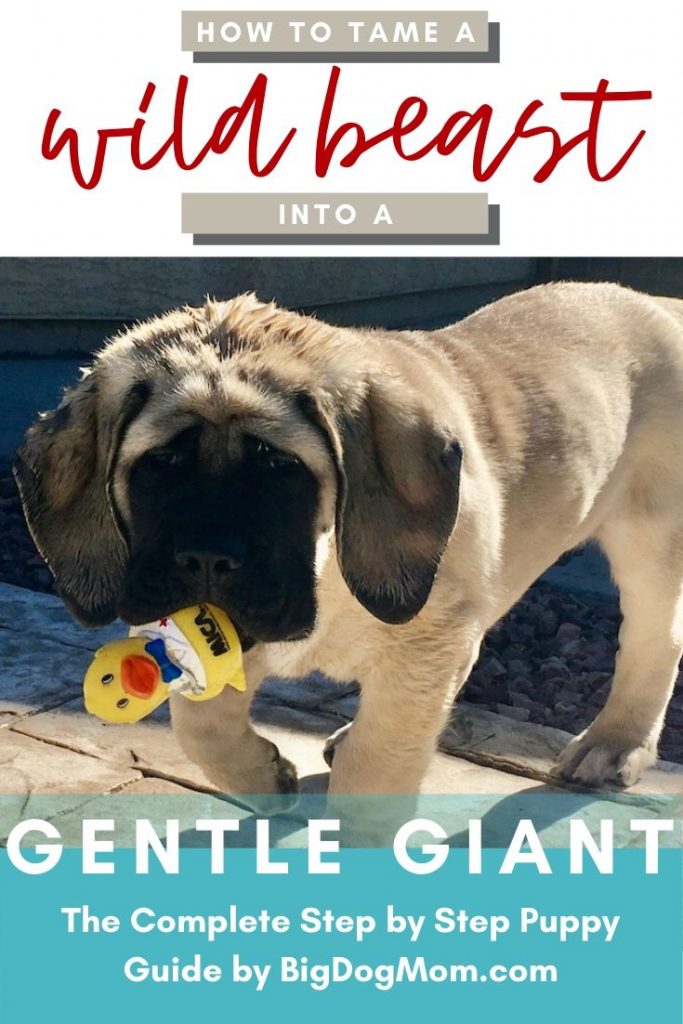 While You Wait – Early Puppy Socialization Period
From the moment your new puppy is born, every experience (or lack thereof) counts.
In other words, from weeks 0-10, a young puppy will be learning about his or her environment. The good and the bad.
Hopefully, you have selected a reputable breeder committed to exposing their puppies to new sounds, textures, people, a Dremel, paw handling, climbing uphill, going through tunnels, and countless other stimuli.
An environment that is safe, yet filled with new experiences, will serve to build confidence in the puppy you pick up at 10 weeks old.
Here are a couple of resources that I highly recommend new puppy owners look for and breeders consider using with their litters.
Puppy Culture: Stay tuned to Big Dog Mom™ for a full review of this in the future…
Desensitization CD's: Both Sulley's and Junior's breeder used these during early puppy development. Created by the Animal Behavior Center, these CD's are a tested method for treating and preventing sound phobias in puppies and dogs. Early desensitization is key to raising a Mastiff puppy into a bomb-proof big dog.
REMEMBER: Puppies go through a fear period between 8-10 weeks. It is best to wait until after 10 weeks to pick up your puppy. Read more about these critical times in your puppy's life in Puppy Fear Periods: The 5 Things that Can Save Your Puppy!
---
Travel Tips for New Puppy Owners
I have had the fortune of traveling quite a few miles with quite a few puppies over the last few decades.
Here are a few tips which I guarantee will help you and your new puppy on the road:
1. Bring familiar scented items from the breeder.
These will help your puppy feel more at home. Stuffed toys and blankets are two great options that work well.
2. Maintain the same diet and water for a week or longer.
Consistency in the diet (and water) will prevent gastrointestinal upset or diarrhea caused by the stress of travel.
Bring an empty, clean milk container to fill up with the breeder's water and a couple of gallon bags for the food when you pick up your puppy.
3. Travel with a companion to keep your puppy company.
In addition to these three tips, the following are some additional considerations based on your method of travel.
Driving a Mastiff Puppy
If traveling with a companion, driving may be the easiest method of transporting your puppy to his or her new home.
An unhappy puppy in the back of your car for hours will make for a very long trip if you don't have someone with you who can sit in the back with the puppy.
A soft travel crate lined with easily washed blankets is a great idea if you have space in your vehicle.
Consider the age of your puppy as well as his or her vaccination status to determine the best places for potty breaks.
Ideally, you can find locations not frequented by other dogs to let your puppy eliminate safely.
With food, water, familiar-scented items, and a loving, comforting companion to snuggle with, traveling by car will be both smooth and enjoyable for everyone.
Flying A Mastiff Puppy
I have flown twice with an 8-week-old English Mastiff puppy on Southwest Airlines.
In both cases, I used the following collapsible travel carrier which fit nicely under the middle seatback compartment.
Given the size of an 8-week-old Mastiff puppy, they can easily be over the weight limit of 25 pounds in some cases. However, even with Sulley weighing in at 26 pounds, I had no trouble getting him onto the plane.
He was able to stand and turn around in the crate and when placed under the seat for take-off and landing, he was comfortable laying down. We were fortunate both times to be able to let him out of the crate during the flight which made for a fun trip and lots of pictures with new friends.
This was my experience on Southwest.
Keep in mind, that if you are able to wait until the more ideal 10 weeks to pick up your puppy, flying may not be an option for some giant breeds given the weight restrictions on some airlines.
If possible, opt to drive with an older puppy versus flying with a younger one.
Here are a few airline resources that should help if you intend to fly your puppy home:
Pet Regulations on Popular Airlines in the United States
Shipping a Puppy
Put simply, I do not recommend shipping puppies.
Not only does this method not give you the opportunity to meet the breeder, sire, dam, and puppies in person, but it forces your new puppy into a potentially traumatizing experience during a very sensitive period in their life.
And when I asked many of my breeder friends, most said they would never ship a puppy (or never ship one again).
"I won't ship. I require they fly in and fly out with the pup in a carry-on. I shipped once, they lost the puppy for four hours! We were all in a panic! They forgot to put him on the plane and he was in cargo hold the entire time. It was a nightmare! Never again will I ship!"

"I won't ship either. Too many horror stories, both with airlines losing, injuring dogs, and people pretending to be someone they are not. I want to meet my puppy owners in person. They become part of our extended family… I need to know them personally."

If shipping is truly the ONLY option, the following will help make the experience as smooth and stress-free as possible.
1. Older puppies will tolerate shipping better than younger ones.
Never ship a puppy during a fear period.
2. Many airlines have new breed restrictions
Check with the airline, especially if you have a brachycephalic breed puppy.
Based on her experience showing her own dogs and needing a safe and reliable way to get them across the country during a campaign, owner Pilar Kuhn started Casa Fairview K9's.
With her extensive knowledge of the airline industry and the rules and regulations related to pet travel, Pilar has negotiated lower cargo rates for clients by partnering with many popular airlines.
She has also developed the K9Fit2Fly tool to determine the proper size crate for each dog.
If I had to ship a dog or a puppy, I would not do it without calling Casa Fairview K9's first!
---
At Home Essentials for New Puppies
At home, you will want the following set up and ready to receive your new puppy.
Crate training a Mastiff puppy is essential and starting early can prevent headaches later.
I recommend keeping the puppy's crate in your bedroom, if possible. Be prepared to sleep on the floor next to your puppy that first night.
Most puppies will cry and some will be downright inconsolable without someone close by. This is normal.
Use the familiar-scented stuffy and blanket and even some soft music can help calm a worried puppy.
Use dog treats or pieces of kibble familiar to the puppy to encourage and reinforce the comfort of the crate.
Ideally, you will be able to set the play yard in a central part of your home well-trafficked by your family – a fantastic conduit for socialization with boundaries to prevent bad habits from forming.
This tool will be an absolute Godsend to you and your puppy during the first few weeks and months in your home. Trust me!
Peeing on the floor, biting, chewing on furniture, eating items they shouldn't are all prevented by containing your new puppy in a spacious play yard.
You will also want to have a Kong filled and ready in your freezer. More on that when we discuss tips for a teething puppy! Keep reading…
For obvious reasons. This is the one I use and recommend.
---
Veterinarian Care – Your Puppy's First Year
Most puppy contracts will stipulate your puppy to be examined by a veterinarian within a few days of taking ownership.
During this initial visit, your veterinarian will do a comprehensive exam to ensure your new puppy is healthy and free of any obvious disease or deleterious health conditions.
Starting at 6-7 weeks old, your new puppy will need routine veterinary care. This care will start with your breeder and extend for the life of your big dog.
According to the American Animal Hospital Association (AAHA), puppies should be vaccinated every two to four weeks between the ages of 6 and 16 weeks with the final puppy vaccines given no earlier than 16 weeks of age. [1]
All puppies should receive the core vaccines of canine distemper, adenovirus 2, canine parvovirus, parainfluenza virus, and rabies virus. Click here for the full vaccine schedule.
Here are three tips for finding a great veterinarian if you don't already have one selected.
1. Get a referral from other large and giant breed dog owners.
If you can get a shortlist of a few veterinarians from experts in your breed, even better.
Fear Free Pets is an organization that provides education, training, and resources to Veterinary and other pet professionals on the fear-free handling of dogs and cats. Click here to find certified Fear Free Veterinarians in your area.
AHVMA is another option if you are looking for a veterinarian who takes a more holistic, natural approach to healthcare. [2]
Lastly, don't allow going to the vet to become a scary experience for your puppy.
Imagine if every time you went to the doctor, you got a shot or something painful. It wouldn't take long for you to decide that the doctor's office was a place to be feared or dreaded.
Here are a few things you can do to ensure your puppy loves going to the vet and everything that entails.
1. Practice at home.
Pretend you are doing an exam like a veterinarian or vet tech using treats with each body part.
Touch or manipulate a paw – give a treat. Lift an ear – give a treat. Run your hands along his belly – give a treat. Sniff inside the other ear – give a treat. Open his mouth to examine teeth – give a treat, etc.
Keep in mind, mouths can be sensitive so you may need to start with just a lip and work up to a full open mouth. Baby steps.
You can use a pretend otoscope or ophthalmoscope to view ears and eyes respectively.
Set up a raised pad or blanket and practice walking on and off and having your puppy stand still for treats on the pad.
This will mimic getting a weight check and, trust me, the training will pay off when your puppy is too heavy to force onto the scale.
The point with all of this is to make the exam (fake and real) super fun and rewarding for your puppy.
2. Make weekly trips to the vet clinic just for petting and treats.
If possible, make this something you commit to as you have your puppy out and about getting socialization.
If your puppy is learning that "going bye-bye" is super fun and filled with awesome people and lots of treats, your vet clinic should be included in that fun.
3. Give treats liberally.
My boys are adults and I still do this.
When getting a temperature, they get lots of treats. Blood draw – give a treat. Anything requiring them to stand or be still – give a treat, etc.
Ask your vet tech and veterinarian to also give treats during the visit or exam.
4. Respect your puppy's fear or uncertainty.
Never push a fearful puppy.
Tips 1-3 assume the puppy is a willing and enthusiastic patient. If your puppy is fearful, consider the tips I outline in Puppy Fear Periods: The 5 Things that Can Save Your Puppy. They should really help!
Pet Insurance – A MUST Have!
I am going to make this short and simple. Get pet insurance!
In a recent survey of big dog owners, while slightly less than 25% of big dog owners purchased pet insurance, the average yearly healthcare spend for big dog owners was in excess of $1,500 not counting medications or specialty care.
Out of the 684 dog owners who responded to this question, 146 had annual spending over $1,600 with the average annual routine healthcare expenditure, $4,500!
Again, this does not include prescriptions, medications, supplements, or any specialty care your dog may need.
At roughly $50/mo, the cost of pet insurance for your new puppy will save you in both money and stress over the life of your big dog.
Pet insurance is not an expense.
It is an investment!
While there are many pet insurance companies out there, I feel comfortable recommending Embrace and Trupanion.
Click below to request a FREE quote from both of them.
**And click here for the full results of this massive survey on the financial impact of big dog ownership.
Mastiff Puppy Health – What You Need to Know
I'm not going to lie. Raising a large or giant breed puppy can be stressful.
For some of you, it will feel like every time you turn around there is something going on that compels you to whip out Dr. Google Symptom Checker for a quick diagnosis and momentary relief.
Let not your heart be troubled.
You are not alone and I can promise you that most of what you will experience with your puppy over the next 12 – 24 months will be minor and temporary.
If you take my advice and get pet insurance, you will have the peace of mind that even frequent trips to your vet won't deplete your savings.
Without pet insurance, you will rely more heavily on Dr. Google Symptom Checker and your breed network of friends to help you through the tough times ahead.
The following is a list of a few common issues that I have experienced over my many decades with large and giant breed puppies with some links and resources to help you.
This is BY NO MEANS an all-inclusive list, but it covers many of the most frequently asked questions from puppy owners in the Big Dog Mom Community.
1. Diarrhea
With a range from loose stool to mucousy stool to explosive watery diarrhea, new puppy owners quickly become poop surveyors as stool seems to change with the passing wind (no pun intended).
Because diarrhea can be serious, this is not something you want to dismiss. However, most of the time diarrhea is caused by a diet change or food intolerance, bacterial infection, viral infection, ingestion of garbage, toxins, or foreign bodies, parasites, or simply stress. [3]
With this in mind, here are the steps I usually take when dealing with stool issues.
First, determine if your puppy got into something he or she shouldn't have. If you are worried or if there are chemicals or other poisons you suspect, seek veterinary care immediately. Most of the time, this won't be the case.
If the consistency of the poop is loose, not watery, I usually try to add a scoop of pumpkin, slippery elm bark, and some boiled chicken to a smaller quantity of food to see if that helps firm it up. If the stool is consistently loose, you may need to consider a change of food or a trip to the vet to rule out other causes.
For diarrhea in older puppies or adult dogs, I fast them for 12-24 hours.
When food is re-introduced, it is half of their normal portion for the first day or so as I watch their stools for improvement. If this doesn't help, I will take a stool sample to my vet to check for parasites like giardia.
My last piece of advice is to give a probiotic every day, in sickness and in health.
Vow to educate yourself about what probiotics are and why they are critical to your puppy's health and how to give them properly. The following two posts will give you all the information you need.
Pano is caused by too rapid growth in the long bones of large and giant breed puppies, resulting in significant pain and inflammation.
You may notice your puppy limp or reticent to walk around or play as one of the early symptoms. Inflammation and pain are often worse in the front legs than the rear, and the condition often comes and goes until around 12-18 months old.
If your puppy is diagnosed with pano, click here for a natural home remedy that will help reduce your puppy's pain and inflammation.
3. Knuckling or Knuckling Over
Knuckling is the slow deformation of the front legs and/or paws in a rapidly growing large or giant breed puppy.
According to The Great Dane Lady,
"Knuckling over is first noticed in the area of the front leg on a puppy, or the growth plate (wrist or carpal) area. The term coined by professional breeders for this condition is knuckling over, and it describes a condition where the front end assembly of the dog, the weight-bearing part of the body, is unable to support the whole bodyweight of the puppy, due to a lack of integrity in the muscle, tendon, and ligaments. It is my opinion this condition is not genetic – it is due to uneven growth pattern between the bone and tissue/muscle of the puppy and it is caused by dietary imbalances and/or missing micro-minerals and/or minerals that are not available to the body – difficult to assimilate." [4]
I have had one experience with knuckling.
In my case, Linus's front paws started to turn outward pretty dramatically the first two weeks we had him. His breeder sent him home at 8 weeks old with a list of things to add to his kibble. This included yogurt and chicken broth among other things.
While the broth was not too hot when I added it, I surmised later that the combination of the warm broth and yogurt not only destroyed some of the nutrients in the food but also added calcium, thus throwing off the balance of his diet.
When I eliminated all of the additives and switched him to plain kibble, he improved rapidly.
While I did not use any of her diets or supplements for Linus, I believe The Great Dane Lady has some great information about knuckling over that will benefit you.
Click here to read more about knuckling.
4. Voluntary Fasting
Fasting occurs when an otherwise healthy puppy simply doesn't want to eat or eat as much as you feel he or she should.
For example, a 4-month-old puppy decides he would rather play than eat his mid-day meal. Or a 9-month-old puppy starts to turn her nose up at breakfast time but seems ravenous at dinner.
In both of these cases, the puppy is healthy – happy, playful, peeing and pooping normally, no vomiting or diarrhea, and energetic.
A puppy will get to an age when either they are being fed too much or are not growing fast enough to warrant the caloric intake they are being given. Put simply, their bodies and their guts need a break.
This is normal and nothing to worry about.
Depending on the age of the puppy, I recommend the following:
1. Set the food down and if your puppy doesn't eat it in 15-20 minutes, pick it up.
If possible, I will attempt to feed that same food for the next meal to cut down on waste.
This is a good general rule for all age dogs as free-feeding (a bowl of food that sits out all day) causes your dog's gut to constantly be processing food. It is better to give the gut a break in between meals.
2. Cut out lunch.
If your puppy is 4-5 months old and is still being fed a mid-day meal, cut out that meal completely and adjust the morning and evening meals accordingly.
Most puppies will get to the age when they are far more interested in playing than eating and simply do not need a third meal.
3. Try different food.
If you believe your puppy simply doesn't like the food you are feeding, you can try a different brand or formula.
However, if you find yourself having to switch foods constantly "to get your puppy to eat," consider a transition to raw or a home-cooked diet.
Most dogs thrive on these diets when they are balanced and have fewer appetite-related issues. Read The Labrador Retriever May Hold Answers To Feeding Woes In Big Dogs about my journey with a picky eater.
4. Food toppers and mix-ins
While I do not recommend adding a bunch of extras in order to coerce a puppy to eat, here are a few additives that I recommend and feel are helpful at all stages of growth.
Fresh green tripe – NOT canned. There is a huge difference between these two. Fresh tripe is filled with nutrients, does not smell as bad, and is a great supplement for all dogs. Canned tripe smells like poop.
For older puppies, you may need to reduce the overall caloric intake you are feeding. In the next section, we will cover in-depth how to properly feed your growing giant. Keep reading.
In its most technical terms, bloat is Gastric Dilatation (stomach swelling) and can include Volvulus (twisting). When bloat includes volvulus it is often referred to as GDV.
Bloat and GDV are terms used interchangeably, however, they are not identical. A dog can bloat, or have an accumulation of gas, fluid or food that causes the stomach to distend, without the "volvulus" or twisting of the stomach.
Commonly called "bloat" or "gastric torsion," GDV occurs when a dog's stomach fills with gas and twists, cutting off blood and oxygen to the stomach; a life-threatening event!
This condition is most common in large and giant breed dogs with certain breeds like Great Danes, Irish Wolfhounds, Saint Bernards, and Doberman Pinschers among many others at the highest risk.
For a more detailed examination of GDV and how to prevent it, read Bloat in Dogs: 7 Simple Steps That Can Save Your Dog [FAST!]. In this post, I examine many of the myths surrounding the role of diet and feeding methods as well as the steps every dog owner can take to prevent it or respond if you suspect your dog is bloating.
As a new giant breed puppy owner, you will want to know the facts and act accordingly to prevent GDV.
6. Keeping Teeth Clean
Often new puppy owners will ask, "how do I clean my puppy's teeth?"
We are lucky, as big dog owners, that teeth issues are not common in our breeds.
That said, healthy teeth are critical for all dogs as poor dental health can lead to gingivitis, periodontitis, pyorrhea, caries as well as plaque and tartar.
According to PetMD,
"Because the mouth is warm, moist and has significant nutrients present for organisms to grow on, the oral cavity of dogs is a perfect incubator for all kinds of bacteria."
"Far better than extracting teeth, performing gingival flaps, filling erosions or doing root canal procedures, would be to prevent the health-damaging periodontal disease in the first place." [5]
Following these general tips will ensure you never have to put your dog through a dental procedure that could have been prevented.
1. Condition your puppy to have his or her mouth opened and teeth brushed.
Ideally, your puppy's breeder will have started this conditioning long before you pick your puppy up, but if not, it's never too late to start.
Similar to how we conditioned your puppy to be examined at the veterinarian, the following process will get you started:
Touch mouth – give a treat. Lift lip – give a treat. Touch top and bottom of mouth as if opening – give a treat. Open mouth – give a treat, etc.
2. Raw Meaty Bones
Whether you are feeding a natural, raw diet or not, appropriately-sized raw meaty bones are a natural teeth cleaner. Gone are the days when I am physically brushing my dog's teeth with a toothbrush and toothpaste. Raw meaty bones have kept Sulley and Junior's teeth pearly white for years.
If you are feeding your puppy a commercial kibble, consider treating your puppy with a safe raw meaty bone once per month.
This will serve as a natural toothbrush and an edible "I love you."
But remember, feed ONLY RAW bones, never smoked or cooked!! If the bone has been adulterated in any way, do not feed it to your puppy.
For more on selecting appropriate raw meaty bones, click here for a wonderful RMB guide from Perfectly Rawsome.
I recommend ALL puppy owners brush their puppy's teeth once the puppy is conditioned to enjoying it.
Brushing teeth is not only good for their preventive health but a wonderful opportunity for training and socialization.
The frequency will depend on diet. For kibble-fed puppies, you will want to continue brushing sessions weekly for the life of your dog. Raw-fed puppies who are consuming raw meaty bones daily can be brushed as needed or monthly for the life of the dog.
7. Maintaining Healthy Ears
Bacteria and yeast overgrowth in dogs are incredibly common.
In my experience, maintaining clean, healthy ears is pretty simple, even with Mastiffs – a breed whose ears lay flat on the head.
I use three primary methods to prevent ear infections.
1. Feed an allergy-free diet.
Sulley suffered from constant ear infections for about 6 months when he was one. After trying every known antibiotic and ear cleaner, nothing seemed to stop the production of brown gunk and constantly infected, inflamed ears.
As a last resort, I opted for a food trial to determine if he had an allergy that was causing constant inflammation.
Sure enough. As soon as I eliminated all raw chicken from his diet, his ears healed.
It has been nearly 4 years since Sulley has had an ear infection or even an ear dirty enough to warrant anything more than a preventative clean.
2. Limit sugar intake.
Yeast uses sugar as a source of energy. In other words, the yeast eats or feeds on the sugar in your dog's diet.
Because carbohydrates break down into sugar, the first thing yeasty patients (human or canine) need to do is remove sugar from the diet. [7]
The best diet for a yeast-prone puppy will be a grain-free, carbohydrate-free raw diet.
3. Use Blue Powder Ear Wash to maintain dry, clean ears.
This is the product I use and love, but there are others to choose from as well. And you can make your own blue powder ear wash if you prefer a homemade solution.
It is best to use a solution after baths and swimming to dry out the ear canal.
---
Large and Giant Breed Puppy Food – What to Feed Your New Puppy
There are three basic facts about large and giant breed puppies and feeding them that you need to know.
You need to understand what makes these puppies unique in the dog world, the risks of excessive growth, and how to formulate a diet that allows a slow and steady growth over time.
I will keep this section short and sweet with just the basics. If you want a deep dive into feeding large and giant breed puppies, I encourage you to read Feeding Giant Breed Puppies for Dummies – The Protein Myth & More.
1. What Makes Them Unique?
Large and giant breed puppies are unique in the dog world due to their speed of growth (get bigger faster), and length of immaturity (remain a puppy longer) compared to smaller breeds. These two facts contribute to the majority of growth and nutrition-related issues in big dogs as they grow.
2. What Are the Risks of Excessive Growth?
Growing too quickly is not healthy for large breed puppies.
Excessive growth has been linked to developmental orthopedic disease (DOD), which covers a range of conditions including Hypertrophic osteodystrophy, Osteochondrosis, Panosteitis, Hip dysplasia, Elbow dysplasia.
With all of these risks, your goal during your puppy's first year is to slow growth down as much as possible and keep your puppy thin (**no ribs or rolls is a good rule of thumb).
3. How to Formulate a Proper Diet for a Large or Giant Breed Puppy
Overnutrition (too many calories) plays a central role in excessive growth. Diets formulated for large and giant breed puppies differ from regular puppy diets in four ways:
Lower in fat
Lower in calcium
Lower in phosphorus
Lower in vitamin D
When selecting a commercial food for your puppy, you will want to make sure it is formulated specifically for large and giant breed puppies.
My recommendation is to feed a large breed puppy formula until 8 – 10 months for large breed puppies, and 6-8 months for giant breed puppies. **Feeding puppy food to these big puppies is a hotly debated topic – click here for the facts.
The most important rule you need to follow when it comes to feeding your Mastiff puppy is to feed the puppy you have in front of you, rather than following the label on the back of the bag or the formula on an app.
Neither of these takes into account your puppy's metabolism, genetics, sex, or anything beyond averages and statistics for all dogs.
I recommend you start your puppy with 3 small meals a day and observe his or her growth and weight gain. You may need to add or decrease how much you are feeding in order to achieve the slow, balanced growth objective.
The rest of this section will be devoted to providing you a shortlist of food options to choose from.
This list has included many brands also recommended by Dog Food Advisor as well as foods I have fed myself over the years. [6]
The raw brands below are all the ones I have fed or currently feed my dogs and highly recommend.
Best Mastiff Puppy Food Options
Commercial Kibble
Commercial Raw Foods for Giant Breed Puppies
If you choose to feed a fresh, raw, natural diet to your puppy, excellent! There is just one thing you need to keep in mind beyond what I have already said.
While some raw feeders recommend starting with chicken for a couple of weeks, then slowly transitioning a dog to more proteins and eventually organ, I do NOT recommend this method with a large or giant breed puppy.
You MUST balance the raw diet from day 1! If you are unsure of how to do that, consider starting with a pre-balanced commercial raw until you get more comfortable.
Dr. Harvey's Raw Food – Read my full review here.
Darwin's Natural Pet Products – Read my full review of Darwin's Raw Dog Food here.
For more on Raw Feeding, check out these related articles:
---
Exercise for a Mastiff Puppy
A challenge new owners face is how to balance an appropriate amount of exercise with safe preservation of bone and joint health in a growing large or giant breed puppy.
There is nothing cuter than a Mastiff puppy. They are big and clumsy and utterly adorable.
But with that clumsiness, comes a dramatic increase in the risk of injury.
Take a look at these x-rays from a 2 week old Irish Wolfhound puppy. As you can see, the bones do not even touch.
Llynda Schulze, a long-time breeder of Irish Wolfhounds expresses the issue this way,
"Giant breed puppies plod around with big floppy paws and wobbly movement because their joints are entirely made up of muscles, tendons, ligaments with skin covering. Firm, tight-fitting ball and socket joints are not fully formed until much later in life for these giant puppies."
Consider this before you head out on that 5-mile walk with your 6-month-old Mastiff puppy.
When you allow or force your giant breed puppy to run or play excessively during this period, you inhibit the proper growth of the bones and joints that are expected to carry 100+ pounds over the next decade or more.
With every skid on a tile floor, jump off the bed, or run on the stairs, potential orthopedic injury or orthopedic developmental disease exists.
In reasonable amounts, exercise and play can be wonderful for a large or giant breed puppy. However, overdoing it can lead to damaging immature joints that haven't fully formed.
Follow these tips to ensure you and your playful Mastiff puppy reach adulthood strong and healthy:
1. Limit or eliminate stairs entirely.
Use a gate to block stairs and carry your puppy if you want him to come up with you.
My puppies were not allowed free reign on the stairs until after 12 months old, and even then, I do not allow them to run up or down.
2. Limit time on slippery, tile floors.
Place area rugs, runners, or other beds or carpet on the floor for your puppy to walk and lay on. Do not let your puppy run and play on the tile floor.
If possible, use a play yard with blankets or confine your puppy in a carpeted room to play. You can also use gripped doggie socks to help give your puppy traction on slippery floors.
3. Limit your puppy's playtime.
Below you will find my formula on puppy playtime.
I allow puppies 15 minutes per month of age when playing with bigger dogs, and only slightly more if they are playing with humans on a safe floor.
Don't feel bad. Your puppy has a lot of energy but will tire quickly and need the rest.
4. No forced walks.
Walks outside are great as long as they are not forced.
A young puppy will get plenty of exercise on just a 10-minute stroll around your culdesac.
Prioritize socialization and exposure on walks, NOT exercise. As long as you are out meeting new people, smelling new smells, hearing new sounds every time you head out, you are doing enough at this age when it comes to exercise.
You are exercising the mind which is an investment in the development of a bomb-proof big dog.
Potty Training a Puppy
Potty training or housebreaking a new puppy is a top priority for owners for good reason. Fortunately, potty training is a pretty simple process.
The key is consistency and understanding a little about puppy biology.
As I discuss in great detail in How to Potty Train a Mastiff Puppy Fast in 5 Easy Steps, puppies have tiny bladders. As such, they need to be let outside every 20-30 minutes.
I highly recommend you plan on at least a week or two of around-the-clock potty breaks to really solidify your puppy's understanding of where he or she is supposed to eliminate.
The fewer accidents, the better, as habits are formed easily.
Here are a few additional pointers to get you started on housebreaking your new Mastiff or large breed puppy:
This is the best product I have found for cleaning and deodorizing where your puppy has had an accident. I buy the big gallon jug and refill my spray bottles as necessary.
2. Never yell at or scold your puppy for an accident.
Remember your puppy is not connecting his accident with the consequence (you yelling, swatting, or otherwise punishing). He is connecting your yelling, swatting, or punishing with YOU.
That is NOT the way to develop a trusting, long-term relationship.
3. Use treats liberally.
Have treats on hand when you go outside and reward your puppy as soon as he or she eliminates.
Go TO your puppy to treat him. The quicker your food reward, the faster your puppy will learn going potty outside is a wonderful thing. If you call your puppy to YOU after he goes potty then you give a treat, he will interpret it as a reward for coming, not pottying.
4. Limit your puppy's space until fully and reliably potty trained.
Use a crate, play yard, or gates in order to limit accidents around your house and bad habits from forming.
Read How to Potty Train a Mastiff Puppy Fast in 5 Easy Steps, for a deeper dive into potty training and more practical tips for a pee-free home!

---
Puppy Teething – How to Make Puppy Biting Temporary and Painless
Recently, a new Great Dane puppy owner expressed her frustration this way,
"My 12-week old puppy bites me all the time! Is this a sign of aggression? What can I do to get her to stop? HELP!"
If you are starting to feel like a walking pin cushion for your puppy's sharp teeth like this poor woman, you are not alone. You have discovered why I affectionately call puppies land sharks.
Wherever their teeth go, they bite. Hard!
This is NOT a sign of aggression. It is a very natural stage all puppies go through, some more persistent than others.
It is up to us, and better yet, their dam and siblings, to help them understand any contact of their teeth on a human is unacceptable and met with a negative consequence.
Now, am I suggesting you use some aversive methods to punish your puppy when he bites? Of course not!!
Quite the contrary.
Curbing a puppy's mouthiness is very easy when you are consistent and committed to providing a physically and mentally stimulating environment.
Because, here's the deal. All puppies go through this stage. Their gums are swollen and painful and it feels good when they bite and chew.
It's up to you to do the following so you make it through this mouthy period unscathed:
1. Access to toys
Provide a plethora of appropriate items for him to play with and chew on in lieu of your hands.
2. Engage in mentally stimulating games every day.
Teach new tricks. Prime a clicker. Do nose work. Play Hide-n-Seek. Condition a reliable recall.
The options are endless and limited only by your imagination.
3. DO NOT scold or hit your puppy when he bites.
Punishment will only serve to destroy the budding relationship you are building and cause your puppy to fear being near you.
Your puppy does not connect the bite with the punishment. He connects the punishment with YOU! Don't be THAT owner!
How to Respond When Your Puppy Bites
When your puppy bites, here are a few options for how to respond:
1. Yelp in a high-pitched loud voice, "OUCH!"
Try and sound like another puppy yelping, not a scary man screaming. Your yelp should be short, sweet and to the point, not drawn out.
2. Take away attention
Once you yelp, turn your back on the puppy as if you are ignoring him. Your puppy may come to you and sniff and wonder what's up.
I like to wait a few seconds before engaging again, but I always stop the game as further reinforcement that when he bites, the fun stops.
3. Redirect
Redirection works when done properly.
Keep puppy-appropriate toys on hand and in strategic places in your house. When the puppy bites, wait 5-10 seconds then give him a toy to chew on or start to engage in an activity that would be incompatible with him biting (Hide-n-Seek, fetch, etc.).
The key with this is waiting for the 5-10 seconds before serving up the toy. When you hand over the toy immediately after the puppy bites, the toy becomes the reward for biting.
4. Timeout
If you have a very persistent puppy who seems to not be deterred by the first two methods, you can choose a gentle timeout in a crate or play yard.
I recommend keeping at least one or two filled Kongs in the freezer for when my puppies are crated. This ensures there is always a positive association with the crate, but that the fun stops when they bite.
Read Puppy Teething 101: The Ultimate Survival Guide for Large Breed Puppies for more tips on how to survive the teething puppy stage.
New Puppy Entertainment
A tired puppy is a good puppy.
This is a maxim that will remain true for the life of your big dog. Stimulating the mind and body are the keys to your puppy's health and happiness and it starts with having toys and activities on hand.
The purpose of this section is to inspire you to think about ways to exercise and entertain your puppy.
Toys
The following are some terrific, giant breed puppy-proof toys to consider. For a more in-depth review and discussion of what I look for in toys for my big dogs, read Top 10 Best Toys for Big Dogs: Battle-Tested and Big Dog Approved.
Games
Playing games with your puppy is both entertaining and physically demanding. Working your puppy's mind and body is a wonderful thing!
Here are a few games you may consider:
Have one of your children go hide while you hold the puppy and then help your puppy search when you say, "Find __!" Switch places and have your child hold the puppy while you hide. Instruct your child to say, "Find Momma! Where is she?! Let's go find Momma!"
Simply hide treats in boxes and encourage your puppy to find them. Then give another treat when he finds the hidden ones.
Read Nose Work Is Not Just For Bloodhounds And German Shepherds for more information on our experience doing Nose Work with Junior.
Learn new tricks with a clicker. Fun ideas are SHAKE, PLAY DEAD, SPEAK, BOW, and any basic obedience.
You will find when you use a clicker, the FUN meter goes up 100x according to your puppy!
Independent Brain Games
The following are some terrific ideas for activities your puppy can do independently.
As with most things, you will want to supervise your puppy initially with these toys. This will ensure your puppy understands the toy and seems genuinely interested in it as well as preventing any safety issues before they occur. None of these items are unsafe from my perspective, but every puppy is unique and should be supervised with toys.
Kong

with filler
Consider alternating and making new fillers to keep things interesting. Here is a great post with some ideas to get you started. [8]
This interactive machine has the potential to provide hours of fun for the ball-loving puppy.
The iFetch Too represents operant conditioning at its finest. "I put the ball in here and, yippee, I get to chase it over here…"
These are terrific for brain-stimulating activity for dogs. However, toys like these where treats are hidden can get very messy if you have a wet-mouth breed like an adult Mastiff.
For puppies or dryer mouth large breed dogs, I think they are fantastic!!
With the same issue as the Nina Ottoson toys, the Snuffle Mat may not be the best option for an adult Mastiff. However, for puppies and dry mouth breeds, it can be a source of wonderful, brain-stimulating fun.
Training a Puppy – What You Need to Know About Puppy Behavior and Puppy Socialization
Puppies, like children, are sponges. Constantly observing and interpreting the world and people around them.
Gathering information. Seizing opportunities. Evolving in order to get what they want when they want it.
Puppies are trained and conditioned without their owners even trying or realizing it's happening. The pairing of a stimulus and a response is all it takes to create an instantaneous habit.
As such, understanding how puppies learn is critical to being able to modify their behavior.
Because the topic of canine behavior and dog training is an enormous one, I'm going to keep this section brief and simply offer a few tips with some terrific resources I highly recommend you read!
Classical versus Operant Conditioning
All of canine behavior and dog training can be put into one of these two methods of learning. Your understanding of the differences between them will determine how effectively and efficiently you are able to train your puppy.
Best Guide to Classical vs Operant Conditioning for Dog Owners is the most comprehensive and simple guide on the internet for new puppy owners. This information will serve as your foundation for dog training that will benefit you for years to come.
If you would like to learn specifically how to use classical conditioning for teaching your puppy to come reliably and for front door manners, go to: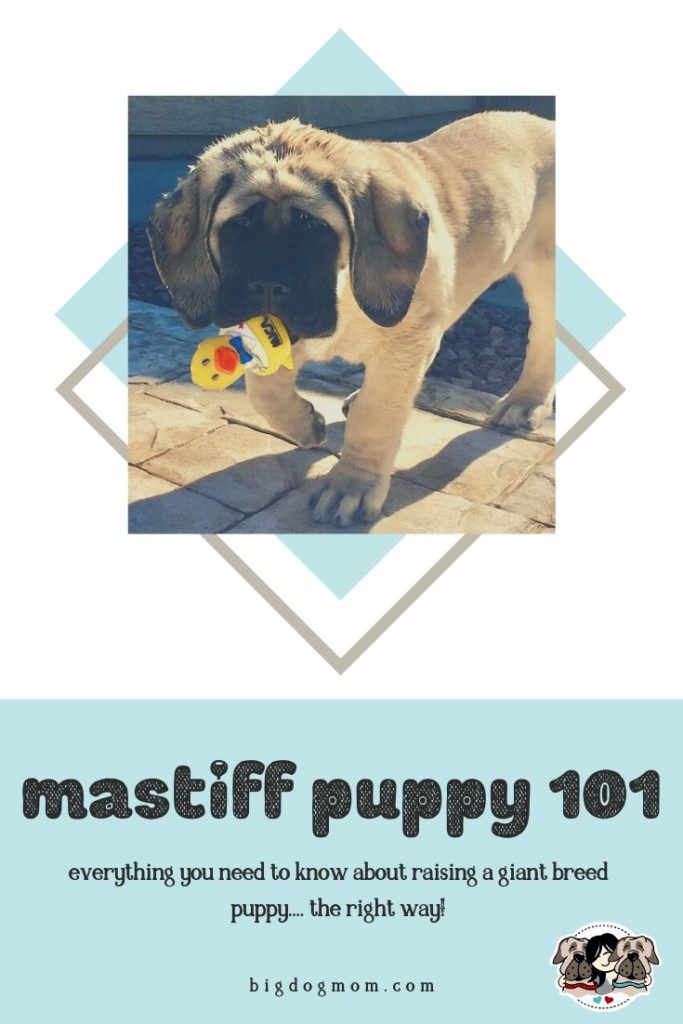 Puppy Fear Periods
All puppies go through fear periods, and yours will be no different.
Fear periods occur naturally in all puppies at 8-10 weeks, 6-8 months, and between 12-18 months.
As mentioned a few times in this guide, I do not recommend picking your Mastiff puppy up until AFTER the 8 – 10 week fear period.
Allowing your large breed puppy the time to move through this period in the comfort and safety of his or her first home, with dam and siblings, has been shown to improve long-term confidence and stability.
In Puppy Fear Periods: The 5 Things that Can Save Your Puppy, I take a deep dive into the topic of fear periods and provide you with numerous tips and suggestions on how to successfully navigate these periods.
Your goal as a puppy owner should be to recognize fear periods, minimize their impact, and come out the other end with a bomb-proof big dog.
You can do it!
Puppy Socialization
Second only to genetics is the degree to which you socialize your puppy in achieving a big dog with a confident, friendly, bomb-proof temperament.
Despite popular belief that puppies shouldn't be allowed out in public until they are fully vaccinated, I recommend getting your Mastiff puppy out EARLY and OFTEN.
The risk to your puppy is too great to miss out on this critical socialization window!
In Puppy Socialization: 5 Common Mistakes You Don't Want to Make, I cover puppy socialization in depth including 50 ideas for things you can do with your puppy in the first 16 weeks.
So grab a new collar and leash (or Kurgo harness), lots of delicious treats, and have fun exploring with your puppy!
Consider every new experience an opportunity. Your enthusiasm will go a long way.
VIDEO: How to Socialize Your Puppy at Home – 15 Creative Ways (THAT WORK!)
Professional Dog Training – Join a Group Class
In 5 Foolproof Ways to Find a Great Dog Trainer for Your Big Dog, I cover in-depth what you should look for in a professional dog trainer.
For the purposes here, I'd like to focus just on why I recommend formal or organized group training classes for large and giant breed puppies.
Mastiff puppies, in particular, can become shy and introverted if not exposed regularly to new dogs and new people at a young age. While I believe genetics will primarily determine your puppy's temperament, your deliberate focus on early training and socialization will go a long way in producing the gentle giant you dream of.
Read Nature vs. Nurture and the Drivers of Canine Behavior for more on this topic.
Benefits of Professional Dog Training and Group Classes
I recommend getting your puppy registered for a group puppy socialization class immediately. Ideally, you will have planned ahead and done this prior to picking your puppy up as many of these classes fill up quickly.
Look for a puppy class that allows the puppies free off-leash playtime. These interactions teach puppies basic social skills that only other canines can teach. This is particularly important if you picked your puppy up at 8 weeks versus waiting until after 10.
Most puppy classes will cost between $100 – $200 for 6-8 weeks. A small price to pay for a huge benefit to your puppy.
Early Prevention of Common Behavior Issues
Pulling on leash, uncontrollable barking, jumping on people, counter-surfing, and any number of other behavioral issues can be prevented or solved by making an investment in formal puppy socialization and obedience class.
A positive, force-free dog trainer will be worth his or her weight in gold with the advice and support they can provide you, especially in these early months.
The Pet Professional Guild is a wonderful organization I use for information and resources related to positive dog training. You can get a list of member trainers here.
Each hour you spend with your puppy is an investment in your relationship. When the bulk of that time is spent on encouragement, reward, praise, and fun, guess who becomes the world's most important person in your puppy's life?
YOU!
Dog Training Knowledge and Skills
I believe every training session is an opportunity to increase knowledge and skills that will benefit you and your puppy over the long-term.
Whether it is advice or tips from a professional trainer, or simply experience gained through trial and error – you know, the school of hard knocks – serve to make you a better trainer for your dog.
Consider this insight from Stephen Covey,
"The key is not to prioritize what's on your schedule, but to schedule your priorities. "
Where does your puppy fit on your list of priorities? Are their activities on your schedule that you could move or delete in order to pencil your puppy in?
Trust me. Netflix and Facebook will be waiting for you when your wild puppy has matured and learned what it means to be a gentle giant. Your willingness to put them down today is the first step.
Be A Friend To Get a Friend
When my daughter was in Kindergarten, her teacher used to say this to reinforce the qualities that cause people to WANT to be friends with you?
Let's consider those qualities for a minute.
CONSISTENCY – It is no fun to walk on eggshells unable to predict how someone will react.
ENTHUSIASM – Tigger is more fun to play with than Eyore, no matter how adorable those droopy ears are.
PATIENCE – None of us are perfect and a good friend understands and forgives our shortcomings.
If it's not immediately obvious what I am saying, let me be blunt.
Be someone your puppy wants to be with.
Aversive methods (yelling, punishment, force) are NEVER necessary. Period.
Dominance theory (dominance-based training) is not only outdated, but it has been widely debunked as "ludicrous," "a myth," and utterly "disrespectful" to our dogs. [9]
Instead, use rewards in order to reinforce the behavior you want to encourage. Withhold attention or affection to discourage unwanted behavior.
The combination of these two methods with some classical conditioning is all you need for a long-lasting and synergistic relationship with your puppy.
Don't Forget NAILS!
Arguably one of the most stressful and feared aspects of dog ownership, particularly with large and giant breed dogs, is trimming nails.
This is a topic I have covered extensively on Big Dog Mom, so I will be brief with just a comment and a few links.
As the founder of the Dog Nailpro™ Method, and instructor for Dog Nailpro™ online training course, I can tell you that force-free dog nail trimming is not only possible but essential for all dog owners to learn.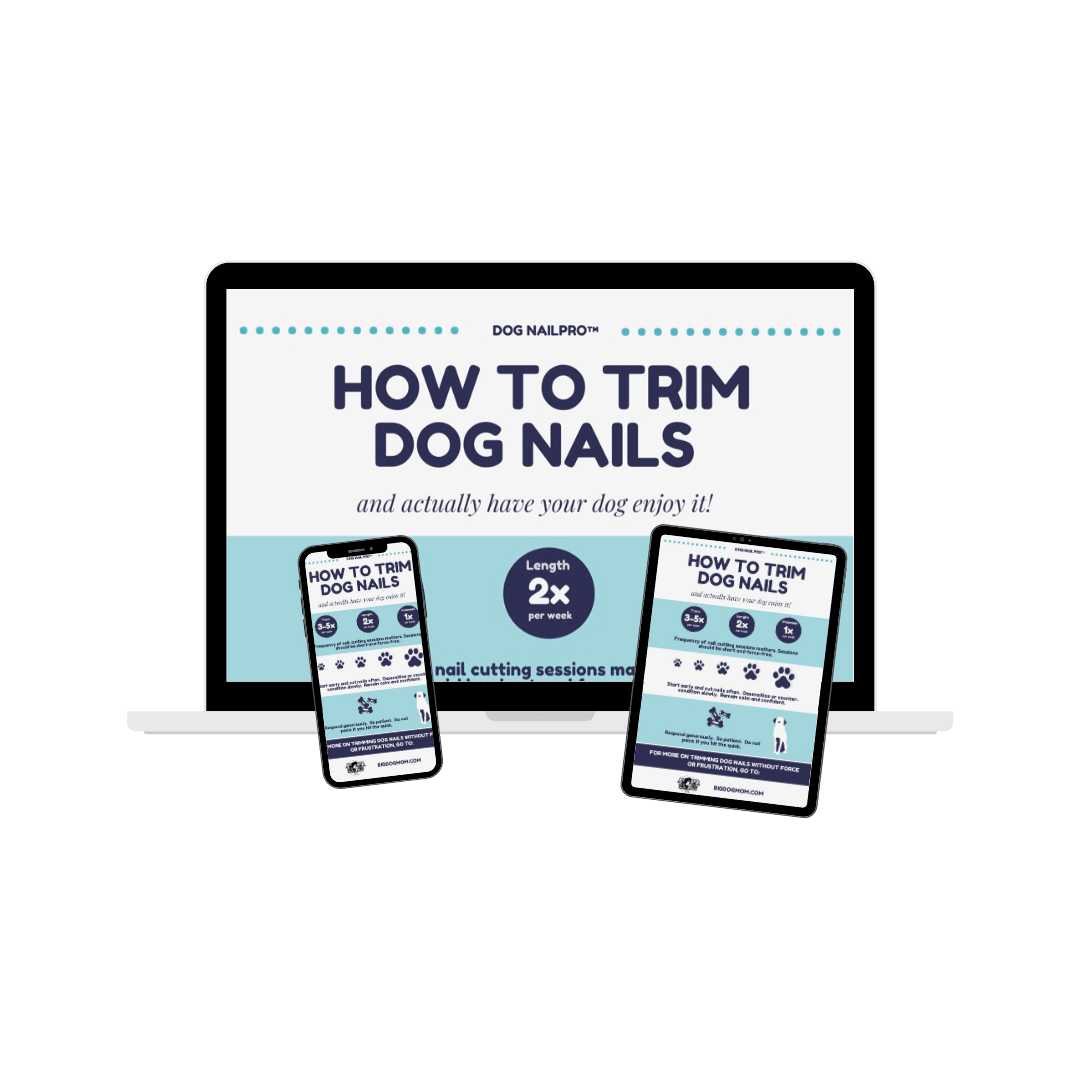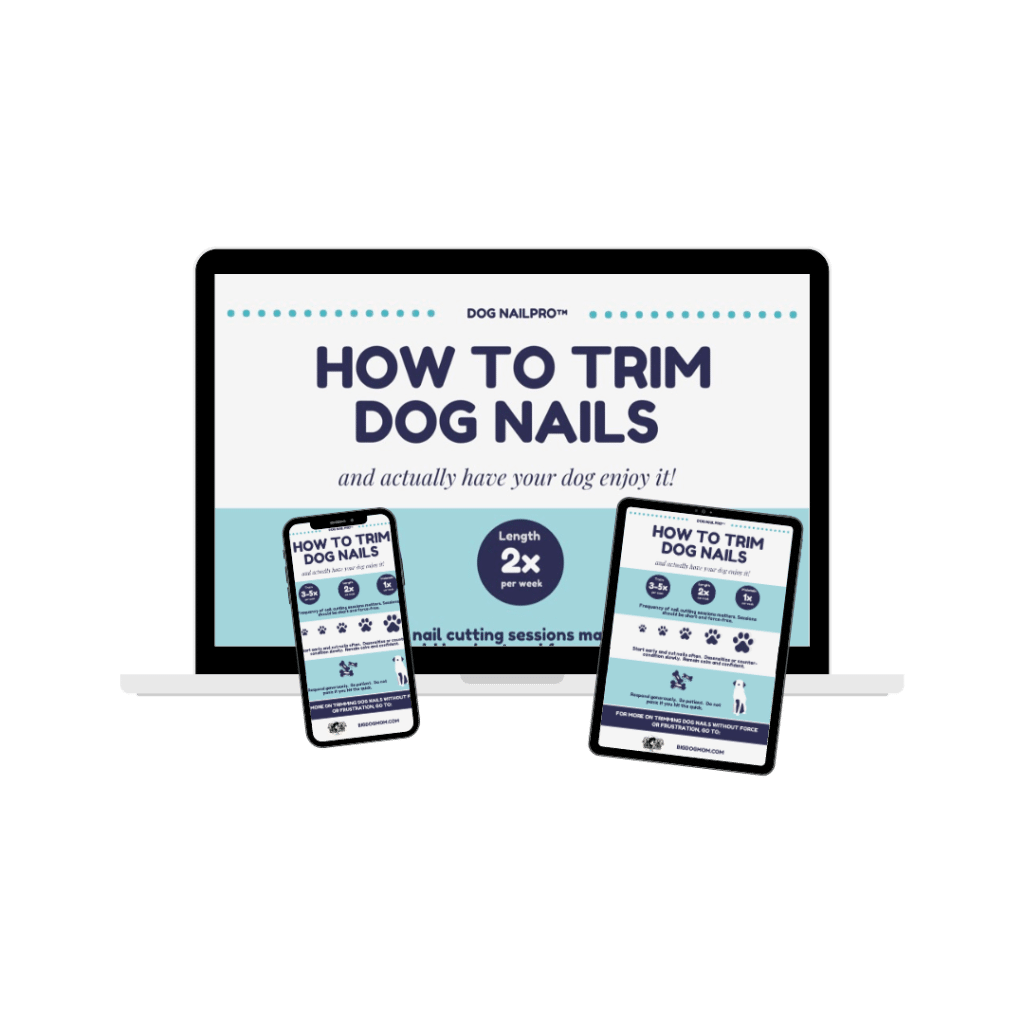 Does Your Dog enjoy nail trims?
In my course, Dog Nailpro™, I teach you how to cut your dog's nails without force, fear, or frustration. Join the waitlist today and get a FREE printable to get you started!
And for a comprehensive examination of the topic of trimming dog nails according to Big Dog Mom, go to:
---
Children and Puppies – How to Make a Safe Haven for Both
Babies and puppies adorn wall calendars for a reason. They are adorable and their innocence is captivating.
But when put together, puppies and children need supervision, structure, and rules for a healthy, mutually respectful relationship.
The following are a few tips to keep your children and your puppy safe when together:
100% supervision, 100% of the time!
I am not sure this needs elaboration, but in case it's not clear or you like to think in relative terms…
You should NEVER leave your children and your puppy alone without adult supervision. Ever. Not even for a minute.
Period.
If you need to walk out of the room for a minute, put your puppy in a play yard, take your child with you, or figure out an alternative such that they are not together unsupervised.
No excuses. Safety comes 1st.
Education is Key!
I believe one of the greatest responsibilities we, as parents, have is to teach our children empathy and respect for others, including pets.
Teach your children about canine body language. Even children as young as 2 or 3 can observe and interpret when a puppy is afraid or understand that when a teething puppy bites, they are not trying to be mean… "we need to teach the puppy it hurts."
Children need to be taught how to respect a puppy's personal space and develop an awareness of the range of signals dogs exhibit that tell us how they are feeling.
And I believe even young children can grasp this if we take the time to teach them and model respect ourselves.
Remember moms and dads, your children are watching everything you do. If you react to your puppy in a harsh way, ignore his or her fear, or otherwise dismiss your puppy's voice, your child will learn to do the same.
And when this happens, children are attacked.
Sadly, the "my dog attacked my son for no reason," are rarely, if ever, telling the whole story.
Rules of Respect
As mentioned above, children and puppies need to have rules.
Sofia Yin and Cattledog Publishing wrote this terrific piece about how kids and dogs should and shouldn't interact with one another.
With credit to Cattledog Publishing, I wanted to share these two graphics which so perfectly illustrate these rules of respect between our species.[10]
Limits are a Blessing
For both puppies and children, limits on their freedoms and structure in their day can bring comfort and stability as they grow.
However, when the world around them is erratic and unpredictable, their behavior responds accordingly.
For example, your puppy learns that peeing in the closet is acceptable because she's allowed in the closet when she has to go potty. Subsequently, your puppy also learns that Daddy is a man to be feared when he comes out of the closet.
Put it this way, both of these "lessons" can be avoided when the puppy is not allowed free access in the closet.
It is not unfair to your puppy to confine him or her to a play yard or crate when you are not able to supervise. Or to enforce a strict "no sit on puppy" rule in your house with your children.
Limits are a necessary blessing for both children and puppies and ought to be imposed without apology.
Beware of humanization.
99% of the time your puppy is not "feeling" what you think she is. Dogs are canines, not humans. They do not see the world through our eyes, as much as we like to think they do.
Puppies and Older Dogs – Budding BFF's
There are two fundamental principles that I live by when it comes to puppies and older, bigger dogs living together – respect for personal space and limitations to reduce injury.
Let's discuss both in more detail.
First, whether your older dog is excited about the newcomer or not, it is almost guaranteed that your new puppy will be overjoyed to meet his new best friend.
Out of respect for your older dog, please control these first interactions and introduce your puppy slowly.
I recommend having the dogs meet through a play yard or gate if possible.
Facilitating the exchange of scent through the barrier ensures both dogs are able to read each other without forcing one or the other to react when their space is invaded.
And while it may seem extreme, there is nothing cruel about keeping your new puppy separated from your older dogs for even a few days or longer.
Watch everyone's body language. Are you seeing calming signals or signs of stress?
Remember that your dogs have the rest of their lives together, so taking these first few days slow is key to building budding BFF's.
Once your new puppy has had a few opportunities to interact with your older dog, impose my second rule when it comes to puppies and older dogs – Limitations!
Limitations are key to preventing injury to your Mastiff puppy's growing bones and joints (as discussed earlier), and they provide your older dog the autonomy he or she deserves from the antics of puppy play.
My rule of thumb is to limit playtime to about 15 minutes per month in age once a puppy is past 8 weeks.
For example, when Junior was 12 weeks old, I would allow him a total of 45 minutes of playtime with Sulley for the day. I would separate this into 3 separate play sessions of 15 minutes each which I would limit further if the play got too rough.
I made use of my play yard extensively during this stage to allow the dogs to be with one another but separated by the play yard fence.
When Junior turned 4 months I increased the daily amount of playtime with Sulley to 60 minutes, again broken into 3 or 4 sessions.
| | |
| --- | --- |
| Puppy Age | Playtime Total |
| 8 weeks | 30 minutes |
| 12 weeks | 45 minutes |
| 16 weeks | 60 minutes |
| 20 weeks | 75 minutes |
Read Large Breed Dogs are NOT Right for Everyone – Are you a Good Fit? for more on raising a giant breed puppy with older, bigger dogs.
---
Never Stop Learning – The Journey Has Just Begun
You made it! You reached the end of this post and, perhaps even the end of your puppy's first year and you are starting to see light at the end of the tunnel.
The journey through a puppy's first year is not unlike going to college. You spend 12 months or more on a quest for knowledge and your graduation, i.e. survival, represents an achievement like no other.
At this stage, do not take your foot off the gas, my friend. You have so much more to learn and experience with your big dog.
Embody this insight of Albert Einstein:
"Wisdom is not a product of schooling but of the lifelong attempt to acquire it."
Never stop learning. Strive to be a better owner, a better trainer, a better friend to your canine companion.
Potty training, basic obedience, and door manners are just the beginning. Consider agility, therapy work, or enter your first dog show. Who knows… you just might surprise yourself with a newly found passion.
Use the information in this guide to help you. Bookmark this site to reference later. And share it with a friend today!
Here are some additional links and resources that are guaranteed to inspire you in the next chapter of your life with your big dog.
This weekly newsletter is a digest of the latest news in the world of big dogs and Big Dog Mom™ – with links to the most current research, advice, information, and resources to help you take better care of your big dog.
This is my Amazon shop of all of my most favorite dog training and canine behavior books. As I have said many times, you are the trainer for your dog.
Trust me when I say, if I can do this, you can too! All it takes is a desire to learn and the willingness to try.
Great Podcasts
Blogs You May Want to Follow
Favorites on YouTube
---
Resources
Debunking the "Alpha Dog" Theory: Exerting "dominance" over your dog is the wrong way to build a good relationship