Some of the links below are affiliate links, meaning that at no additional cost to you, I will receive a commission if you click through and make a purchase. For more information, read my full affiliate disclosure here.
Puppy teething is a challenging stage that all puppies go through. How you respond can make all the difference!
Puppy teething is one of those stages that ALL puppies go through. Puppy teething lasts from about 5-6 weeks of age when all the baby teeth have erupted until about 6-7 months when the permanent teeth take their place.
During this time, their gums swell as baby teeth get pushed out by bigger permanent teeth. And, as a consequence, you will likely be dealing with puppy biting and puppy chewing as your teething puppy seeks relief from the pain.
Because puppies don't speak HUMAN, and we don't speak LAND SHARK, there is a natural disconnect between you and your new large breed puppy.
In addition to saving money on Band-Aids, your goal over the next few months should be to close that gap while building a loving, symbiotic relationship with your rapidly growing puppy.
The following are 5 ESSENTIAL TIPS and 5 MUST-HAVE PRODUCTS that will help preserve your sanity, and your fingers, during this trying, puppy teething time.
And when you are ready, read Mastiff Puppy 101: Wild Puppy to Gentle Giant, Guaranteed! for everything else you will need to raise your large or giant breed puppy!
when do puppies start and stop teething?
If you landed on this page, the likelihood is that you are asking these questions: When do puppies start teething? When do puppies stop teething? And when do puppies stop biting so much?
Puppy teeth start to come in around weeks 2 – 4 and finish around 5-6 weeks. From this period until about 6 months old and when all 42 adult teeth are in, your puppy will be teething.
At approximately 12 weeks of age, your puppy will start to lose his first baby teeth. Expect them to fall out periodically and consistently for the next few months until all of the adult teeth are in.
Before we move on to the puppy teething survival tips, I want to address one more thing as it relates to the age at which puppies start teething.
In Puppy Fear Periods: The 5 Things that Can Save Your Puppy! I discuss why I DO NOT recommend bringing a puppy home between the ages of 8 weeks – 10 weeks. Allowing a puppy to remain with his dam and siblings during this very sensitive fear period is critical to optimal development.
Not surprisingly, the added benefit of a puppy remaining with a breeder longer is that all day, every day, your new puppy will be learning from his dam and siblings how much mouth pressure hurts when they bite.
Your puppy will learn that nipping and biting hurt and to be careful when opening and closing his mouth on something (or someone). This is a lesson best taught by a dog since they are all speaking the same language.
Puppy Teething Symptoms
Many of the following symptoms of puppy teething will come as no surprise. However, it is best to be armed with the information before you get your puppy.
The most common signs and symptoms of puppy teething are:
Bleeding or Swollen Gums
Not Eating or Poor Appetite
Chewing (on Everything)
Drooling Excessively
Missing Teeth
Do not be surprised to find blood on toys or bones or to find shed teeth around your house. Equally probable is not being able to locate puppy teeth after they've fallen out.
These are all very normal stages of puppy teething and development. No need to worry or freak out!
That said, I do recommend monitoring your puppy's mouth and alerting your veterinarian if anything seems abnormal or concerning to you. Since your puppy should be seeing a veterinarian regularly during this period, it is your responsibility to make your new puppy's dental health a priority.
Dental health aside, because your goal during this period is to minimize how many fingers and furniture fall victim to your little land shark, let's proceed with the puppy teething survival guide!
5 Tips For Surviving Puppy Teething
1. Do NOT Punish Puppy Biting!
The word "punish" is used in a broad sense.
Punishment here can include any form of hitting, slapping, yelling "Bad Puppy," or otherwise applying punitive methods against a biting puppy.
I have heard trainers recommend holding the puppy's mouth closed while yelling "NO" as a way to stop a puppy from biting.
This is not only cruel, but it is actually reinforcing the very behavior the so-called trainer is trying to inhibit.
In modern dog training, an aversive method like this is considered a positive punishment.
Positive punishment is when you add a response (holding the puppy's mouth closed) to decrease the likelihood that the behavior (puppy biting) will occur less often.
The only people who think this is an effective method to teach a puppy not to bite are those who yell at their kids to stop yelling.
Worst of all, puppies do not pair their biting with your punishment. They pair your punishment with YOU, or your kids, or your friendly neighbors.
2. DO Ignore Puppy Biting
Ignoring is considered a negative punishment.
A negative punishment reduces behaviors (biting) by taking away or withholding something good (YOU).
This really is a critical point that bears repeating.
Remember, YOU are the one your puppy wants. YOU are the center of his new universe.
This is why ignoring your teething puppy when he bites can be so powerful. It sends a non-verbal, non-physical message to the puppy that when he bites, YOU (his most favorite person in the whole world) leave or stop playing with him.
3. DO Reinforce Better, Incompatible Behaviors.
This is my absolute favorite technique for all sorts of unwanted behaviors; barking, biting, begging at the table. That last one is particularly key when you have a dog who can rest his head on your table while slobbering over your steak.
With this one, you do have to be a little careful.
I have heard new owners say "oh when my puppy bites I just hand him a toy and tell him to chew that instead." While this is close, unfortunately, handing over a toy just after biting is reinforcing the unwanted behavior of biting by rewarding it.
The key is timing. Here is a quote from one of my favorite positive trainers, Pamela Dennison, Certified Dog Behavior Consultant in her book, You Can Train Your Dog:
"My rule of thumb is this: if the dog does something great, reinforce within one-half to one second of the behavior. If the dog does something less than desirable, wait for a full five to ten seconds after he stops doing the unwanted behavior, redirect to a better one, and then reinforce."
pamela dennison
With a puppy that is biting, try this method for teaching an incompatible behavior:
Puppy bites,
You withhold attention (stand up, walk away, turn around so the puppy is at your back).
After a full five to ten seconds, hand your puppy a safe chew or toy, and then
Praise your puppy for chewing his things.
4. DO Prepare BEFORE You Bring Your Puppy Home.
I am always perplexed when new puppy owners act surprised that their puppy is biting.
All puppies bite. Some more than others. But they all do it. As I stated earlier, it is a phase that all puppies go through.
It is best to have a plan BEFORE you bring your new puppy home on how you are going to handle this phase.
Ensure that your entire family, kids included, are in agreement with exactly how you want to train your puppy during this stage. This consistency will be key to ensure the puppy doesn't get mixed messages causing confusion.
Here are a few of my absolute favorite books for new dog owners. I highly recommend you get, at the very least, The Puppy Primer BEFORE you bring your new puppy home. From puppy teething and potty-training to beginner obedience and fun games for puppies, The Puppy Primer should be in every big dog owner's library.
And for more information on training your puppy, read:
blog posts on
Puppy training
5. DO Have Patience With Your Teething Puppy.
Remember your puppy is just a baby. If you have ever watched two puppies or two grown dogs play, they bite.
I often compare my two mastiffs to walruses; mouths open, biting necks, head butting, and all-out body blows are commonplace and just a part of the way dogs play.
When puppies are young, they need to learn that you are not another puppy. (Remember what I said earlier about waiting to pick your puppy up until after 10 weeks old?)
That association takes time. What often delays the timing of that correct association is the fact that the puppy is teething and in pain.
During the teething stage, puppies are intrinsically rewarded every time they bite, whether it's your pants leg or his toy, because it soothes their gums.
The way you can combat against this inadvertent, yet constant, reinforcer is to make sure you have plenty of appropriate items on hand to which you can redirect your puppy.
Here are my top 5 recommendations for appropriate puppy teething toys, chews and products that will help you through this trying, teething time.
It is important that you ensure both the size and quality of the product will stand up to the more aggressive chewing of a large breed or giant breed puppy.
5 Must-Have Products For Puppy Teething
For giant breed puppies (Great Danes, Mastiffs, Newfoundlands, Irish Wolfhounds) I would go straight to the XL Black Kong.
For large breed puppies (Labrador retrievers, German shepherds, Pointers), you could get away with starting out with a smaller one.
Consider buying two so that you always have one filled in the freezer ready to go.
In addition to providing wonderful mental stimulation, a frozen Kong serves not only to provide relief to your teething puppy's aching gums but also prolongs how long he is occupied while licking it out.
My go-to Kong-filler is peanut butter, but you can fill them with just about anything that is safe for dogs to eat; yogurt, bananas, apples, carrots, pumpkin, cheerios, and biscuits. Get out your Vitamix and go to town!
I prefer Buck Bone Organic brand, but there are others. I still have the antlers I bought when Sulley was a baby, almost three years ago. They can be pricey to purchase, but they last forever and are totally worth the money!
Honestly, I could feed a small village in Africa on how much money I have spent on stuffed animal toys for my dogs over the years.
Suffice it to say, heed my warning and save your money. Stuffed animal toys, while adorable, are generally not a great choice for a teething puppy. Unless, of course, your objective is to see how far you can expand your squeaker graveyard.
Here are a few more prudent puppy teething toys for large breed dogs:
Some Of My Favorite Puppy Toys
To save you time, each of these dog toys are linked to their individual store or on Amazon.
And for a more extensive list of big dog-appropriate toys, read Top 10 Best Toys for Big Dogs: Battle-Tested and Big Dog Approved or check out all of BDM's Favorites here.
Bully sticks can be found in many places, though I usually buy the ones at Raw Paws Pet Food.
Keep in mind bully sticks, while delicious, are very high in protein.
They should only be an occasional treat so as to not throw off the nutritional balance of your rapidly growing puppy.
One word of caution is that I do not let my dogs consume entire bully sticks. I am vigilant when my dogs chew them and I take them away before they pose a choking hazard.
One way I like to get the most out of my bully sticks safely are to stick the remaining 5″ or so into a West Paw Qwizl or Funnl toy. The image above of Junior with his West Paw toys shows the bully stick inside so you can see how this works.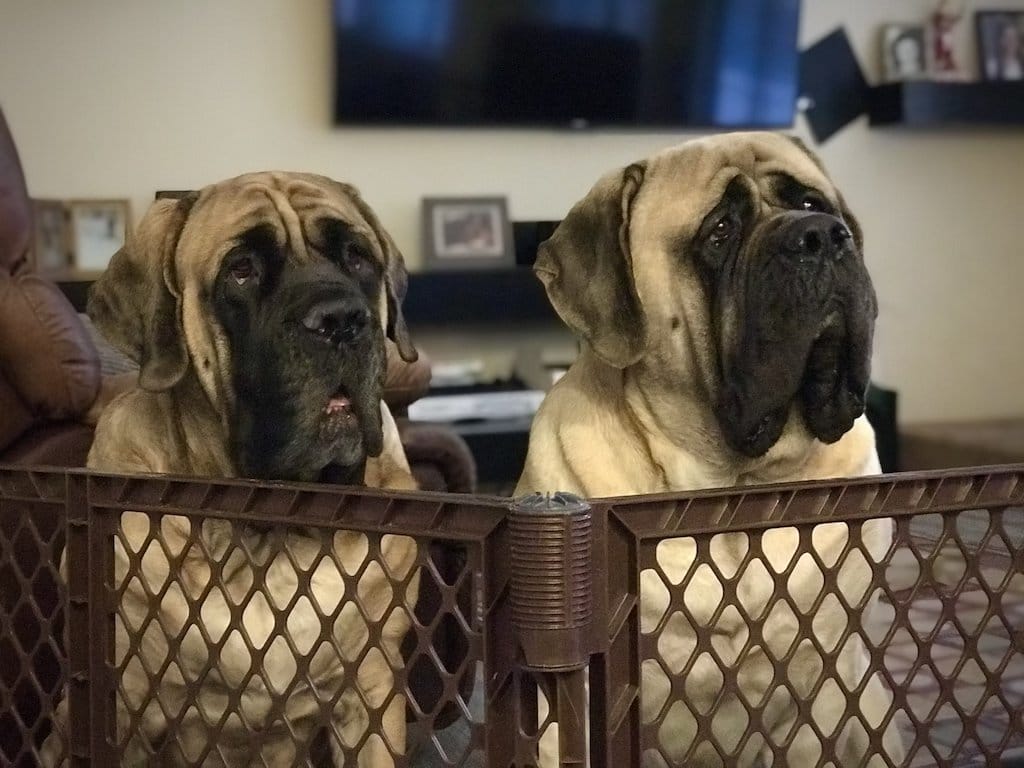 If you have been to any dog show, you have seen these play yards, also referred to as x-pens.
Junior was my first puppy raised in one and I honestly don't know how I survived puppyhood with my other dogs without it.
I set up my play yard in the center of our main living area between our kitchen and family room so that Junior would always be right in the center of all of the action in the house.
Because his crate is the size of a studio apartment, moving it around the house was just not feasible.
The play yard enabled me to confine Junior without having to move his crate out of my bedroom. In A Bomb Proof Big Dog Starts With Puppy Socialization [Today!], I list 50 examples of socialization activities that you can and should do with your new puppy during the critical window between 8-16 weeks.
The play yard facilitated numerous exposures that would not have been possible had Junior been confined in his crate in the bedroom.
However, with as great as these are, please keep in mind that your puppy should NEVER be left unattended in a play yard. This includes when you leave the house for work or other reasons or at bedtime. He should be crated anytime you are not home or not awake and able to watch him.
Summary
So, now it is your turn. What tips or advice would you add to this list to survive the puppy teething stage? What are some of the products that have helped you survive a teething puppy (a.k.a. the dreaded sharp-tooth land shark) in your home?
I would love to hear from you! Leave me a comment below.
Resources