How to Make Instant Pot Bone Broth for Dogs in 3 Hours or Less!
What is the Fastest Way to Make Bone Broth For Dogs?
With a thousand and one bone broth recipes out there, Instant Pot bone broth is by far the fastest and easiest method – with a full pot of nutritious and delicious bone broth for dogs in 3 hours or less!
Compare this to the 24 hours it takes to make bone broth for dogs in a slow cooker as I shared in How to Make Bone Broth for Dogs: Slow Cooker Bone Broth Recipe and in this video tutorial.
You are here because you want to optimize your dog's health and wellness without taking the equivalent of a part-time job to do it. No one has time for that!
The good news is you are not alone and you are in the right place.
Without further adieu, go grab your Instant Pot and let's get cooking!
VIDEO: How to Make Instant Pot Bone Broth for Dogs in 3 Hours or Less! | EASY & FAST!!
---
**This post contains affiliate links from which I may receive a small compensation. There is NO ADDED COST to you should you use these links.**
---
How to Make Instant Pot Bone Broth for Dogs Step-by-Step Directions
1. Fill Instant Pot with Cooked or Raw Bones
Any size Instant Pot will work. I use a 6-quart Instant Pot and find that the amount of bone broth I can make for my two giant breed dogs is more than enough. I keep a gallon bag (or two) of cooked bones in my freezer all the time and when the bag is filled with bones, I make a batch of bone broth.
If want more information about what kinds of bones you can safely use for your bone broth, keep reading as I cover this question and many more in the FAQ section below.
2. Fill Instant Pot with Water
Completely submerge the bones in the water. Be sure that your water level does not exceed 1-2" below the max fill line in your Instant Pot – or about two-thirds full.
If you fill your pot too full it can cause too much pressure to build up. The liquid plus bones and meat can rise up and block the pot's pressure valve. In this case, the pressure levels will no longer be modulated, allowing the pressure to increase dangerously. You don't want that to happen. So, as is often the case, less is more!
3. Pour in 2-4 TBS of Raw Apple Cider Vinegar (or Other Acid Like Lemon Juice)
The amount of apple cider vinegar is not an exact science. You will need to make a few batches before deciding what works best for you. I normally use ¼ cup (or 4 TBS). Let the bone/water/apple cider vinegar solution sit for 30 minutes to allow time for the apple cider vinegar to start to pull the minerals and gelatin out of the bones.
4. Turn Steam Release Valve to Sealing
If you leave it on venting your Instant Pot will not build steam and pressure, thereby not cooking your bone broth. This is an easy step accidentally skip, so don't forget it.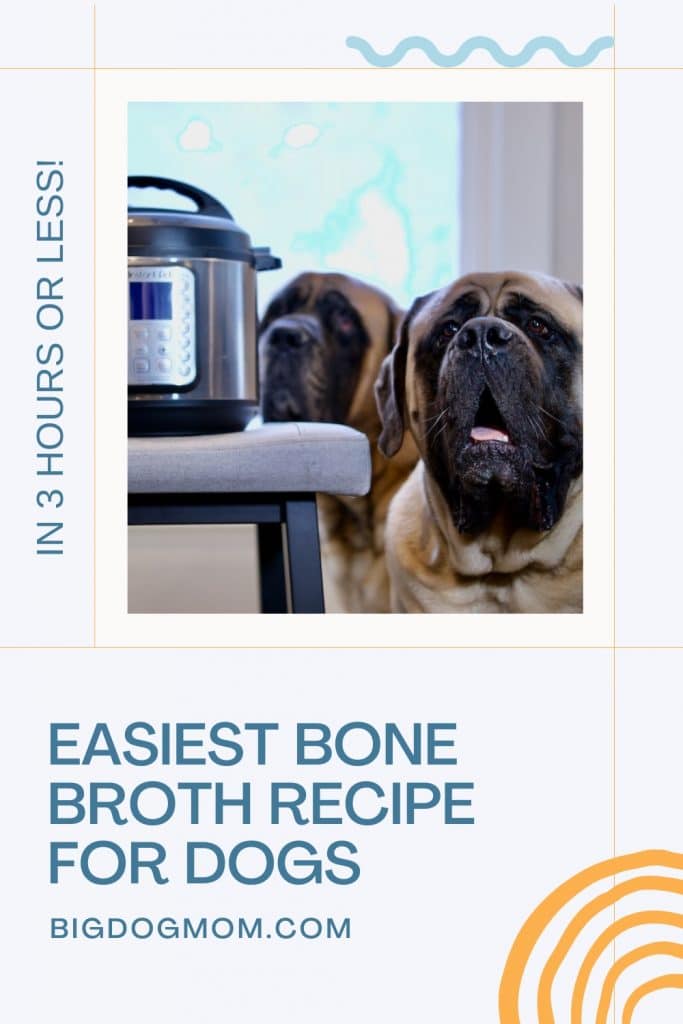 5. Press the Soup Button and Set Time to 3 Hours
If you are short on time, set your Instant Pot to high pressure for 120 minutes. Either method will produce delicious and nutritious bone broth for your dog (and you!).
6. Depressurize With Natural Release
There are two methods to depressurize the steam in your Instant Pot – a quick release and a natural release. For bone broth, you will use a natural release to allow the steam to release slowly. You will know it's done depressurizing when your float valve goes down and you are able to twist and open the lid.
7. Strain Out ALL Bones
As I have mentioned many times here on Big Dog Mom, NEVER feed cooked bones to your dog! You can feel free to leave in any meat, veggies, or herbs you added, but be sure to remove ALL of the bones.
8. Once Cool, Pour Bone Broth into Heat-Safe Container and Refrigerate
Alternatively, you can pour your cooled bone broth into silicone molds or ice trays and freeze it for delicious bone broth treats.
How To Make Bone Broth For Dogs Using a Slow-Cooker
Bone broth for dogs is extremely easy to make in a slow cooker as well, it just takes longer – about 24 hours – and with a little more aroma.
Slow-cooker bone broth for dogs was my go-to recipe until I learned how to make it in the Instant Pot.
However, if you don't have an Instant Pot yet or would like to learn how to make bone broth in your slow cooker or crockpot, read How to Make Bone Broth for Dogs: Slow Cooker Bone Broth Recipe and watch my short video tutorial with step by step directions here.
Frequently Asked Questions About Bone Broth For Dogs
1. Why do you add apple cider vinegar to bone broth for dogs?
The primary benefit of bone broth is the gelatin that is produced when collagen-rich bones and connective tissue are broken down. Apple cider vinegar, or another acid like lemon juice, serves as an unlocking agent for this process to occur.
2. Can I give my dog bone broth every day?
The simple answer is yes, however, you will want to make sure you are accounting for calories, the age and activity level of your dog, and any allergies or health conditions he or she may have.
For example, if you are feeding a growing mastiff puppy, you need to carefully watch the balance of calcium and phosphorus you are feeding to prevent orthopedic growth disorders.
You never want to feed bone broth as a substitute for a balanced diet of whole foods and quality nutrition.
3. What kind of bones are safe to use when making bone broth?
When selecting bones for your dog's bone broth recipe, pretty much any bone raw or cooked will work and provide health benefits.
That said, if you are wanting a very gelatin-rich bone broth, the more collagen-rich joints you will want to use more. For example, bones such as chicken feet, beef knuckles, and turkey wings have far more collagen than do internal beef or pork steak bones, ribs, or leg bones.
The only bones avoid when making bone broth are whole bone-in fish due to the inability to strain out the bones after cooking. I feed sardines whole, raw, and frozen to my dogs, not as a part of their bone broth.
4. What can I add to bone broth to make it more healthy for my dog?
There are an unlimited number of recipes for making bone broth for dogs. What I am sharing here is the bare-bones version. Ha!
If you would like to amp up your dog's bone broth with additional health benefits, any of the following ingredients make a fantastic and nutritious addition: turmeric (my favorite for large and giant breed dogs), garlic, kale, medicinal mushrooms, herbs, broccoli, green beans, and most other vegetables.
You can add these to your bone broth either before or after cooking so that they cook and soften in the hot broth.
5. Is Bone Broth Good For a Dog?
YES!
Bone broth is particularly wonderful for large and giant breed dogs due to the rich supply of glucosamine, chondroitin, and hyaluronic acid which serve as support for joint health.
Bone broth is a rich source of immune-boosting amino acids and collagen, an essential component of connective tissues (your dog's bones and joints).
It contains numerous essential minerals such as calcium, magnesium, phosphorus, and sulfur which play a role in nerve conduction, heart health, sleep, and muscle contractions, among other physiological processes.
And lastly, bone broth contains the amino acid glycine which has been shown to provide some anti-inflammatory and gut health benefits as well.
6. How Much Bone Broth Can I Give My Dog?
There is no exact prescription for how much bone broth you can feed your dog. The key is feeding it as a supplement and in moderation.
I have two giant breed dogs, adult male Mastiffs, and I normally add a spoonful or two to their dog food bowl for some, but not all, meals.
I don't overthink my dogs' diets as I talk about in this video and in the following blog posts: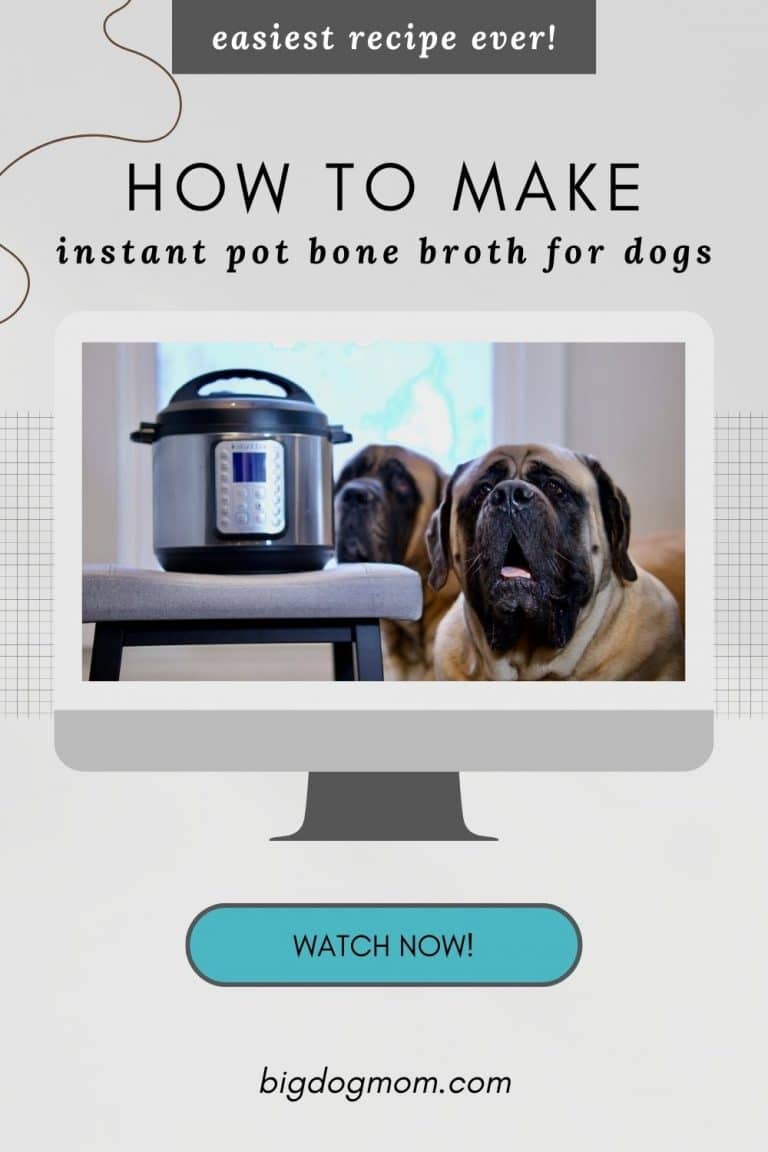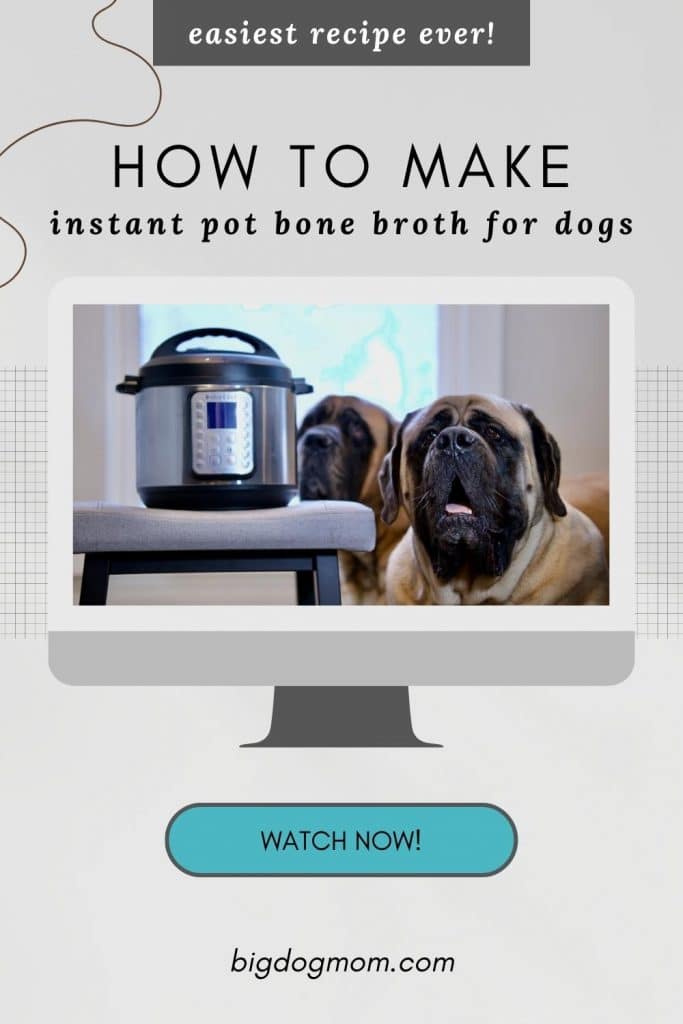 7. Will bone broth settle my dog's stomach?
The glycine (amino acid) contained in bone broth can provide some anti-inflammatory benefits for your dog's gut.
However, if your dog has significant GI distress or diarrhea, I would recommend consulting your veterinarian and possibly fasting for a meal or two depending on what is going on.
8. How Long Will Bone Broth Last In the Refrigerator?
You can safely store bone broth in the refrigerator for up to 6 months, however, mine never lasts this long!
9. How Long Will Bone Broth Last in the Freezer
Freezing bone broth in bulk is my favorite method of preservation as it can be stored frozen for up to a year or more!
I love to pour my liquid bone broth into ice trays or silicone molds, freeze them and then pop out the cubes into a large freezer bag or freezer-safe container to store them. My dog's absolutely LOVE these frozen treats throughout the year!
10. Do I need to thaw frozen bones first before adding them to my Instant Pot?
No. There is no need to thaw frozen food or bones before cooking them in your Instant Pot.
Best Recipe For Dog Bone Broth
Have you made bone broth for your dog in the Instant Pot? What was your experience?
What do you add to your dog's bone broth recipe to enhance its taste and nutritional benefits?
Share your experience and any comments or questions you have in the comments below.
Happy cooking, Big Dog Friends!