Some of the links below are affiliate links, meaning that at no additional cost to you, I will receive a commission if you click through and make a purchase. For more information, read my full affiliate disclosure here.
If you are looking for a quick and easy homemade dog treats recipe that is both nutritious and delicious – a frozen, no-bake summertime snack your dog will love – you are in the right place!
Dogs love treats. Even picky dogs love treats. And for most dogs, homemade dog treats are superior in every way.
The following are just a few of the benefits of making your dog's treats at home: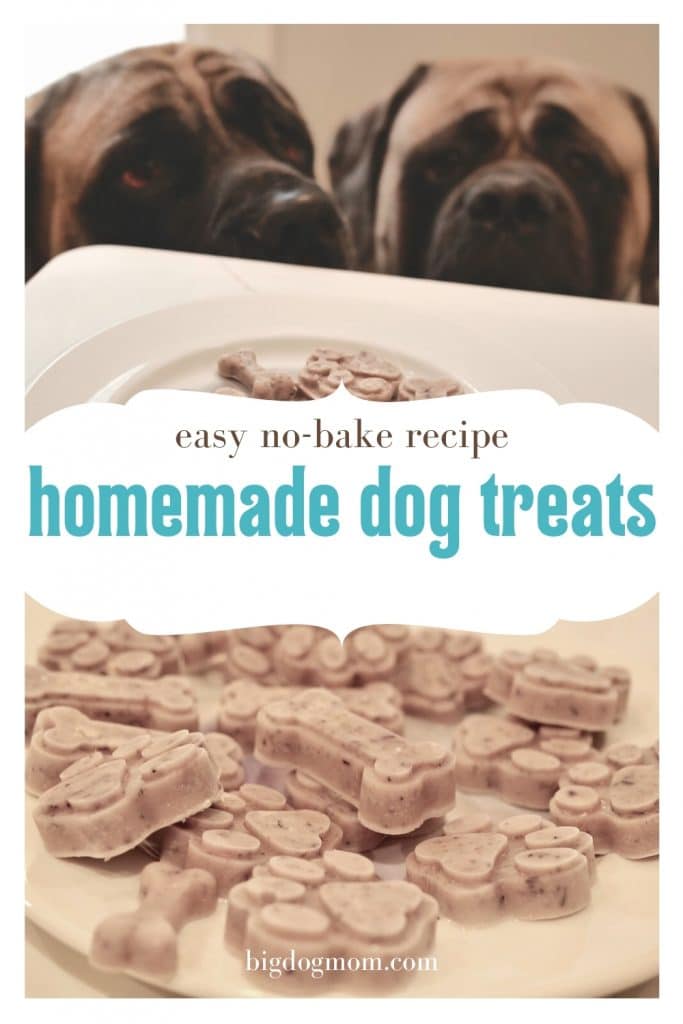 More nutritious
Less expensive
No preservatives (or natural ones)
Better taste
Easy to make
Tailored to your individual dog's health needs
Since transitioning Junior and Sulley back to their raw diet this year, I have made it one of my goals to develop some new recipes for homemade dog treats.
Why would I go to the tremendous effort of feeding a balanced raw diet only to add less-than-optimal, preservative-laden commercial dog treats into the diet?
I wouldn't. I won't.
In the coming weeks and months, I will be sharing a series of new and original homemade dog treats recipes for large and giant breed dogs.
Since it is summertime, I wanted to share a frozen DIY dog treat recipe that is both nutritious and delicious!
And bonus… you can make it in less than just a few minutes!
I call them "Gut Power Pops" – frozen pops of GUT power.
Homemade Dog Treat Recipe Health Benefits
There are just six ingredients in my Gut Power Pops recipe. I will help you tailor this recipe in the next section.
For now, let's discuss the benefits of each of the ingredients in this dog treat recipe for your dog.
Raw Goat Milk
Raw goat milk is packed with nutrients!
With a chemical composition similar to that of breast milk, raw goat milk provides a range of health benefits for dogs.
First, and foremost, it is a terrific source of probiotics, prebiotics, and important digestive enzymes.
Because raw goat milk is not pasteurized, the naturally occurring good bacteria thrive contributing to improved digestion and immune system benefits.
Nutritionally, raw goat milk is full of vitamins and minerals your dog needs. Among these are vitamin A, calcium, phosphorus, iron, and vitamin C.
And lastly, raw goat milk is a wonderful source of protein, fatty acids, and contains only A2 casein, which produces none of the inflammatory effects found in cow's milk. (1)
While it is a fantastic addition to the diet of most dogs, raw goat milk may not be a great option for all dogs. (2)
For example, while raw goat milk contains significantly less lactose than cow's milk, for dogs who don't produce enough lactase to break down the lactose, any milk in the diet can potentially cause digestive upset. If your dog is lactose intolerant, you may want to omit the raw goat's milk from this recipe.
Watch for diarrhea, gas, bloating, abdominal pain, or vomiting as a sign that your dog may be lactose intolerant.
Organic Plain Greek Yogurt
Provided your dog is not lactose intolerant, plain greek yogurt is included in this dog treat recipe as a source of probiotics and protein.
The brand I used contains six live active cultures, including S. thermophilus, L. bulgaricus, L. acidophilus, Bifidus, L. paracasei, and L. rhamnosus – probiotics that aid digestion and keep the helpful bacteria in the gut balanced.
And with its specific straining process during manufacturing, greek yogurt is a great source of concentrated protein and calcium without all of the processed sugars (sweeteners) and flavor additives.
Chia Seeds
Chia seeds are a terrific source of omega-3 fatty acids so I try to include them in my Mastiffs' diet.
Not only do chia seeds provide 3 times the amount of Omega-3 fatty acids as salmon, but they are also an excellent source of phosphorus, potassium, copper, iron, and zinc and are non-allergenic.
According to Dog's Naturally Magazine, "Each seed is potent enough to prevent infections, with 19-23% protein, which is gluten-free, 34% oil and 25% fiber. Chia seeds offer an excellent source of B vitamins and they are loaded with important Omega-3, 6, and 9 fatty acids and antioxidants." (3)
Put simply, chia seeds are a powerhouse of nutrients housed in a tiny package.
Blueberries
My Mastiffs LOVE blueberries! So much so, I often use them as treats for obedience training.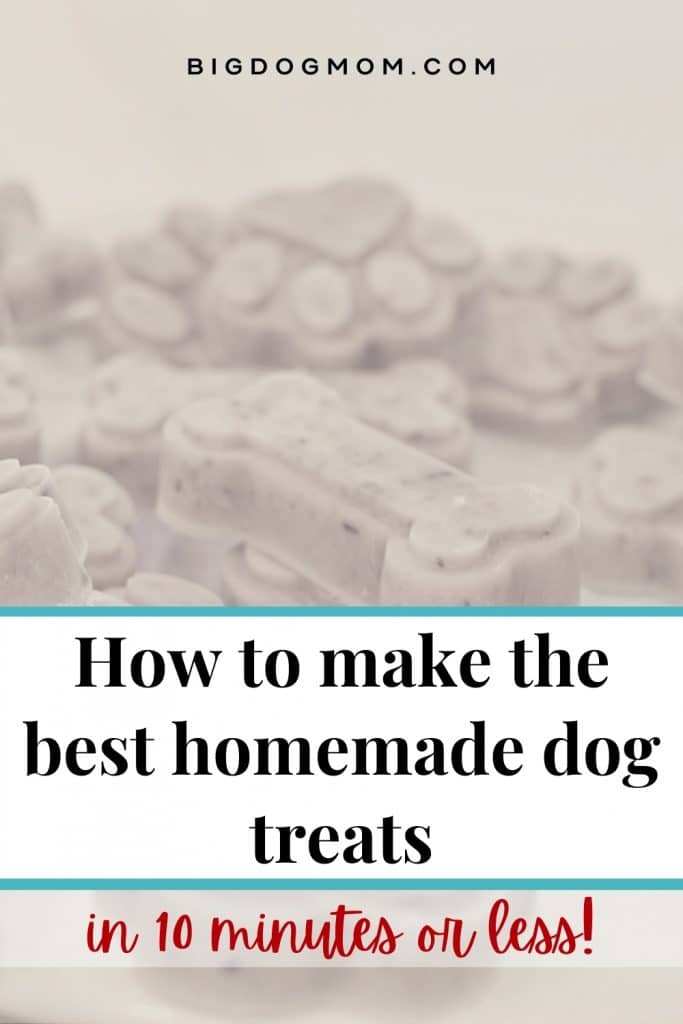 Nutritionally, blueberries are a low-calorie fruit packed with vitamin C, fiber, and important phytochemicals and antioxidants, which help to fight free radicals responsible for cellular and molecular damage in dogs. (4)
Some studies have revealed that adding antioxidants to a dog's diet reduces the effects of cognitive degeneration, important for those of us with senior dogs.
Strawberries
Like blueberries, strawberries are a healthy, low-calorie, sweet treat for your dog, full of antioxidants, high in fiber and vitamin C. (5)
Coconut Oil
Coconut oil is an oil extracted from coconuts and is high in saturated fat and medium-chain triglycerides. These fats serve to increase energy levels, improve skin and coat, improve digestion, and reduce allergic reactions in dogs. (6)
These concentrated fatty acids are also helpful in cognitive function, potentially slowing cognitive dysfunction as a dog ages.
There are many ways to feed coconut oil to your dog – adding them to healthy dog treats made at home is one of them.
In addition to simply adding a tablespoon of coconut oil directly into a bowl of food, this thick and tasty oil can be used as a coating on pills to help dogs swallow them, which is a strategy I use often with all of Junior's medications.
And if your dog suffers from dry or dull skin and coat, you can apply coconut oil topically as well.
Keep in mind that you only want to use organic, virgin, cold-pressed coconut oil.
For dogs with pancreatitis, you may want to omit coconut oil due to its high-fat content. Other than that, most large dogs can benefit greatly from a small amount of coconut oil each day.
Optional Ingredients To Make the Best Dog Treats
Banana
My big dogs LOVE bananas, so this nutrient-rich fruit would make a great addition to this dog treat recipe.
Bananas are a rich source of vitamin C, potassium, and magnesium, but they are very high in sugar, so I feed them in moderation.
Adding in one banana to this DIY dog treat recipe would provide a healthy energy booster without upsetting the balance too much.
Peanut Butter
Peanut butter is a staple for nearly all dog treats because most dogs love it and it is an inexpensive way to add a quality source of protein and healthy fats, vitamins B and E, and niacin to your dog's diet.
While in the future I will share how to make dog treats using peanut butter, I wanted to make this version without it for ease and simplicity.
With the yogurt, raw goat milk, and chia seeds, I am packing more than enough protein into these frozen Pup Power Pops!
Watermelon
Watermelon is another amazing fruit that could easily be added to this dog treat recipe.
Watermelon is a low-calorie source of vitamins A, B6, and C, and potassium. And at 92% water, watermelon freezes perfectly for a yummy frozen summer treat for your dog!
If your dog loves watermelon, consider adding ½ cup to this recipe.
How To Make Homemade Frozen Dog Treats
Gut Power Pops No-Bake Dog Treat Recipe
These are the molds I used in this recipe, however, there are many other varieties to choose from.
Directions For How To Make Gut Power Pops
Warm your raw goat milk slightly so that it is between 75 – 80 degrees, room temperature or slightly above. I use a bowl of hot water underneath to gently warm my goat milk, but you can use other methods as well. **Pasteurization doesn't occur until the milk hits about 165 degrees, so slightly warming shouldn't denature any of the probiotics.
Mix in coconut oil by hand and stir until melted.
Add organic greek yogurt and stir until blended.
Pour into a blender (I use a Vitamix).
Add fruit to the blender and blend for a few seconds until all of the fruit is broken down.
Pour into a medium size bowl and add your chia seeds. Let the chia rest in the liquid for about 5 minutes to allow them to rehydrate.
Spoon into freezer-safe silicone molds and place in the freezer for about an hour.
Once frozen, pop out the dog treats and store in the freezer in a container or Ziploc bag.
Feed 1-2 Gut Power Pops per day for a happy, healthy dog!
VIDEO: How to Make Healthy Homemade Dog Treats in 10 Minutes or Less! [EASY NO-BAKE RECIPE]
DIY For the WIN! Say Goodbye To Store-Bought
Honestly, making homemade dog treats couldn't get any easier.
This no-bake recipe takes less than 10 minutes to prepare with ingredients you likely have in your refrigerator. And in less than an hour, your dog will be enjoying his delicious Gut Power Pops!
Stay tuned to BigDogMom.com and our YouTube channel for more unique and healthy dog treat recipes.
What are your favorite recipes for easy homemade dog treats? Please share in the comments below….
References
Gut Power Pops Homemade Dog Treats
These delicious and nutritious frozen treats pack a powerful punch for your dog's gut health. With just a few ingredients Gut Power Pops can be made in less than 10 minutes.
Print Recipe
Equipment
1 Blender

1 Freezer-Safe Silicone Molds
Ingredients
2

cups

Raw Goat Milk

1/4

cup

Coconut Oil

1/4

cup

Plain Greek Yogurt

1/2

cup

Blueberries

1/2

cup

Strawberries

2

tbsp

Chia Seeds
Instructions
Warm raw goat milk to room temperature (75º F).

Mix in coconut oil and stir until melted.

Add organic Greek yogurt and stir until blended.

Pour mixture into a blender and add fruit. Mix until smooth (5-8 seconds)

Pour mixture into a medium-sized bowl and add chia seeds. Let this mixture sit for 5 minutes to allow the chia seeds to rehydrate.

Carefully pour into freezer-safe silicone molds and place in the freezer for at least 1 hour. Consider using a piece of parchment paper under the silicone molds to prevent spills and make releasing the treat easier.

Once frozen, pop treats out of the molds and put them into a Ziploc bag or container, and store them in the freezer.