Some of the links below are affiliate links, meaning that at no additional cost to you, I will receive a commission if you click through and make a purchase. For more information, read my full affiliate disclosure here.
Getting a large dog into an SUV, van, or truck can be challenging without a hitch step, dog ramp, or dog stairs. Read the pros and cons for each here…
If you have a large or giant breed dog, getting them into your even larger vehicle like an SUV, truck, or van can present a bit of a challenge. In order to get your dog in and out of your vehicle safely, you will need the assistance of a hitch step or dog ramp or even a set of dog steps.
The next logical question is, "With so many options, what is the BEST aid for getting a large dog into and out of my SUV/truck/van?"
As a long-time Mastiff owner, with a few other large and giant breeds like Great Danes and a Labrador retriever sprinkled in over the years, in this post, I am going to share my experience with both a dog ramp (two different brands) and the Heininger Twistep® Dog Hitch Step.
Because these are not the only two options on the market, I will also be sharing some initial thoughts about pet loader dog steps as well.
Let's dive in…
How To Load a Large Dog into a Large Car [Pros & Cons for Each]
If you have a healthy, able-bodied dog (see below for dogs who need physical assistance due to mobility constraints), there are basically three different options to choose from when it comes to loading your dog into and out of your vehicle.
All three of these options will work whether you have an SUV, a van, or a truck with a tailgate.
Let's examine each one in more detail.
1. Dog Ramp
There are a plethora of dog ramps to choose from on the market, but they all share some basic features – they function by providing an inclined surface on which your dog can walk up or down to get into or out of your vehicle.
The height of your vehicle will dictate the degree of incline your dog will need to climb. As such, the steeper the incline, the more important the surface becomes.
Dog ramps with a slick or sandpaper-like surface will tend to be more slippery, while a rubbery surface will provide more traction and be a better choice if the incline is steep.
Another consideration is width.
Generally speaking, dog ramps are fairly narrow providing limited space for your dog to walk. This can be a huge disadvantage and major challenge if you have a wide-bodied giant breed dog like a Mastiff, Saint Bernard, or Newfoundland.
The cost of a dog ramp is moderate with most falling between $100 – $160 which is affordable for most dog owners.
I have tried two different brands of dog ramps, the Petsafe Happy Ride Telescoping Dog Ramp and the Weather Tech Folding Dog Ramp.
Here is a list of pros and cons of a pet ramp based on my personal experience using them with two giant Mastiffs:
Pros of a Dog Ramp:
1. Ease of Use
A dog ramp is simple with basic construction, requiring very little training on the part of the dog owner to use.
2. Universal Size
Dog ramps are a one size fits all product. They will work on any vehicle with any height. The only real decision you will want to make is based on weight capacity, as some dog ramps are able to hold more weight than others.
3. Inexpensive
Most dog ramps made for large and giant breed dogs will run from $100 to about $160 which is affordable for most families.
Cons of a Dog Ramp
1. Bulky
There is no way around it. A dog ramp is bulky and takes up a significant amount of space in your vehicle.
Even if you are driving a very large SUV or van, as soon as you put other humans more dogs, and/or more stuff, you quickly run out of space. Adding a bulky dog ramp can be a huge con for many big dog owners.
2. Heavy
While there is some variability here, most pet ramps are a little heavy (and bulky) when picking up, carrying, and getting set up on your car. You will need to have both hands free to do it and a fair bit of muscle in order to manage a dog ramp efficiently.
3. Significant Training Required for use
While simple in their construction, a dog ramp will require training for your dog to use safely. And for some dogs (ahem… Junior!), the training required can be tedious.
Watch this video to see what I mean.
It looks simple enough, but to most dogs, walking on a narrow surface over an empty space is akin to, quite literally, walking the plank to their death! Or so they think.
4. Quality Variable
Dog ramps vary in quality construction with the more expensive models generally having better quality in my experience.
Of the two ramps I've used, I preferred the more expensive WeatherTech Folding Dog Ramp. With more durable construction and a rubbery track surface for the dogs, I felt the added cost was worth the investment.
5. Ramp Surface Matters
Many dog ramps come with a slipper or sandpaper surface for your dog to walk on which will not only be very difficult for your dog, but it can add undue stress to your dog's body as he/she struggles to climb without adequate traction.
If you are going to get a dog ramp, I highly recommend purchasing one with a rubbery surface, preferably with ridges for added grip like the WeatherTech Foldable Dog Ramp.
2. Pet Loader® Dog Stairs
While I have not personally used these for my Mastiffs, they come with very high reviews from members of the Big Dog Mom Community. For that reason, I am going to cover them briefly here.
Before getting into some general information and the pros and cons of dog steps, beware that there are many knockoff brands on Amazon. I highly recommend avoiding any of the knockoffs and sticking to the Pet Loader® brand as it's made in America and is the gold standard when it comes to retractable portable dog stairs for your vehicle.
With numerous sizes and configurations, the Pet Loader® Dog Stairs should work for nearly any dog and any vehicle. Whether you want a narrower step or a wider one, a 3, 4, or 5 steps, or even one made with plastic or aluminum, they have what you are looking for.
Pet Loader® Dog Steps are incredibly safe for your dog and will work for nearly any situation where you need your dog to climb up to a higher surface – for example, a grooming table or exam table, the side or rear of your vehicle, or even a camper, boat or an above ground pool.
Let's go over a few of the pros and cons of pet stairs…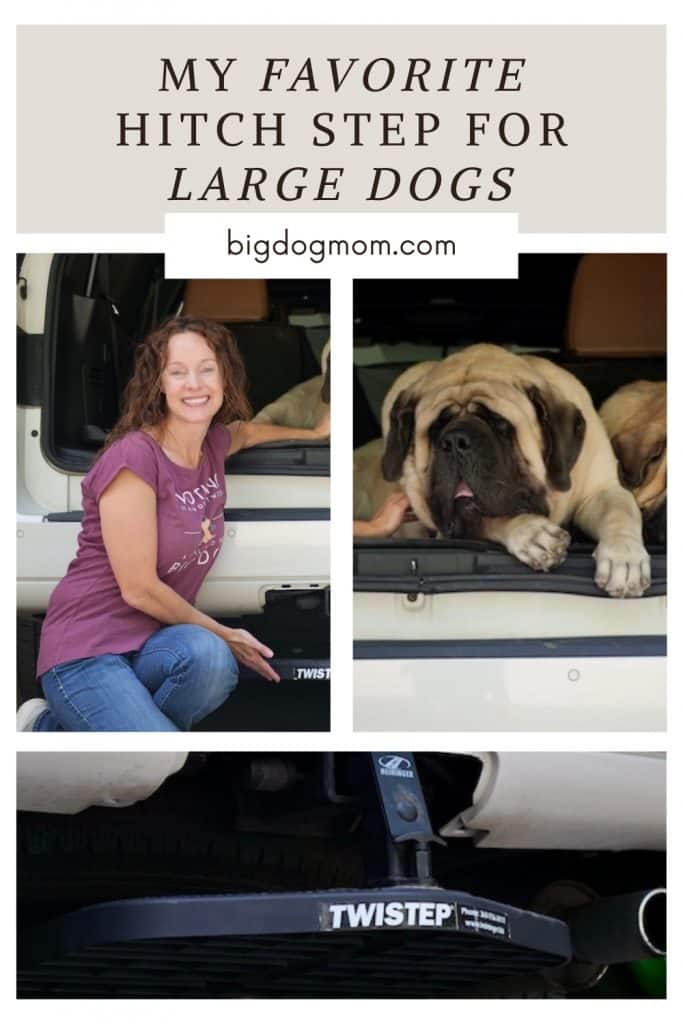 Pros of Dog Stairs
1. Ease of Use
Dog stairs are incredibly easy to use and require little to no training on the part of you or your dog. If your dog is comfortable with walking upstairs in your home, the transition to something like the Pet Loader Dog Stairs will be smooth for most dogs.
2. Great for Giant Breed Dogs
Pet Loader® Dog Steps will be significantly easier to climb for most large and giant breed dogs. With a wider, more stable surface big dogs are more comfortable and confident climbing up and down safely.
The Pet Loader MAX can support up to 300 pounds.
3. Great for Dogs With Minor Mobility Issues
For dogs with minor mobility constraints, pet stairs may be a great option. Offering multiple steps to cover the same distance and spreading that out to reduce the incline, much less stress is placed on the dog while climbing.
For dogs with minor pain or minor injuries, dog stairs can be a blessing.
4. Great for Senior Dogs
For dogs advancing in age, a simple set of short dog stairs can mean the difference between a sedentary home life and one that is still filled with stimulation and adventure.
Since the distance between each step is short, most senior dogs will be able to navigate them without risk to their aging joints.
Cons of Dog Stairs
1. Storage & Bulk
Like the dog ramp, dog stairs take up space in your vehicle and in your garage for storage. While they accordion down to a fairly compact size, they are still pretty bulky and require space in your vehicle in which to store them.
Again, this can present a challenge if you are transporting more than one dog, kids, luggage, etc.
2. Space Required
Because these dog steps accordion out from your car with an optimal height from step to step for your dog, this means the dog stairs extend a good distance from the back of your car.
This may be a consideration if you are loading your dog in an area with high traffic or with little space behind your vehicle.
3. Heavy
With a range from 20 to 45 pounds, the Pet Loader® Dog Stairs pack a little bit of weight to them. While manageable for most dog owners who are traveling with big dogs, this may be a consideration for you since you will need to be able to store and carry them in your car.
4. Investment
While some might consider the Pet Loader® Dog Stairs expensive when compared to a dog ramp, this really is an apples-to-oranges comparison. They are two totally different products with very different use cases.
The Pet Loader® brand is made in America, extremely high quality, and supremely durable for big dog owners. These should be considered an investment for your large dog.
For the record, I will be purchasing the Pet Loader® MAX 18" 4-Step Dog Stairs for my two Mastiffs since both are advancing in age. Prices range from $249.95 (18" 3 step) to $329 (18" 5 step).
3. Heininger PortablePET TWISTEP® Hitch Step for Dogs
This brings me to the third and final option when it comes to aids for getting your dog into and out of your SUV, van, or truck – the Heininger Twistep® Hitch Step!
We have been using a hitch step, specifically the Twistep®, for nearly 7 years and I absolutely couldn't live without it!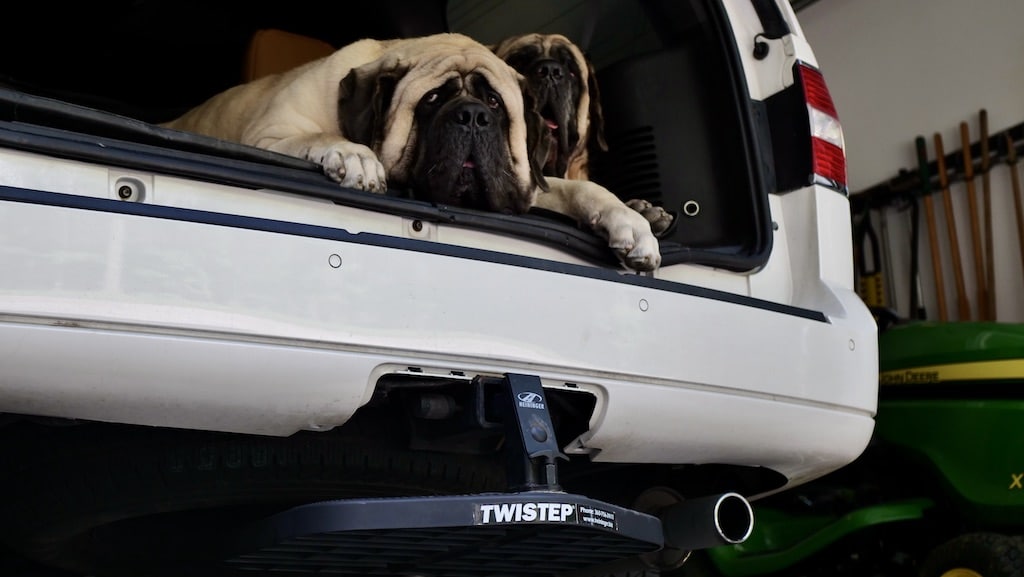 Hands down, the Twistep is one of the single best purchases we ever made as Mastiff owners!
A few general statements before we get into the pros and cons of the Twistep based on our longtime use of the product.
First, what makes Twistep® unique in this category of car accessories for dogs is that it attaches to your vehicle through your hitch. Once you have it attached, it goes with you wherever you and your dog go and is always there when you need it.
Second, the Twistep dog hitch step can work for nearly any vehicle including trucks with a tailgate! For some makes and models of cars, you made need an accessory bracket in order to attach the Twistep to your hitch, but that is a simple and inexpensive add-on. Click here to check out the Heininger Twistep® for Trucks.
The Twistep® can be ordered with a lock, which I highly recommend. You simply attach the Twistep, lock it in place and store the key in a convenient, easily remembered location, and you are good to go.
I created this short entertaining video to give you a closer look at the Heininger Twistep® – with an in-depth look at how it functions and fits on our old Lincoln Navigator.
VIDEO: Hitch Step or Dog Ramp: Which is BEST For You? A Mastiff Owner's Journey With Both | PROS & CONS
Pros of the Twistep® Hitch Step for Dogs
1. Portability
Portability is one of the single greatest advantages of the Twistep® Dog Hitch Step. It is a true "set it and forget it" product that is always there when you need it.
2. Space Saver
The Twistep® takes up zero space in your vehicle leaving more room for you, your dogs, your kids, and all your kids' stuff.
3. Muscle Saver
Because you do not have to lift and carry the Twistep® each time you use it, it takes little to no muscle to operate. Just a few fingers to lift the T-handle and twist it around in place. You can literally twist it with one hand – one hand to twist the Twistep for your dogs, the other carrying your purse and groceries!
4. Ease of Use
The installation of the Twistep® Pet Hitch Step is simple and accomplished in just a few minutes. It requires no real training on the part of the dog owner once it is installed.
I do recommend reading through the instructions for how to care for, clean, and maintain the Twistep®, but other than that, it's super easy to use.
5. No Dog Training Required
If your large dog can use stairs, he/she will be able to use the Twistep®.
While you may consider a little bit of conditioning with your dog before attaching it to your vehicle and expecting your dog to hop in, that won't be necessary for most dogs. With a few treats and a little encouragement, your dog should pick up on how to use it pretty quickly.
Watch my video linked above for some conditioning suggestions if you think your dog may need them.
6. Excellent For Large and Giant Breed Dogs
With a weight capacity of 400 pounds, an incredibly solid and stable attachment, a and wide rubber gripping surface, the Twistep Hitch Step is a perfect option for large and giant breed dogs.
Because the Twistep doesn't move at all when my 200+ pound Mastiffs hop in and out they treat it like an extension of the car.
7. Durable
We purchased our Twistep in 2016, so it is nearly 7 years old. Our Twistep® has been through three Arizona summers and three Michigan winters in that time and has held up impeccably considering the contrast in climates.
Watch the video above for a closer look at the durability of the Twistep® – what ours looks like nearly 7 years after putting it on.
Cons of the Twistep® Hitch Step for Dogs
1. Investment
The Twistep Hitch Step is an investment for your convenience and your dog's safety. With a price for a Twistep + Lock combination package of $329.99, the Twistep is an investment… but I believe worth every dime!
2. Maintenance
We have found over the years that the T-handle lock and center twisting area has gotten a little stiff over the years – primarily in the last 6 months.
We are in our third winter and have done very little maintenance to our Twistep over the last 7 years.
Based on our experience and the care instructions from Heininger, I highly recommend rinsing your Twistep® weekly in salty conditions and applying lubrication a few times a year to ensure the shaft stays well free of debris and is able to move smoothly. We didn't do this which is why the last few months it's been a little stiff for us to turn.
3. Not Great For Dogs With Severe Mobility Constraints
Depending on the height of your vehicle, the Twistep may still require your dog to jump a fair distance. While it cuts the distance nearly in half, for some dogs, this may not be enough.
If your dog has severe hip dysplasia or Wobbler Syndrome, a significant injury like a CCL tear, is recovering from surgery and is partially sedated, or has any other significant mobility constraint, you may want to consider the Pet Loader® dog stairs with and without the use of a Help 'Em Up® Harness (see below).
Assistance for Large Dogs With Mobility Constraints
Let's face it, there are a plethora of reasons a dog is unable to climb either one or more dog steps or even a dog ramp. I can think of just a few off the top of my head – based on personal experience and what is likely to come in the future with two aging 200+ pound Mastiffs:
Hip dysplasia
Paralysis
Injury
Weak Sedation
Age
Arthritis
Muscle Atrophy (Loss)
The fact of the matter is, if you have a large dog that you are unable to lift on your own, you need a Help 'Em Up® Harness.
The Help 'Em Up® Harness is a unique full-body lifting device that assists dog owners with lifting dogs unable to lift themselves (such as with any of the above conditions).
Whether you need to lift your dog up off the floor or into and out of your vehicle, the Help 'Em Up® Harness is a must-have in every large dog home!
WARNING: The Help 'Em Up® Harness is the ONLY harness I recommend for this purpose, despite the many knockoffs and alternatives on Amazon. These are links to purchase directly from Blue Dog Designs so you know you are getting the right harness for your dog.
There is no need to do a pros and cons list for the Help 'Em Up® Harness as you either need it or you don't. And if your large dog is middle-aged or older, you do.
Click here for the full brochure on the Help 'Em Up® Harness and to see what size would work best for your dog.
Which Dog Steps are Right for You?
Do you use a hitch step or do you use dog stairs for your car? Have you used the WeatherTech Dog Ramp, the Pet Loader® Dog Steps, or the Heininger Twistep®?
Share your experience and any additional comments or questions you have about traveling with your large dog in the comments below.