Liver Treats for Dogs: A Homemade Recipe Your Dog Will Love!
DIY Homemade Liver Treats for Dogs
Are you as frustrated as I am about the cost and quality of store-bought dog treats?
How would you like to be able to make your own homemade dog treats that are not only healthy and delicious but also cost you nothing?
With all of the training classes I do and always looking for just the right treat to motivate my dogs, I am always looking for healthy and nutritious options. Unfortunately, the pickin's are slim when it comes to commercial dog treats.
So, I decided to take matters into my own hands and make them myself.
In this post, you will learn a super simple recipe for amazing homemade liver treats for dogs that your dogs are going to devour!
[If you would like the full DIY recipe with step-by-step directions, download it here.]
Raw Liver Is For The Birds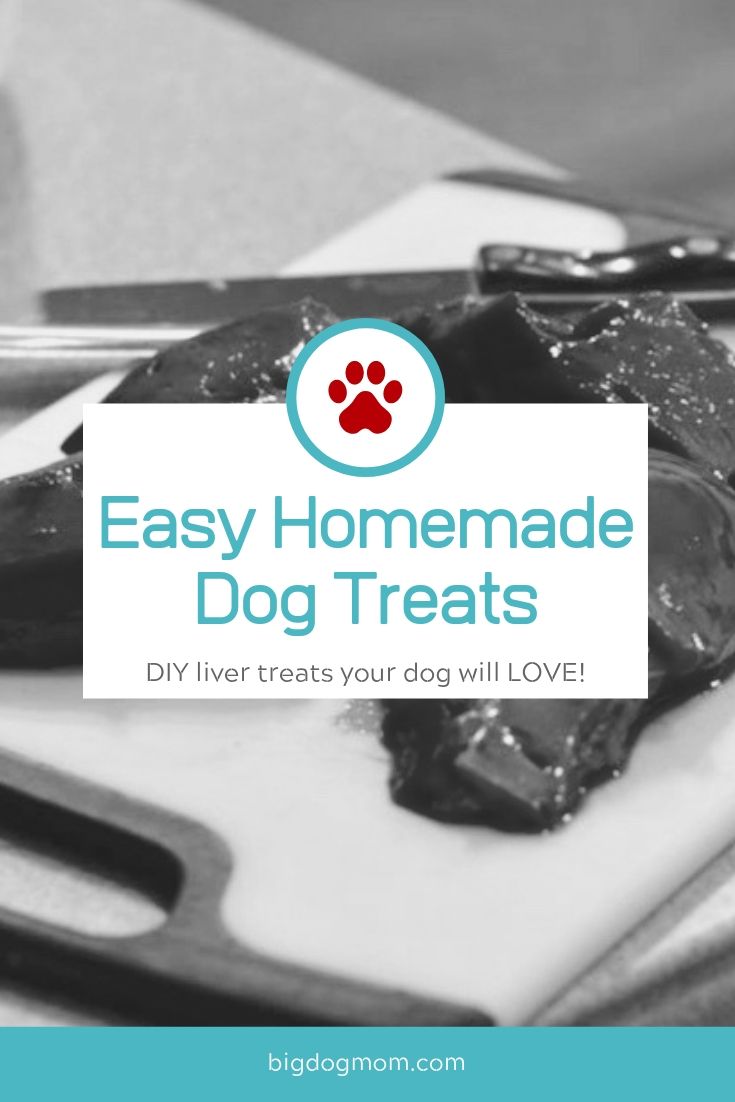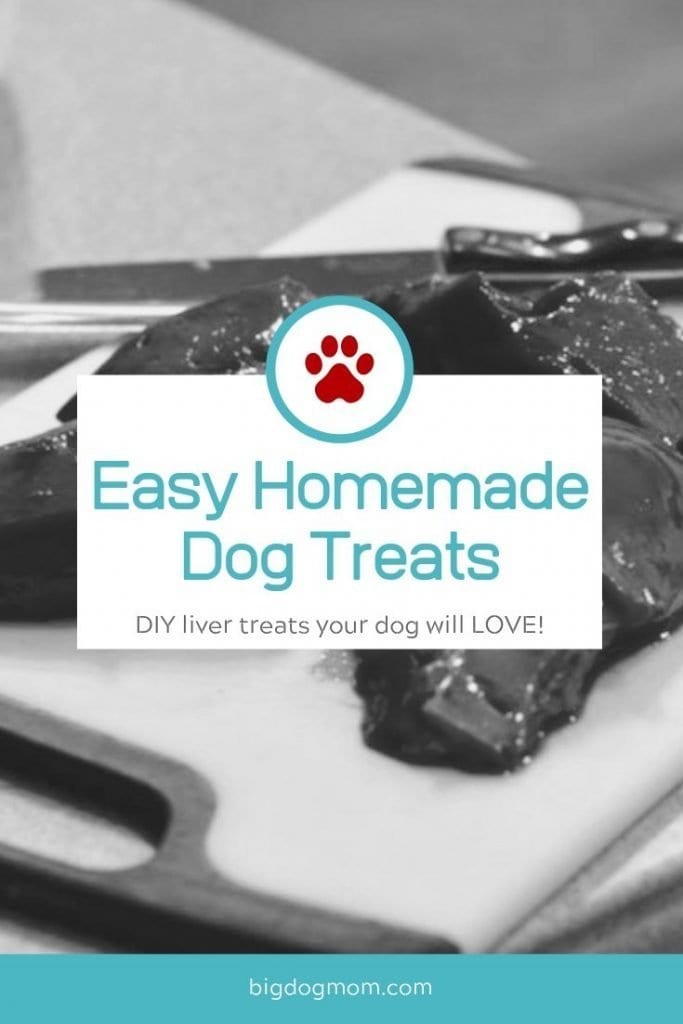 When I transitioned then 10 week old Sulley to a raw diet two and a half years ago, I had the hardest time getting Sulley to eat raw liver.
He would devour an entire meal and even if I attempted to mix liver chunks in with one of his favorites, like tripe, he would nibble around the liver. Often I would find the bowl licked clean with the one or two liver pieces gently laid out next to the bowl.
Sulley was just NOT going to eat it. No matter what I did to try to convince him. A small percentage of his organ meats needed to come from liver, so I had to find a way to prepare the liver so he would eat it.
If you can relate to feeding a picky dog, read The Labrador Retriever May Hold Answers To Feeding Woes In Big Dogs.
---
This post contains affiliate links from which I may receive a small compensation. There is NO ADDED COST to you should you use these links.
---
Benefits Of Feeding Homemade Liver Treats for Dogs
There is a reason raw feeders make liver an essential part of their dog's raw diet.
Liver is packed with nutrients!
Among its many benefits, liver is one of the most concentrated sources of natural vitamin A of any food which aids digestion, keeps sex organs/reproductive organs healthy, and is a powerful antioxidant.
It is a great source of folic acid, B vitamins, especially vitamin B12, which helps with fatigue, mental ability, and nerve health, as well as preventing anemia. It also contains one of the best, most usable sources for the body, of iron which is essential for oxygen transport and cell respiration.
Sick of wasting money on high cost, low-quality commercial dog treats? These homemade dog treats are easy to make and DOGS LOVE THEM!
Big Dog Mom Will Not Be Defeated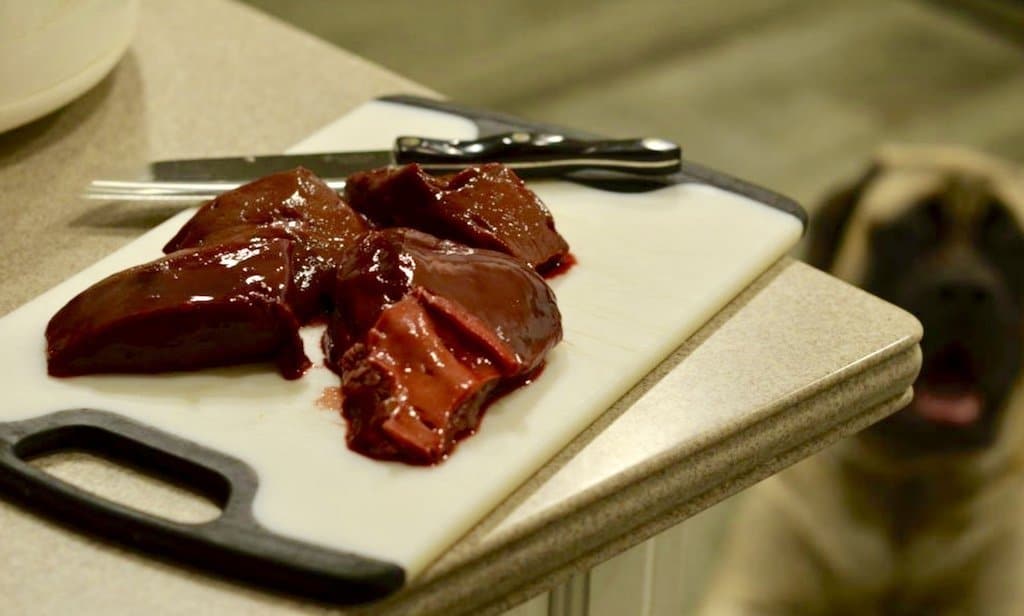 The way I get my daughter to eat bananas is by dehydrating them into little bite-sized treats.
I decided to try the same trick with Sulley, who was seemingly unaware of how nutritious liver was for him.
After some mess and a lot of stink, my first batch of liver treats was done and Sulley went crazy!
He would do anything for that liver and it turned into the absolute BEST training treat I have EVER used! And the best part was that it cost nothing… well, the cost of the liver, but other than that… it was FREE!
So, how do I make them? Well, I have made these liver treats many times and perfected my process each time.
If you happen to have made something similar for your dogs, I would love to know if you have tips to make these even better. Please leave me a comment below.
Materials Needed For Homemade Dog Treats
Liver
I use Grass Fed Beef Liver purchased in a 30-pound case from my local raw food co-op. If you don't have a raw food co-op option, you could also find liver at a local butcher shop or meat market as well.
I use an old Nesco brand dehydrator that I bought 10+ years ago. It has 4 trays and works perfectly for the size of batches I do at a time. There are much nicer ones on the market now, which I would probably invest in if mine ever stops working.
So far, it has been very reliable for me making dried fruit, jerky, and now liver treats for the dogs.
Directions For Making Homemade Dog Treats
Line trays with parchment paper! Initially, I tried to spray my trays with oil, but I would end up having to pry the liver off and soak my trays for hours to get them clean. The easiest way I have found is to place a tray on top of the parchment paper and trace an outline in pencil then cut it out. Place the parchment paper in the trays.
Starting with small chunks of liver, cut pieces approximately ¼" thick.
Place liver pieces on the trays leaving some space in between to allow for air to flow around them.
Turn Dehydrator on and set to 155°F. I set my dehydrator in our garage while it's drying because if I don't I end up with a riot and protests in the house because of the smell. It's really not that bad, but the garage option prevents the house from smelling like liver for the day.
Rotate trays every few hours.
Dehydrate about 8 hours, or until liver is done. I dry mine until they are no longer mushy and almost crunchy. I find them easier to handle in training and much less messy. The drier they are, the longer they will preserve as well.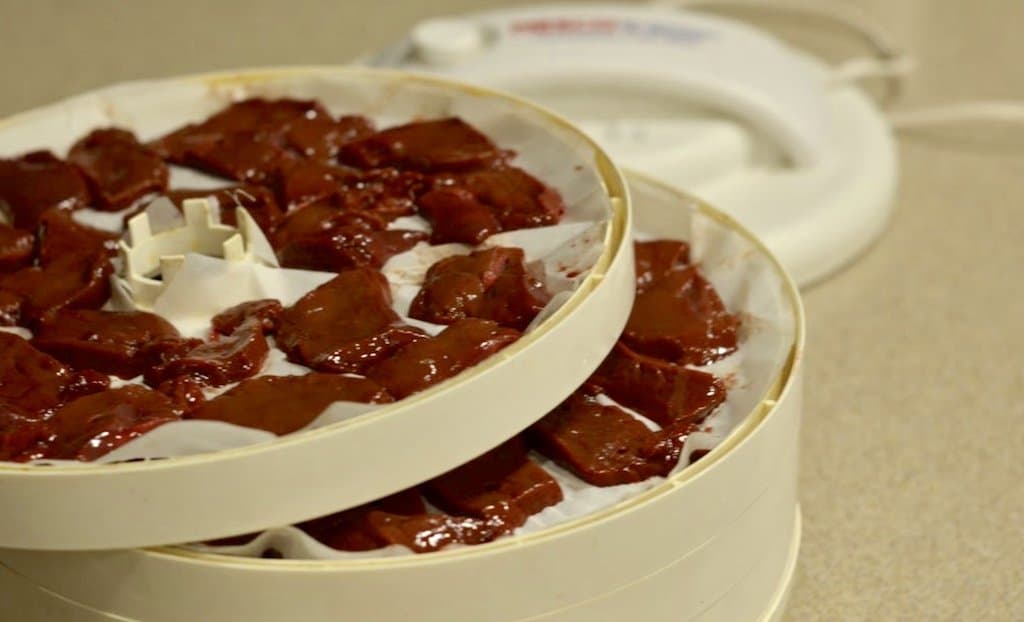 ---
If you would like the full recipe and step-by-step instructions for these easy homemade dog treats, download your FREE DIY Dog Treat Recipe Card here.
---
Precautions For Feeding Homemade Liver Treats for Dogs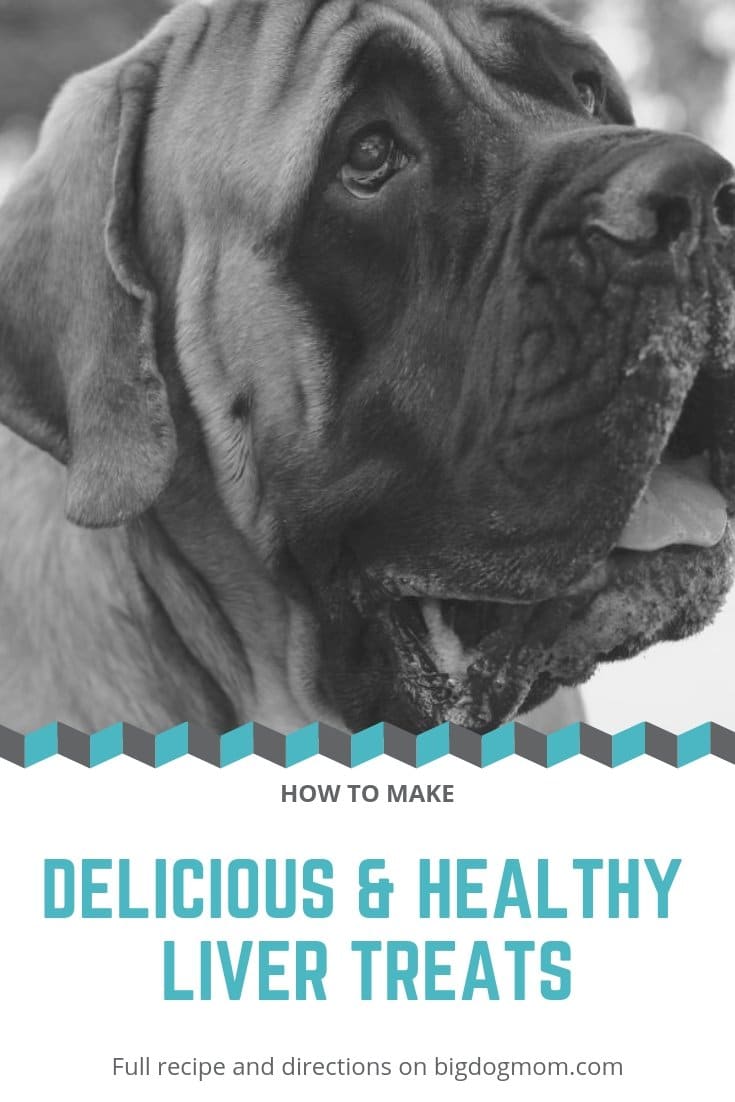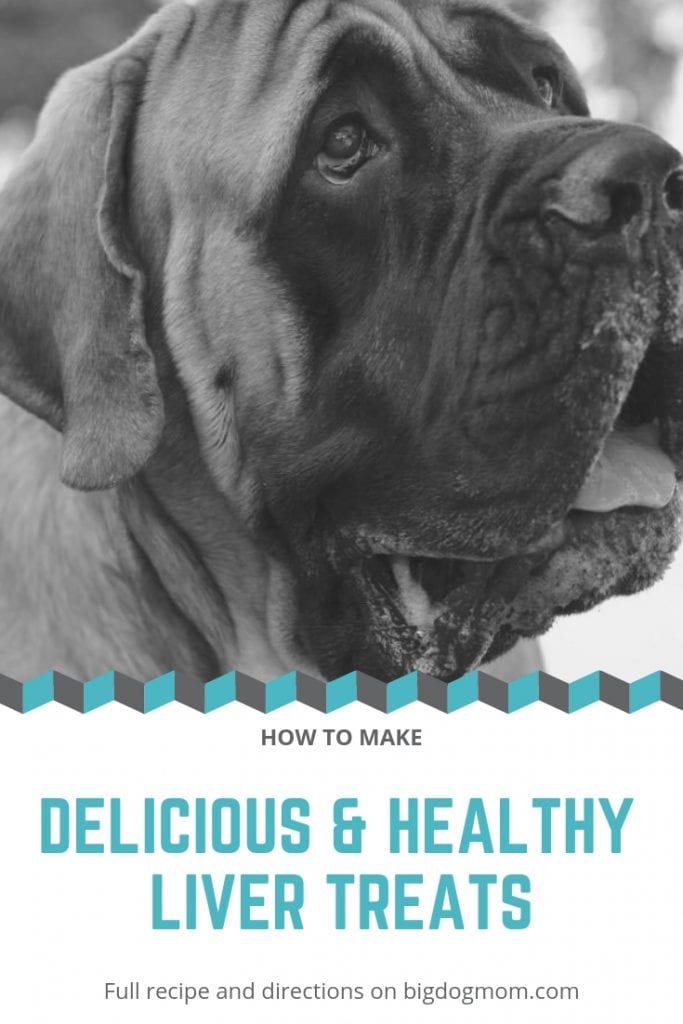 Liver is very rich and may cause loose stools if you feed too much or too quickly.
Start with small quantities then work your way up to being able to provide a few treats each week.
Just to be safe, try not to exceed about 1 oz. of liver 2-3 times a week as there is some possibility of vitamin A overdose if large quantities are eaten.
Another rule of thumb is to make liver 5% of your dog's diet, no more to be on the safe side and to give your dog the maximum benefit of all the nutrients in liver.
For more on raw feeding, you might be interested in the following posts:
Homemade Dog Treats You and Your Dog Will LOVE!
No more dealing with commercial dog treats that get stale 5 minutes after the bag is opened. Say goodbye to wasting $10 on a bag of treats that look delicious, but evidently are NOT.
These homemade liver treats for dogs are:
Easy to DIY,
Long lasting – good for several months when stored at room temperature,
Clean to handle during training, and
DOGS LOVE THEM!
Summary
Have you made homemade liver treats for your dogs? What about other DIY dog treats? Share in the comments below.
And if you want the full recipe card with step-by-step instructions on how to make these delicious homemade dog treats, click here!