Some of the links below are affiliate links, meaning that at no additional cost to you, I will receive a commission if you click through and make a purchase. For more information, read my full affiliate disclosure here.
The story behind every great dog name is as unique as the dog himself. Naming a dog can have unintended consequences though. Here are 5 tips that may help.
As I sit here sewing my car liner for the third time (read Big Dog Mom's Most Glaring Weakness Revealed And It Will Surprise You if you have no idea what I am talking about), I am blessed with an opportunity for reflection.
Being forced into mending monotony, my mind is drifting to a happier place.
Dog names.
Why, you ask?
Because my dog's names make me laugh. Constantly. And because I believe there is a story behind every dog's name which becomes the essence of who they are.
Dog Name: Junior
Let me reenact a typical outing with Junior.
"Wow, he's huge! What's his name?"

"Junior"

"Oh, ha ha ha, that's too funny!"
Sometimes people will go on to explain why they are laughing.
"Junior, ha ha ha, that's like calling him Tiny! Ha ha ha!"
This conversation occurs literally 100% of the time when I take Junior out in public somewhere. As soon as I say Junior's name, people laugh.
In fact, my daughter told two new friends at school Junior's name and they laughed too. Even 11-year-old girls are in on the joke it seems.
The name Junior is not synonymous with being small any more than the name Big Dog Mom is synonymous with me being a Big Mom. Ha!
"Junior" is a suffix used if a child's first, middle, and last names are identical to his parent's names. In this case, Junior, Jadems Bigger Bang, was a singleton puppy out of Sheldon, Jadems Big Bang.
Not an exact match, but close enough. And not the least bit small.
I decided early on that I would choose to laugh with these people, only not for the reason they think.
Dog Name: Sulley
After discarding the names Ozzy, Si, and Junior (yes, true story), my children and I compromised on the name Sulley.
As the blue-collar and biggest boy in his litter, Sulley was named after the huge, huggable blue monster in the movie Monsters, Inc. Sulley's registered dog name is Devincourts Monstrosity, CGC.
As perfect as I believe Sulley is, unfortunately, no dog name is perfect.
"Wow, he's huge! What is his name?"

"Sulley."

"Sally?"

"No, Sulley."

"Silly?"

"No, Sulley. Suh, uh, Sulley. Like Sullivan, only shorter."

"Soley?"
Good grief…
In the spirit of stories that make me laugh, and because I have several more hours of sewing to look forward to, one afternoon I took Sulley for a walk around our neighborhood. We bumped into some men for whom English was not their native language. I asked if they'd like to meet Sulley and naturally they did. Who wouldn't?
"Wow! He's big dog! How old?"

"Sulley is 2 years old"

"Name?"

"His name is Sulley."

"What?"

"His name is Sulley. Like Sullivan." (I'm not messing around anymore.)
Looking at each other quizzically, one of the men bent over and looked underneath Sulley then asked again, "Name?"
I answered "Sulley" for the third time, made some more broken English chit chat and politely resumed our walk. It wasn't until I was almost home that I realized what had just happened. Those men probably thought I said "Sally" and they looked under Sulley perplexed by his big boy parts.
Now, THAT made me laugh!
A Great Dog Name Tells A Story
So, while the six letters in Sulley's name may have created unintended mass confusion and Junior's name the butt of paradoxical jokes, both boys' names reveal the essence of who they are.
Junior is a ham and so very much like his father, Sheldon. Junior peed in the house until he was four months old (read How To Potty Train A Puppy Fast In 5 Easy Steps) and has stolen AND lost more shoes than I can count.
He regularly swipes things that are not his while I am walking right behind him. Junior is an extremely affectionate boy with indifference for personal space. His greeting methods have resulted in routine expressions such as "love me less" and "close your legs."
Sulley, on the other hand, is sweet and sensitive and has complete and total reverence for personal space. He is playful and happy and wants nothing more in life than for people and canine friends to like him.
He lives for "bye-byes," "swimming," "ball," and anything that involves "his kids." Much like his monster namesake, Sulley has a more serious side that has verbally protected "his kids" on more than one occasion from would-be intruders to our home. He is a true gentle giant.
5 Tips For Finding The Best Dog Name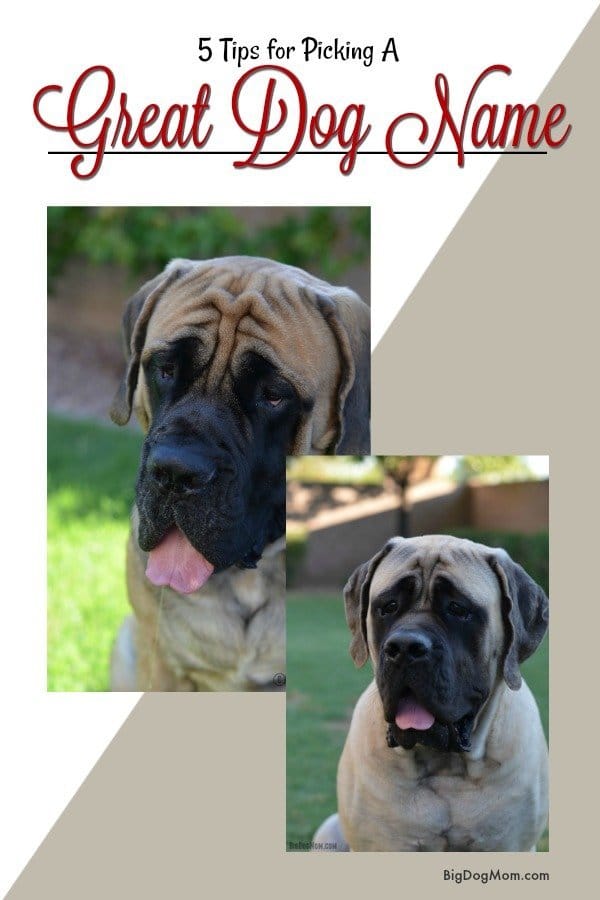 Choose a great breeder who will provide regular videos and pictures of your new puppy and details about his or her temperament. Based on all that we had seen of Sulley, we knew at 6 weeks old, he was no Ozzy. If you haven't already selected a breeder, read Selecting A Dog Breeder? 10 Things To Consider Before You Tie The Knot! and Top 7 Questions To Ask A Breeder When Buying A Big Puppy.
Consider other dogs in your puppy's pedigree. What were his parents' names? Grandparents? What were their personalities like?
Choose a dog name that has meaning to you and your family. My husband loves to snowboard; Burton. My children loved Monsters, Inc.; Sulley. And I love a good paradox; Junior.
Shoot for a one or two-syllable dog name with a consonant as the first letter. Something short, crisp, and easily distinguished from other words you use regularly.
Have a list of favorite dog names ready, but wait to make it official until you meet your new puppy. It could be that the dog name picks him as soon as he bounds through the door.
Story Behind Your Dog's Name
My children love to hear the origin of their names. My son gets a kick out of the fact that we hemmed and hawed and didn't pick his name until we got to the hospital. And when we finally did, I spelled it wrong and had to spend the next two weeks frantically trying to fix my mistake with the Social Security Administration.
Needless to say, my son was able to pronounce P-R-O-C-R-A-S-T-I-N-A-T-I-O-N at a freakishly young age.
Dog names are just as fascinating to me. I would love to hear the story behind your dog's name? How did you pick the name? Does it fit the essence of who your dog is? Let me know in the comments below.
Consider sharing this with a friend so we can hear their stories as well.
I may be sewing for a while and could use a little break from the mending monotony.