SpotOn GPS Dog Fence Interview with Inventor and Chief Technologist
GPS Fence Technology
If you are looking for a way to contain your large dog and are interested in learning more about GPS dog fence technology – how it works and why some claim it is even better than traditional wireless dog fences – then you are in the right place!
In the video below, I interview the Chief Technologist and INVENTOR of GPS fence technology himself, Sung Vivathana, the Vice President of Engineering at SpotOn GPS Fence.
Sung has 20 years of experience in the design of mission-critical electro-optical systems for defense, telecommunications, and consumer electronics.
He led the invention, development, and launch of SpotOn GPS Fence and holds 6 patents covering GPS-based pet containment and tracking.
Sung has a Bachelor of Science in Electrical Engineering (BSEE) from Widener University, an MBA from the University of New Hampshire, and EE graduate coursework at Purdue University.
In our fascinating hour-long interview, I asked Sung the most frequently asked questions I have received about GPS dog fence technology to learn what truly sets SpotOn GPS Fence apart from other pet containment options on the market.
While I absolutely believe you need to watch the entire interview, I certainly understand the delicate balance of limited time. For that reason, I am providing the list of questions I asked below and have them as time stamps, or chapters, in the video for your convenience.
And if you haven't done so already, I encourage you to read the short story about how SpotOn GPS Fence got started and the mission behind this small, but mighty USA-based pet tech company.
---
** SpotOn kindly sent Junior and Sulley their new Gen 2 SpotOn GPS Fence dog collars to test out and share our experience with the big dog community. Like all sponsored content on Big Dog Mom, however, all of the information I am sharing is based on our experience and my opinions – the good and the bad. In addition, this post contains affiliate links from which I may receive a small compensation. There is NO ADDED COST to you should you use these links.**
---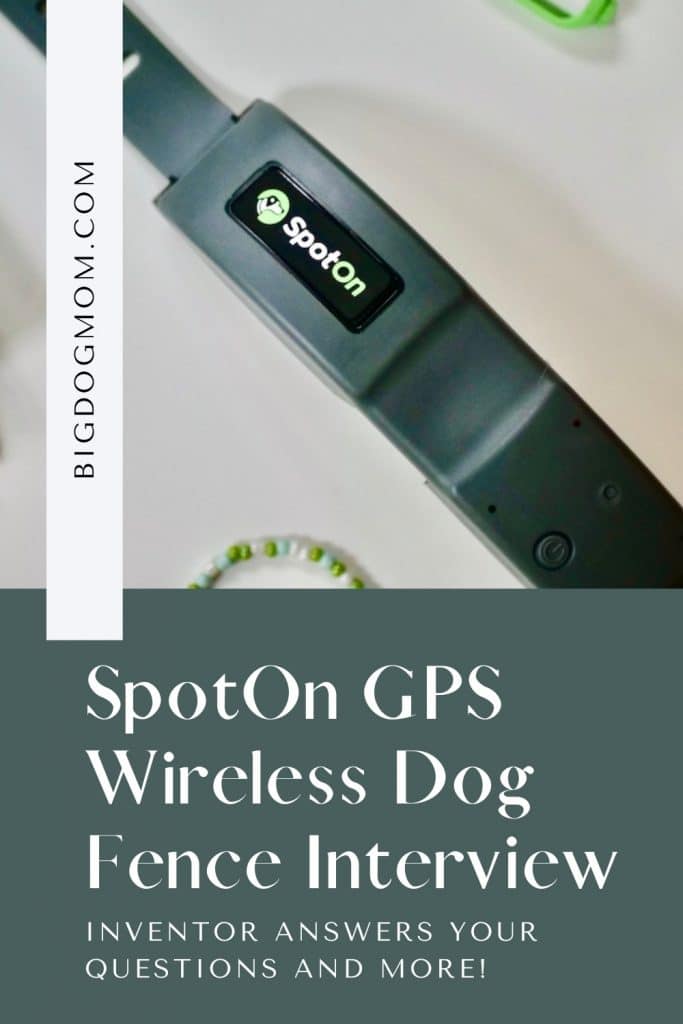 GPS Dog Fence Questions
1. Describe your role and scope of work at SpotOn GPS Fence.
2. What is a GPS fence?
3. How is a GPS fence different from other wireless dog fences?
4. Why are multiple constellation connections (and through them multiple satellites) important for dog owners?
5. Explain the technology behind the custom dog fence-building process.
6. What makes the SpotOn dog collar antenna unique?
7. What is True Location™ technology and why should dog owners want it?
8. Explain how location tracking works with the optional cellular subscription.
9. How can you build and customize a GPS dog fence with SpotOn?
10. How do the multiple individually-activated dog fences work?
11. How does the SpotOn GPS Fence App work and what are some of its top features?
12. What new features is SpotOn GPS Fence working on for future enhancements?
VIDEO: SpotOn GPS Dog Fence Interview with Inventor | Your TOP 12 FAQs Answered | MUST WATCH!!
Is a GPS Fence For You and Your Large Dog?
After watching this information-packed interview, what additional questions do you have about GPS dog fences, or wireless dog fences more generally? Have you considered purchasing a SpotOn GPS Fence for your dog?
Are you looking for a wireless or virtual solution for pet containment on your property? What are your biggest issues or concerns about containing your large dog? Share in the comments below.
If you are considering a SpotOn GPS Dog Fence for your property, click here for an exclusive Big Dog Mom discount. They are running a Thanksgiving special (11/18-11/28 at midnight) where if use the code BIGDOGMOM25, you will get a whopping 25% off your purchase!! That's the biggest savings I've ever seen them give, so I highly encourage you to get your big dog's Christmas gift early! If you miss this sale, you can always use my code BIGDOGMOM for a wonderful $100 discount.
As Sung so eloquently stated during our interview, SpotOn not only invented GPS dog fence technology, but has continued to improve upon it. Their mission is, through superior technology, to provide our dogs, as integral members of our family, maximum freedom with the safety and security of consistent and reliable boundaries 100% of the time.
Additional Resources About Pet Containment
If you would like to read and see more of our humorous journey with containing our Mastiffs, Junior and Sulley, on a large property check out the following resources: