Some of the links below are affiliate links, meaning that at no additional cost to you, I will receive a commission if you click through and make a purchase. For more information, read my full affiliate disclosure here.
The PetSafe Easy Walk Harness for dogs is one of the most popular dog harnesses on the market and for good reason. It is inexpensive, easy to put on, and claims to be a no-pull dog harness.
Today I am sharing what I think of the Easy Walk Harness by PetSafe for large dogs. Does it effectively stop a dog from pulling on a leash? Or is the claim of being "no-pull" nothing more than marketing?
Disclaimer
While PetSafe sent me two Easy Walk Harnesses to test out for Junior and Sulley, they have not had a chance to preview my comments before publishing this full review for you here and on YouTube. As always, my product reviews are unbiased and fully transparent sharing the pros and the cons to help you make an informed buying decision if this is something you are considering for your dog.
With that disclaimer out of the way, let's talk about the Easy Walk Harness and share how it performed in my testing with two adult Mastiffs.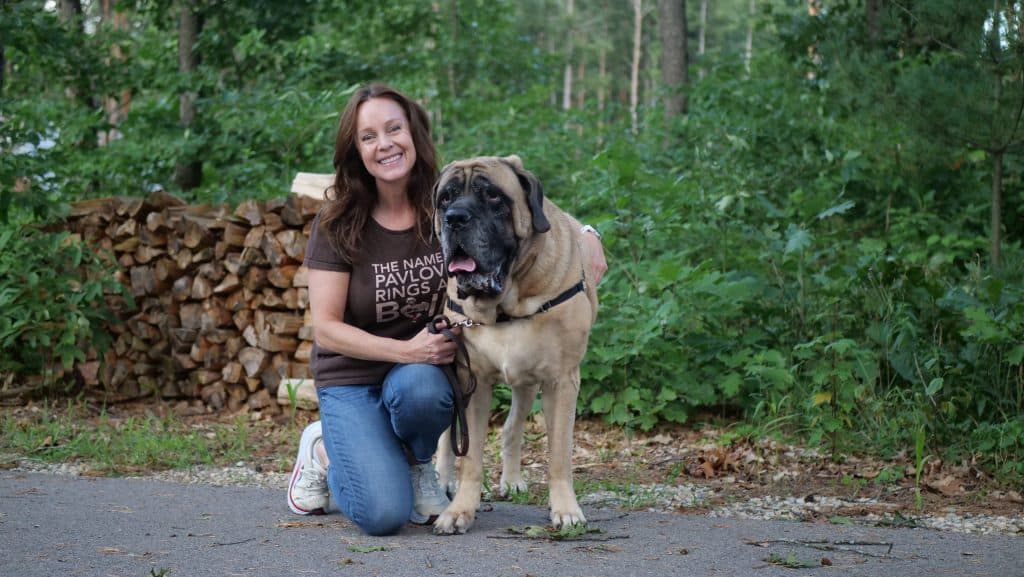 Easy Walk Harness Features
Before I outline the pros and cons of the Easy Walk Harness, I want to highlight a few of the features of this harness that make it unique.
Easy Walk Harness Features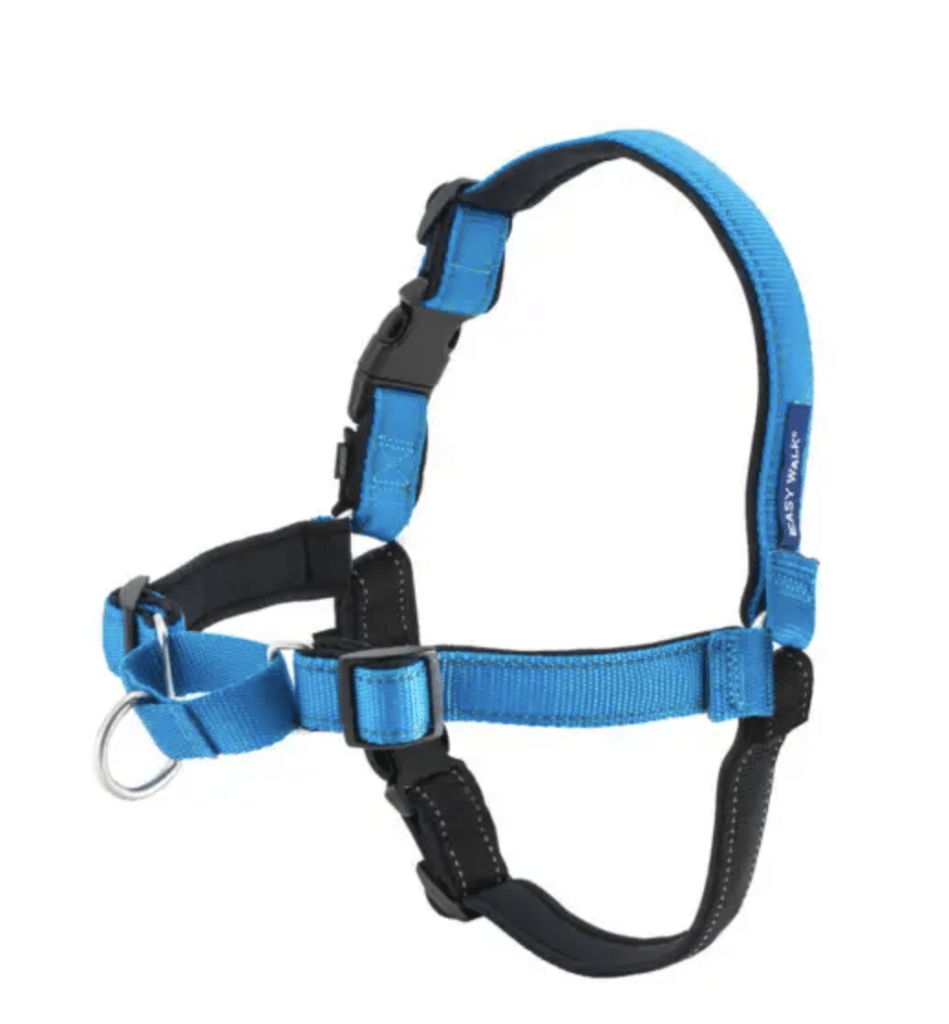 Easy Walk No-Pull Harness by PetSafe
Read much more about the Easy Walk Harness on the PetSafe website here…
How To Measure For Proper Sizing
Because the PetSafe Easy Walk Harness comes in 8 different sizes, it is very important that you measure your dog to select the right size.
To do this start by measuring your dog's chest width. This is the distance from about 1 inch behind the front legs on both sides of the dog across the chest bone.
Next, measure your dog's girth which is around the deepest part of his rib cage behind the front legs.
Use those two measurements to find the proper size Easy Walk Harness for your dog.
Harness Size
Chest Width
Girth Measurement
Approximate Weight
Petite
7″-8″
12″-17″
Under 10 lbs.
Petite / Small
8″-9″
13″-18″
10-15 lbs.
Small
9″-12″
15″-21″
15-25 lbs.
Small / Medium
11″-13″
19″-26″
20-30 lbs.
Medium
12″-15″
22″-32″
25-50 lbs.
Medium / Large
14″-18″
24″-34″
40-65 lbs.
Large
16″-21″
27″-40″
65-95 lbs.
Extra Large
17″-24″
32″-49″
90+ lbs.
Measuring your dog is the most accurate way to determine harness size. Weight ranges are only approximate. If your dog is between two sizes, choose a size up.
Watch this video for a simple illustration of how to do this correctly.
How To Put On the Easy Walk Harness
In order to properly put on the Easy Walk Harness, you will first want to orient it correctly.
You will see that each harness is made up of three straps, two of one color and one of a different color. Mine, as shown in this video, is an XL size that is black and gray – two black straps and one gray one.
This single-color strap is the one that will be placed under your dog's belly with the other two straps connecting across the dog's back and in the front at the chest.
Ok, now that the harness is oriented properly, here are the steps to put on and adjust the harness for a perfect fit.
Unsnap the belly strap (the single-color strap) and loop the shoulder strap over the dog's head.
Adjust the straps across the back so that the "O" rings on the sides sit above and behind the dog's shoulder.
Loop the belly strap under and snap it in place. You may need to adjust this so that it fits snug (1-2 fingers between the strap and the dog's body) when you use the quick-snap buckle.
Adjust the straps across the back and under the belly so that they lay almost vertically when looking at the dog from the side. The entire harness should resemble a sideways "T" shape when fitted properly.
Adjust the chest straps evenly on both sides so that it sits horizontally across the chest without drooping or riding up on the neck.
Attach a leash using the D-ring at the front of the chest and enjoy the walk!
Easy Walk Harness Cost
As I mentioned earlier, one of the biggest advantages of the Easy Walk Harness is that it is very inexpensive. Market prices currently range from $22 to $25 depending on the retailer.
Relative to other more complex, moderate, or full-coverage harnesses for dogs, the Easy Walk Harness minimal cost makes an easy buying decision.
VIDEO: PetSafe Easy Walk Harness Review | Is it REALLY a NO-PULL Dog Harness? [FULL REVIEW]
My Experience With the Easy Walk Harness
As I mentioned in The BEST Dog Harness For Large Dogs [Definitive Buyers Guide], the PetSafe Easy Walk Harness is in the category of basic dog harnesses.
It does the primary job of taking pressure off of the neck and spine as compared to a traditional collar and leash, which for dogs like my Junior with Wobbler Syndrome, is essential.
Beyond this obvious feature, here are the pros and cons of the PetSafe Easy Walk Harness and how we rated it across our four metrics, Quality, Durability, Affordability, and Drool Score (how well the dogs liked it) based on our experience.
Quality
The workmanship and quality of the Easy Walk Harness is very good. The rings, quick-snap buckles, and straps are all of high-quality metal, plastic, and nylon.
While we didn't experience any issues with the straps during our testing, they are not chew-proof. So, if you have a dog that is prone to chewing, you will want to keep this harness out of reach when not in use.
Overall, there is not much to this harness. It is a basic, minimal coverage harness with limited points of possible failure. Furthermore, if one of the straps or quick-snaps did fail, the replacement cost is low making the Easy Walk Harness a great option for most families.
Because the Easy Walk Harness does not appear to be made in America and because of it's simplicity, I am giving it a 4 out of 5 "paws" for awesomeness.
Durability
This metric was a little harder for me to rate given my long-term on-and-off use of the Easy Walk Harness. I included it in The BEST Dog Harness For Large Dogs [Definitive Buyers Guide] because it was one of the first harnesses I purchased for Linus many years ago.
But due to his aggression and reactivity, I switched him to the Balance Freedom Harness based on a behaviorist's recommendation which we used off and on as well. Neither the Freedom nor the Easy Walk Harness changed or improved Linus's aggression or reactivity.
I say all of that to say I am not new to the Easy Walk Harness. When PetSafe approached me about doing this review I was happy to give it another shot with two totally different Mastiffs.
My current Mastiffs, at times, do pull on the leash but are not the least bit reactive or aggressive. Junior and Sulley's temperaments are more in line with the type of dog best suited to the Easy Walk Harness.
When it comes to durability, I still have the first Easy Walk Harness that I purchased many years ago and it has stayed in like-new condition with infrequent use.
The two harnesses PetSafe sent me for this review have also held up nicely with more frequent use over a shorter period of time.
I would expect the Easy Walk Harness to hold up well over time with an adult dog who is not prone to chewing.
That said, because the straps are made of nylon, I would not be surprised to see some ripping around the rings with heavy use as is typical of other dog products made of nylon.
In summary, the Easy Walk Harness is a durable harness for dogs when fitted properly and taken care of leading to a score of 4 "paws" out of 5 for durability.
Affordability
As I mentioned above, the Easy Walk Harness is one of the best value harnesses on the market today. You are getting a terrific high-quality harness for a very low price.
This is a very easy 5 out of 5 "paws" for affordability!
Drool Score
And finally, what did I and my Mastiffs think about the Easy Walk Harness? In other words, our Drool Score.
Junior and Sulley love to go for walks so for them, they seem to be mostly indifferent when it comes to the many harnesses I've put them in. They are just happy to be out of the house with the potential to meet new people and take in the aroma of the environment around them.
That said, I do notice that both dogs are slightly less enthusiastic about picking up the pace in this harness as compared to other harnesses we've used.
My guess is this is due to where the front strap falls across their chest and shoulders which seemed to somewhat inhibit their propulsion forward.
One might argue that since the harness is marketed as a "no-pull" dog harness, limiting a dog's forward movement reduces pulling on leash.
Perhaps.
On the other hand, putting a strap across the chest of a dog in motion changes HOW that dog is moving. Both the stride length (the distance or reach) and cadence (how many steps the dog takes per minute) are impacted by this pressure point on the front shoulders.
If you happen to be a runner, you may be familiar with the terms stride length and cadence.
Olympic marathoners generally run in the ballpark of 180 steps per minute for their cadence so this is often used as the standard in long-distance running. When your cadence falls far below 180 or, in other words, when your stride length increases or you take fewer steps, you can be much more prone to injury.
For most of us non-elite runners, attempting to alter our stride or cadence too quickly can also result in injury.
It seems to me the front strap across the chest and shoulders of a dog is basically forcing them to alter their stride and cadence unnaturally leading to unbalanced movement, which could, over time, increase the risk of injury, especially if your dog doesn't walk on a loose leash most of the time.
Now, I have zero proof that this has ever happened and I'm quite sure it hasn't. This is nothing more than me viewing my dog's movement and speculating based on what I see.
But it is for this reason, I would not recommend the Easy Walk Harness for a puppy, especially a large or giant breed puppy before they are fully mature and their growth plates are closed.
Additionally, as you can see in this video, I struggled at first to get the Easy Walk Harness properly fitted without cutting into Junior's and Sulley's armpits as they walked. I do think these adjustments take time to get right because the harness shifts a little as the dog is walking. I found it better when the harness was cinched a little on the tighter side to avoid the movement and potential rubbing under their arms.
Overall, I am giving the Easy Walk Harness a 3 out of 5 "paws" for awesomeness.
This is a great harness for the right dog and it makes a wonderful backup harness as well for your travel or go bag for any dog.
Who Should Buy an Easy Walk Harness?
The Easy Walk Harness is a great option for many dog owners. Here are just a few of the scenarios where I believe it would be a terrific fit:
Is the PetSafe Easy Walk a No-Pull Dog Harness?
The simple, straightforward answer is no. The Easy Walk Harness is not a no-pull dog harness.
While the front D-ring on the chest strap is a marginally effective way to apply light pressure on a dog that is pulling on a leash, in my experience, this is not a deterrent to a dog pulling.
While I appreciate that the pressure applied by the cinching of the martingale D-ring in the front is not a punishment for pulling, my dogs didn't seem to pay any attention to it either. When they wanted to pull ahead of me, they did.
This is Newton's First Law of Motion – an object in motion stays in motion unless acted upon by an unbalanced force.
ME using all my strength to pull Junior back is clearly NOT an "unbalanced force" as evidenced by Junior continuing to pull me to the grass.
The pressure applied by the harness was completely and utterly ignored.
But keep in mind that my dogs are both over 200 pounds and I am significantly less than that. If you are walking a small or medium-sized dog, perhaps just a little amount of pressure at the chest would be enough to gently deter your dog from pulling.
Beyond this, many dogs naturally enjoy pulling. Many breeds such as Greater Swiss Mountain Dogs and Siberian Huskies were bred to pull.
And most dogs without loose leash training will react to a harness by pulling more no matter how that harness is constructed.
This is not a fault of the Easy Walk Harness. It is a fact of canine behavior.
Tips for Improving Dog Walking Behavior
1. Train Dog to Focus
Teaching a dog to focus on you is the first and MOST important step of loose leash walking. There are many ways to do this, but one I illustrated in How To Socialize Your Puppy At Home – 15 Creative Ways (THAT WORK!).
The goal is simple: Reward your dog when he's focusing on you.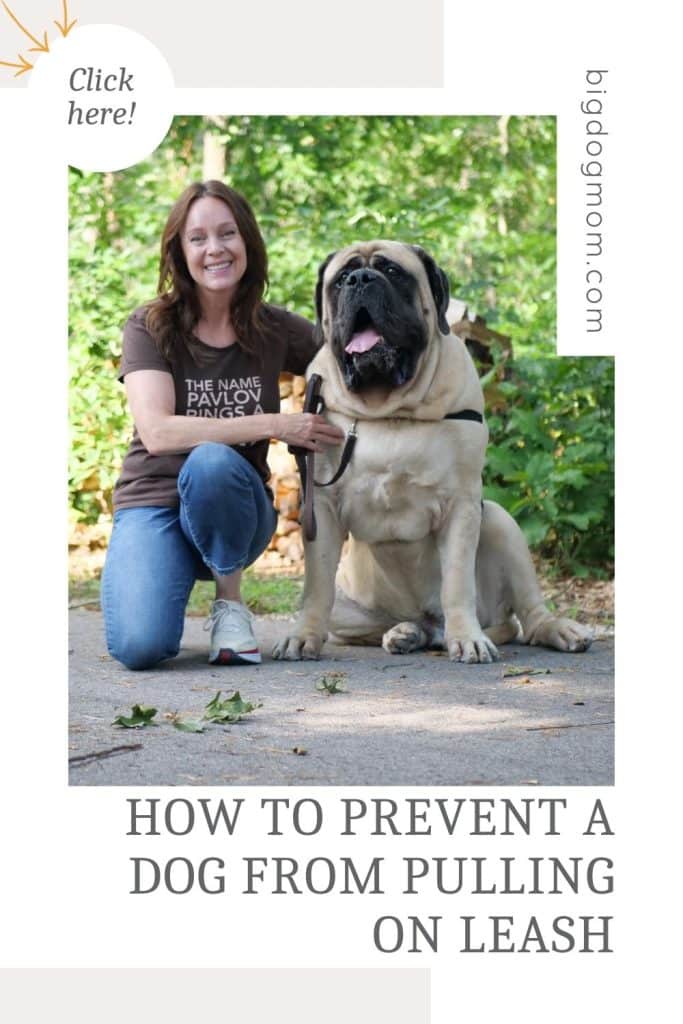 2. Use Treats or Toys To Increase Focus
The single best way to teach your dog focus is by using treats and toys. What you use will depend on your individual dog.
With Sulley, I use a ball or treats. For Junior, something that squeaks is most effective to get and keep his attention. Check out BDM's Favorites for some great options to start with.
You will have to figure out what your dog is most interested in. The goal here is to become more interesting to your dog than the distracting world around him.
3. Train Loose-Leash Walking Without Distractions First
I recommend working on teaching your dog to focus on you and walk loosely on lead without distractions at first.
The only thing interesting to your dog should be the treats or toys you have enticing him to follow and look up at you. That's it.
Try to vary the location of your walks and keep your sessions brief but frequent. For example, several times a day grab some treats or toys, and work on getting your dog's attention and rewarding it.
Walk away from your dog and when he comes and looks at you, pay him! Repeat this process in as many variations as you can think of. Leave the room, walk to the other side of the yard, walk with him on leash and off leash, vary the rewards, etc.
Every time he comes to you with focus and attention, you want to pay him with rewards and awesomeness.
The goal of this training is a dog who begins to think, "When I stay by mom's/dad's side, it's AMAZING!"
4. Gradually Work Up To More Distractions
It is best to start introducing your dog to distractions gradually as you work on increasing focus on leash.
My advice is to start with distractions that you stage and control. That way you know what is coming and can plan how you will react before it happens.
Similar to my method in How To Teach A Dog To Come: A Dog Recall (That Works Every Time!), consider enlisting the help of your spouse, your kids, your neighbors, etc.
Here are a few examples to get you started:
Think creatively and vary these as your dog gets better and better at focusing on you while being tempted by these distractions.
You will want to walk your dog on a loose leash through these distractions and increase their intensity as you train.
Remember you are working toward a solid and dependable loose leash walk whether or not you are using a harness like the Easy Walk Harness.
5. What Your Dog Practices, He Perfects
My last tip is more of a warning.
What your dog practices, he will perfect.
This is true for all of us.
As Malcolm Gladwell put it in his book, Outliers,
"10,000 hours is the magic number of greatness."
Malcolm Gladwell, Outliers
The key to achieving greatness at any craft or skill requires A LOT of practice.
If your dog is practicing pulling on a leash, trust me, he will get VERY good at it.
On the other hand, if you commit to practicing loose leash walking, the same will be true.
There is no magic bullet and no harness that will stop your dog from pulling.
Only you can do that… with training and practice.
Have you used the Easy Walk Harness for your dog? I would love to hear your thoughts and experience in the comments below!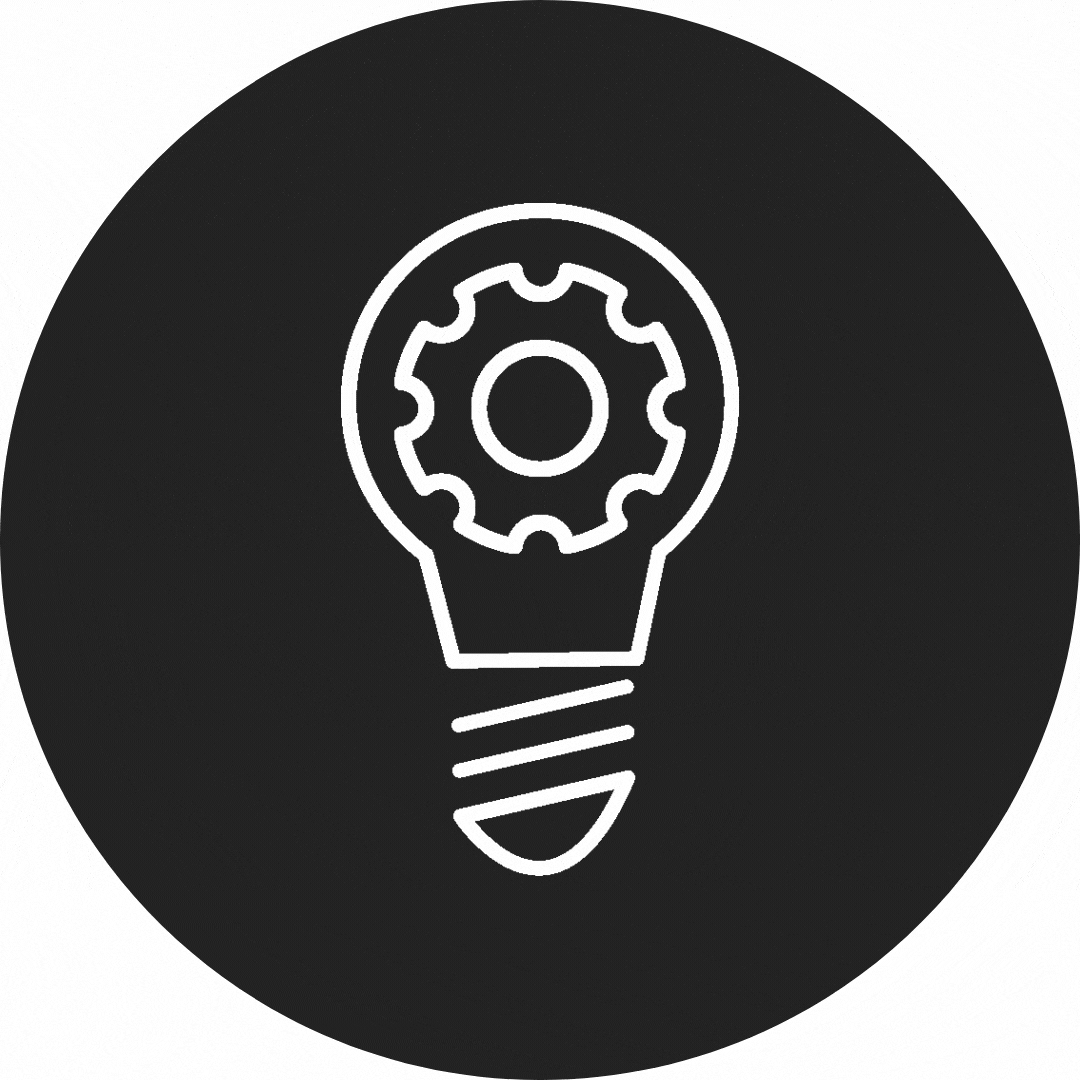 FAQs About Harnesses and the Easy Walk Harness