Some of the links below are affiliate links, meaning that at no additional cost to you, I will receive a commission if you click through and make a purchase. For more information, read my full affiliate disclosure here.
This is the definitive guide to buying a dog harness for large dogs including pros and cons, how to ensure proper fit, and the truth about no-pull dog harnesses.
Buying a Dog Harness
Buying a dog harness for large dogs might seem unnecessary to the average dog owner for the average dog. The traditional collar and leash work just fine.
But how many of our large or giant breed dogs are "average?" None of mine have been.
So, if you are sitting there with a large or giant breed dog wondering whether you should buy a dog harness, you are in the right place.
In this post, you will learn:
The pros and cons of using a dog harness for large dogs,
The three types of harnesses and how to choose the right one for you
How to measure your dog accurately for proper fit and maximum comfort
The truth about "no pull" dog harnesses for large dogs you need to know,
And, my recommendations for the top 7 best dog harnesses for large dogs.
And for your convenience, I have included a comprehensive video with step-by-step instructions on how to accurately measure and fit a dog harness and what you need to consider before you buy one for your large dog.
Let's get going!
Special Considerations for Big Dog Owners
As someone who has raised and lived with giant breed dogs all of my life, I know firsthand how our needs differ from the needs of the average dog owner.
And in this case, it is not exclusive to the size of our dogs.
Yes, size absolutely matters, but there are a few other considerations that make the dog harness purchase unique for big dog owners.
1. Greater Risk With Poor Canine Behavior
I mentioned this in How to Socialize a Puppy At Home: 15 Creative Tips (That Work!), and it remains true when it comes to walking a big dog.
By force of strength and size, a big dog with a poor temperament represents a greater risk than a small one. That is a fact.
So, it is the responsibility of every big dog owner to ensure that your dog is socialized and trained. And for breeders to not breed dogs with substandard, poor temperaments.
The use of a harness on a dog with a poor temperament is not going to solve the problem, but in some cases, it can help.
For example, based on my experience with Linus, his reactivity seemed to be exacerbated with a single strong pressure point on a vulnerable part of his body (neck) as compared to multiple pressure points across the center, stronger of his body (chest and/or back).
Reactive dogs or dogs with leash-related behavior issues may experience the same thing.
That the distribution of pressure points gently across the body sends a much softer message to the brain when compared to the strong jerk of a collar around the neck.
I am not suggesting a harness is going to prevent a reactive dog from reacting.
What I am suggesting is that it is a tool that may help reduce a reactive dog's discomfort on a walk. And a more comfortable dog, the less risk to everyone around him.
2. More Damage To the Dog and Others From a Collar
There are two points here that I want to make.
The first is the most obvious.
By virtue of how a collar and leash work together, 100% of the pressure is placed on your dog's neck when he pulls ahead.
For very strong pullers or dogs who are prone to take off after a stimulus (animal, person, ball, bike, etc.), the sudden jerk around the neck and cervical vertebrae can put your dog at risk of injury.
For dogs, like Junior, who has a neurological disease like Wobbler Syndrome, any pressure on the neck can make their condition worse.
The second point relates to a more emotional reaction to the jerking mechanism around the neck of a dog.
For all dogs, especially fearful or reactive dogs, when they feel pain or discomfort while simultaneously exposed to that which they fear or dislike, the message sent to their brain is more akin to, "I knew there was something to fear!" than, "Oh, that scary thing is really nothing to fear."
The pain and discomfort are reinforcing, not discouraging the behavior (pulling or reacting).
This is why I speak out against the use of prong collars and Gentle Leaders as a means to control a dog on a walk (more on this in a minute).
3. Purpose Bred Can Result in Special Considerations
And lastly, large and giant breed dogs come in all shapes and sizes.
From the stocky Labrador retriever to the deep-chested, towering Great Dane to the massive Mastiff tank. They range in weight from 50 pounds to over 250 making standard breed temperaments of special consideration for big dog owners.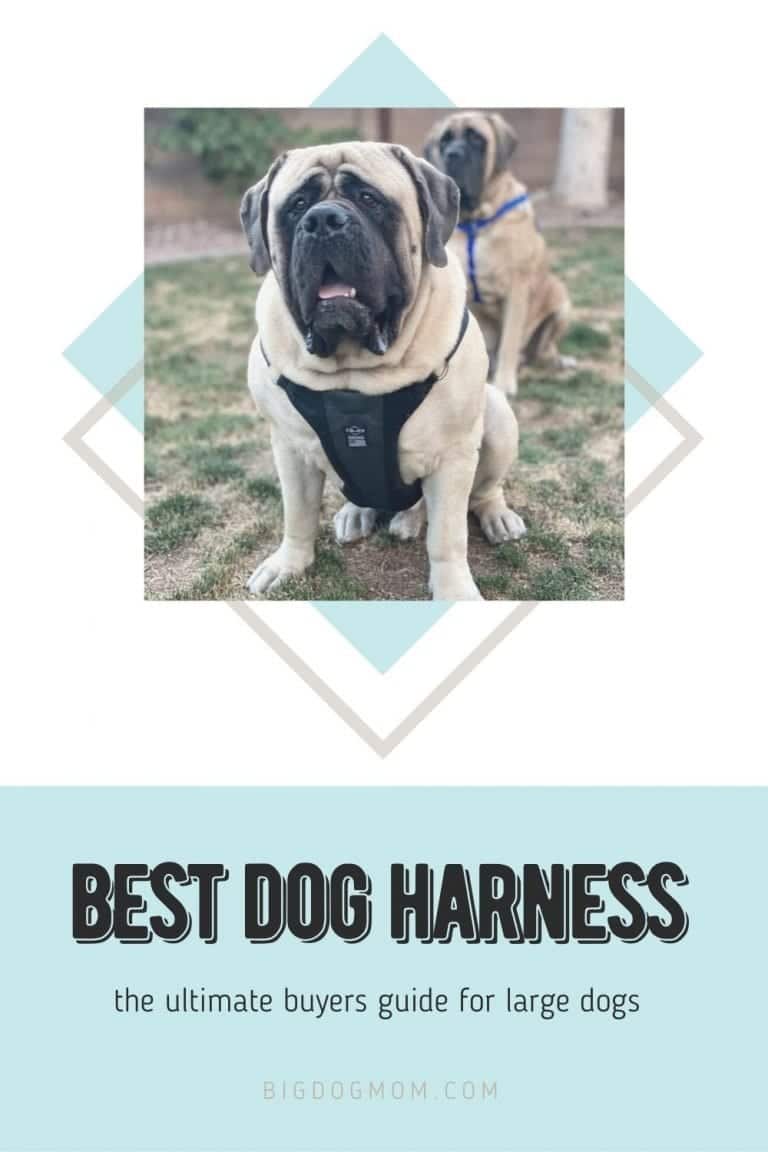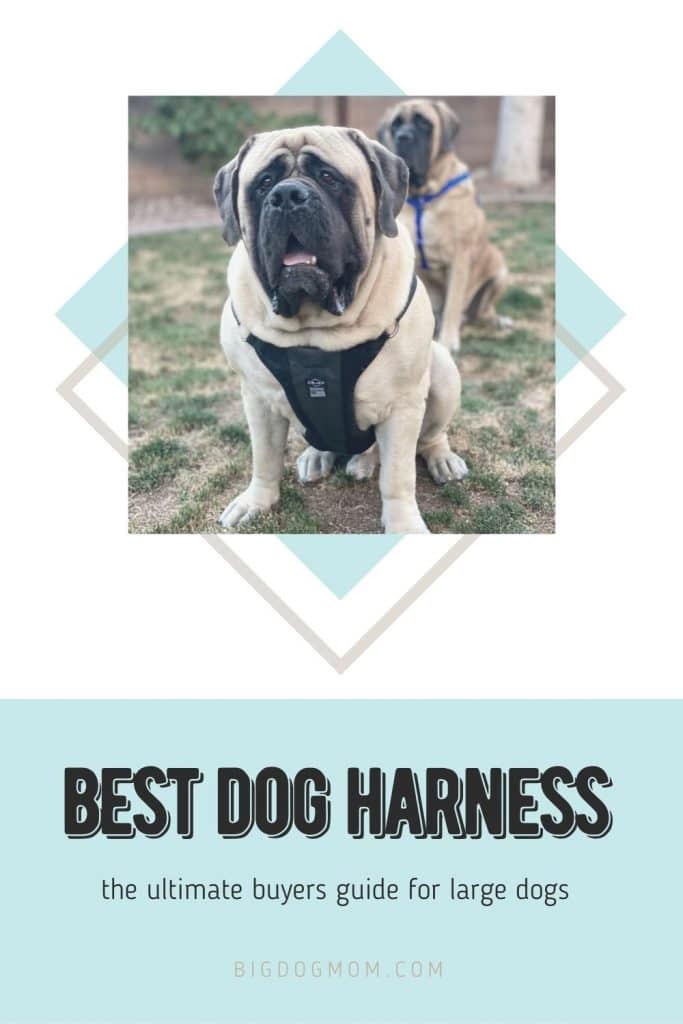 There is a huge difference between walking a Labrador retriever with a prey drive and a Toy Fox Terrier wanting to chase a rabbit.
Walking an Alaskan Malamute with a desire to run is vastly different than going for a jog with a Beagle.
And finally, a Cane Corso or Dogo Argentino on guard at the end of the leash is nothing like a people-wary Chihuahua.
So herein lies the issue.
Big dogs were bred for a purpose and that purpose is often a drive that cannot be contained or controlled entirely.
It is up to us, as big dog owners, to understand our breed and how to "harness" the God-given genes he or she was passed on.
For many, a dog harness can be a perfect tool with which to do just that.
Here is a summary of the pros and cons of the use of a dog harness for large dogs.
Which Type of Dog Harness is Best for Large Dogs?
There are three main types of harnesses; those that clip on the back, those that clip on the front of the dog's chest, and those that offer both.
The location of the leash attachment or clip is a very important distinction as it will affect how well the harness works for a particular owner and dog.
Within those categories are a few additional varieties that will also affect the fit and function of a particular dog harness. These can range from aesthetic differences to things that can affect a dog's range of motion when walking.
I will be putting these into three categories; basic, moderate coverage, and full support.
Let's discuss each in a little more detail.
BASIC Dog Harness
This is the most simple type of harness. It comes with few bells and whistles, but it gets the job done.
Examples are the PetSafe Easy Walk or the PetSafe Easy Walk 3-in-1.
With a single strap looping over the dog's back and looping around the chest, this type of dog harness is easy to put on and serves the primary function of reducing pressure on the neck and spine, like other harnesses.
Including either a leash attachment on the back or one on the front of the chest or both, these harnesses can work for many big dog owners.
Here are the pros and cons of this type of harness for large dogs:
MODERATE COVERAGE Dog Harness
A moderate coverage dog harness is one that, while still providing the primary benefit of reducing pressure on the neck and spine, comes with a few advantages over the more basic harness.
Examples are the Freedom Harness or the Blue-9 Pet Products Balance Harness.
As you can see here these harnesses come with larger, thicker straps and have more points of adjustment in order to give your dog a more custom fit, a greater range of motion, and more comfort.
In addition, these harnesses come with both a front clip and a back clip leash attachment for optimum flexibility.
To summarize, here are the pros and cons of a moderate coverage dog harness for large dogs:
FULL SUPPORT Dog Harness
The last type is what I call a full support harness.
Examples are the Duo Adapt Harness by Duo Gear, the Kurgo Journey Air Dog Harness, or the Julius-K9 IDC® Powerharness.
While not right for all large dogs, the full support harness provides a premium level of quality and functionality unmatched by other types.
They generally have a more full coverage construction which can be seen as either a pro or a con depending on your needs.
What To Look For In a Dog Harness
Which Dog Harness is No Pull?
As stated earlier, a harness is a tool. Nothing more, nothing less.
There are some tools, like the Gentle Leader head collar, which claim to be no pull.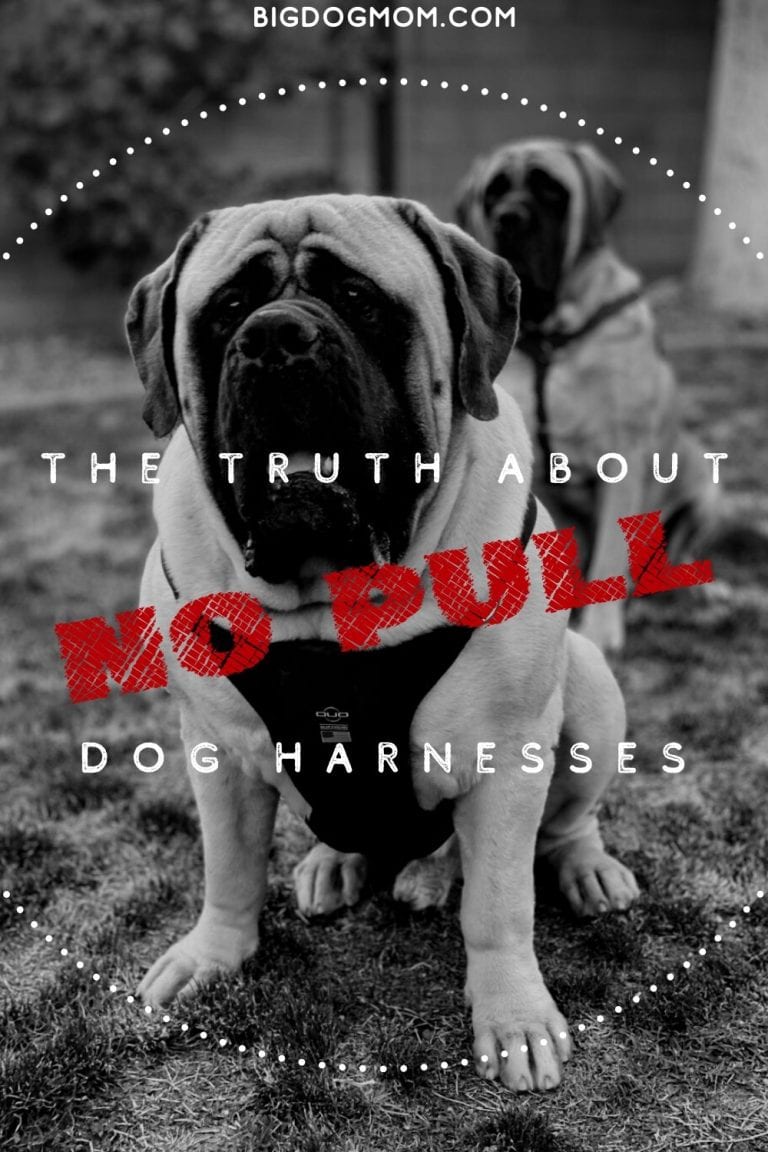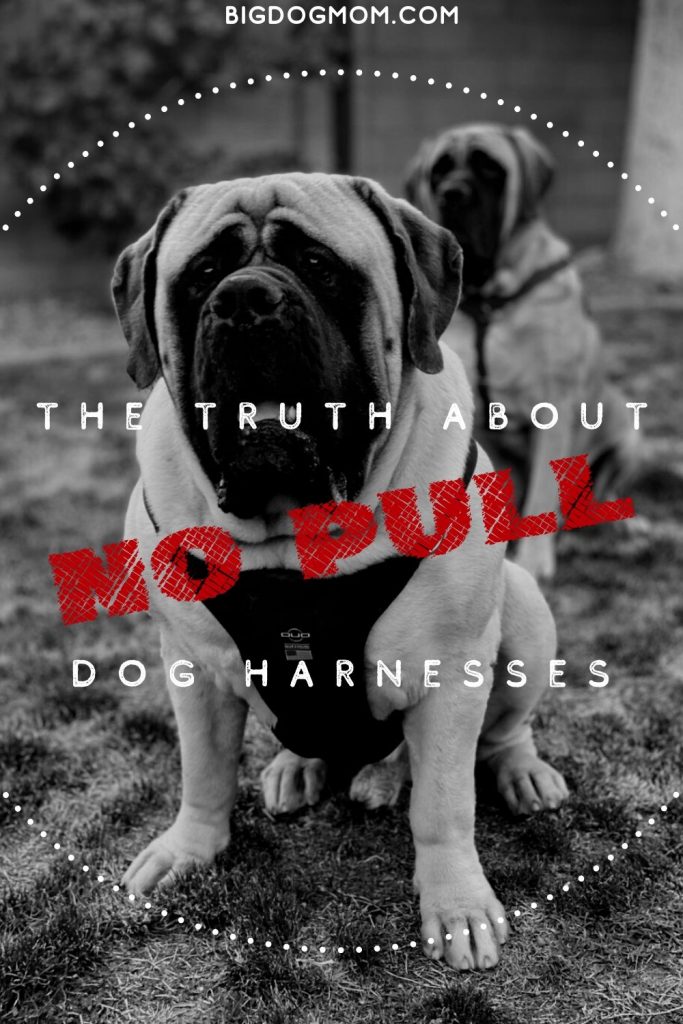 According to the manufacturer, these head collars, "inhibit your dog from pulling while preventing excessive barking."
It has a strap that closes around the nose and applies pressure on the back of the neck when a dog pulls.
This harness makes pulling uncomfortable by jerking the head sideways, which, they say, results in less pulling.
In other words, it acts as a positive punishment (adding something in order to make a behavior happen less often).
However, like with other aversive measures of controlling canine behavior, using a Gentle Leader is anything but gentle in the grand scheme of dog training and often fails to garner the results promised.
What happens when the head collar is taken off? The dog has learned nothing but walks tend to be very, very uncomfortable.
According to Pamela Dennison, CWRI, Certified Dog Behavior Consultant with the IAABC (International Association of Animal Behavior Consultants), speaker, and author of the best-selling dog training book, You Can Train Your Dog,
"While I understand that having a large breed dog may be daunting when trying to walk them, using harsh equipment will not teach the dog anything. It will not teach the dog that staying close by "pays off." Using a so-called "no pull" harness actually adds pain – it hurts. It digs into their armpits. Of course, dogs being dogs, they will pull even harder away, trying to get away from the pain, not understanding that if they eased up it would stop hurting. Think about it – if you touch a hot stove and it hurts, would you keep your hand there? Of course not! You'd pull away! The key here is to find a harness that causes NO pain whatsoever. No equipment trains the dog to walk on a loose leash. YOU train the dog to walk on a loose leash. A good harness will help you get there, by getting rid of the choking/pain."
Pamela Dennison
The Truth About No Pull Dog Harnesses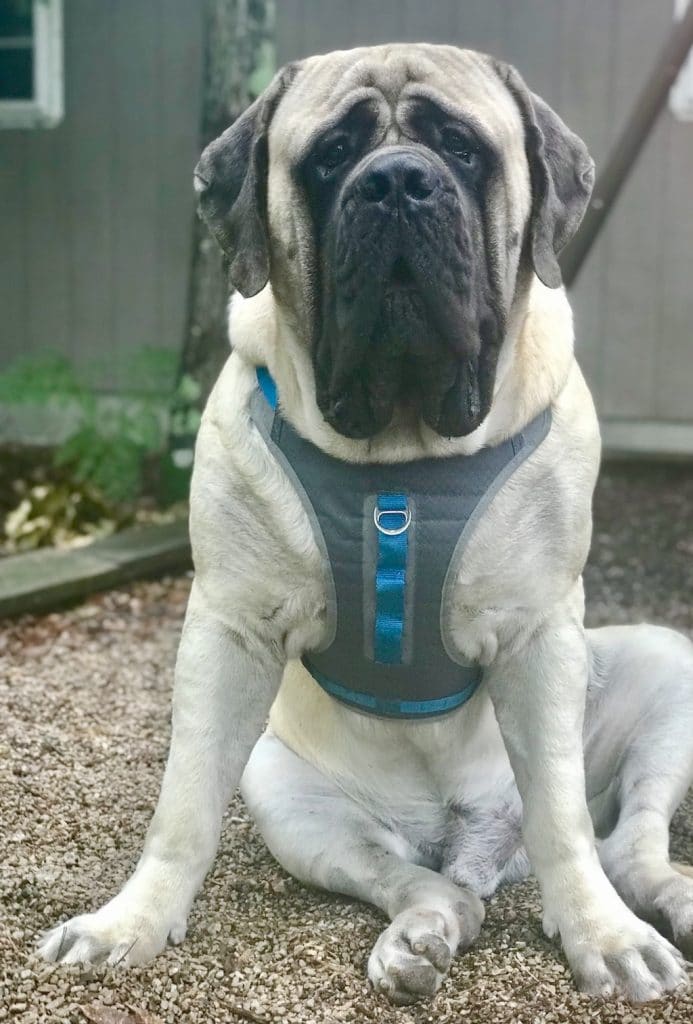 On its own, a dog harness is not going to stop a dog from pulling on a leash.
If you have a Mastiff wanting to say hi to a neighbor, a Labrador chasing a rabbit, or a Malamute looking for a sled race, you will go from a big dog walker to a sled dog musher in a split second.
Trust me. I speak from experience.
Because of this, regardless of the marketing claim, in my view, there are NO truly "no pull" harnesses.
For a tool to be no pull, it must be fastened on a dog who understands loose leash walking, as Pamela said above.
Without proper training, a "no pull" dog harness is nothing more than a snug and desperate, "please don't pull me" harness.
They have a great many benefits and advantages over a traditional collar and leash, especially for large dogs. However, we must not be lulled into the false promises of being no pull.
How to Measure and Fit Your Large Breed Dog for a Dog Harness
Getting a properly fitting harness for a large dog is dependent on two things; measuring accurately and making adjustments for a proper fit.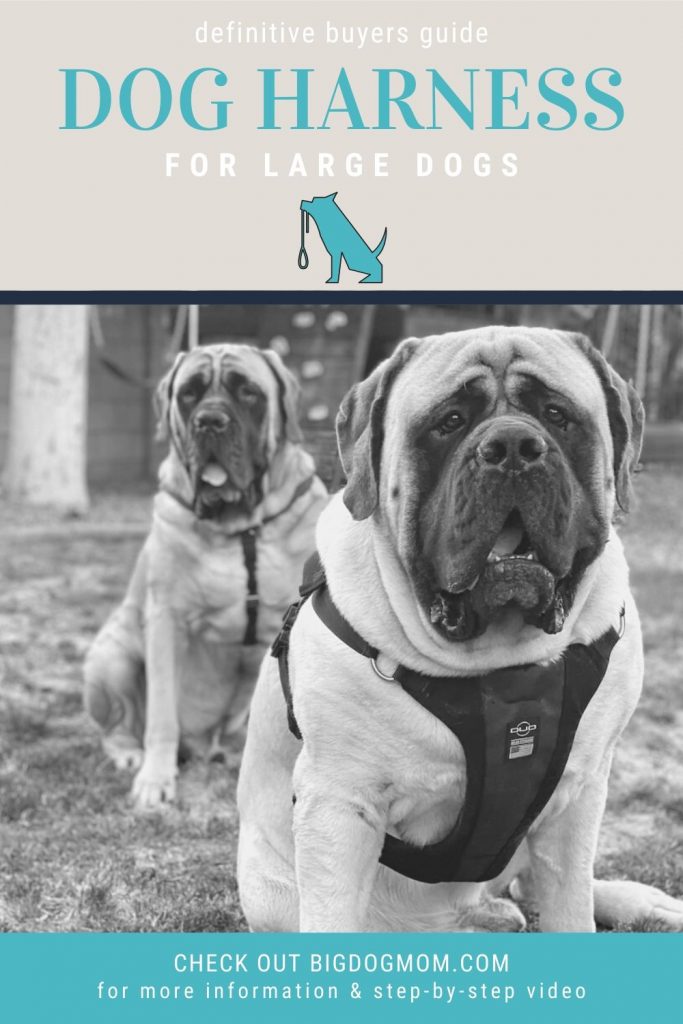 To measure your dog, you will want to grab a soft tape measure like this and write down the following:
Size at the base of the neck. Not up under the ears but rather towards the base of the neck just above the shoulders and chest.
Girth around the thickest part of the chest behind your dog's "armpits."
*These are general guidelines and may vary slightly depending on the manufacturer.
Some designs may also require you to measure the length of the dog as well as the front leg length. Use these general rules to take those measurements:
Body length – Measure from the withers, or shoulder blades, to the base of the tail (where it attaches to the dog's bottom, not the tip of the tail)
Leg length – Measure the inside of the leg from the bottom of the rib cage to the wrist bone.
When you get your harness, you will need to make several adjustments to ensure you get a proper fit. Generally, this means cinching each strap so that you can fit two fingers between the strap and your dog's body.
Keep in mind that excess material around your dog will result in impaired functionality and decreased comfort with an increase in the risk of skin chafing, so be sure to adjust the harness appropriately.
**Again, these directions may vary slightly by brand, so be sure to read your harnesses directions carefully.
In the video below, I show you exactly how to select, measure, fit, and put on a dog harness so there is no confusion and you can see how each of the types fits on different size Mastiffs.
Step-by-Step Video Demonstration and Comprehensive Tutorial on Dog Harnesses for Big Dogs
Top 7 Dog Harnesses for Large Dogs
Now that you are an expert with all of the knowledge necessary to make a buying decision, you may be asking, "Which dog harness is best for large dogs?"
Based on my personal experience, and the experience of hundreds of owners in the Big Dog Mom Community, here are the best harnesses for large dogs.
Like everything else, there is no one-size-fits-all. So these 7 harnesses are not listed in any particular order. They each have their pros and cons depending on your needs.
That said, I am providing this list to save you time researching. Put simply, less screen time = more dog time!
Without further adieu… here are the top 7 BEST dog harnesses for large dogs:
The absolute best dog harness made in the USA! Hands down our favorite among all the harnesses we have tried! Customized fit for every size dog. Use code BIGDOGMOM for 20% off!
This was our first venture into full-support dog harnesses, and we never went back. Kurgo dog harnesses are premium quality at a low price.
While we have not yet tried this one in our home, the rave reviews by so many in the Big Dog Mom Community made this one rise to the top!
Ruffwear makes some of the absolute best products for outdoor adventures with your dog. The Front Range Harness has 4 adjustment points, 2 leash attachments, and a handy ID card storage. Fits up to 42″ girth.
This is a moderate coverage dog harness that is very popular in positive dog training circles. I purchased it for Linus and have found it useful to have on hand ever since. I highly recommend it if you are looking for a quality dog harness for the warmer summer months.
Similar to the Freedom Harness, the Blue-9 Balance Harness is a great fit if you are looking for moderate coverage with a wonderfully customized fit. I absolutely love Blue-9 pet products and love that they are Made in the USA!
With three different attachment points, the PetSafe Easy Walk 3 in 1 for walks, car rides, or a jog at night. This is a terrific option for a basic dog harness that will fit most dogs
Other Common Brands – Next 4 Honorable Mentions
The following are 4 brands and styles that deserve an honorable mention:
Honorable Mentions
These dog harnesses are either popular in the big dog community or versions of the aforementioned listed in my top 7. While I do not have personal experience with these, I feel they are worthy of mentioning as an option to consider in your search for the best dog harness for your dog.