Some of the links below are affiliate links, meaning that at no additional cost to you, I will receive a commission if you click through and make a purchase. For more information, read my full affiliate disclosure here.
The Diamagroove Boxer dog nail grinder promises superiority, but is it worth the hefty price tag? Get the pros and cons of the Diamagroove here…
Perhaps you have seen the fancy advertisements and promising claims about the Diamagroove Boxer dog nail grinder for cutting dog nails.
You may be asking, "Is the Diamagroove™ worth the money?" or "Is the Diamagroove™ cooler than a normal Dremel bit?"
In this post, you will learn the answers to those questions with my honest review of this product.
I received the Diamagroove Boxer from my sweet husband for Christmas and feel compelled to share with you my initial thoughts about this dog nail grinder.
This is NOT a sponsored review, nor is it meant to answer every question you may have.
It is simply an honest review of my personal experience using this diamond bit, from the first year when this post was originally written, until today in 2022.
As with all of the content here on Big Dog Mom, my goal is to share my thoughts and experiences as a big dog parent to empower, educate and inspire you. And to, on occasion, share a few useful resources along the way.
Cutting Dog Nails Can Be a Struggle
In the spirit of getting your dog's nails to a healthy length, it really doesn't matter which tool you use. As long as you are trimming them regularly, that is what matters.
For those that know me, I can be a little dogmatic when it comes to cutting dog nails. I admit it.
Right up there with my hot buttons of taxes and entitlements, are long dog nails.
Let me put it this way, growing long nails on an otherwise gorgeous paw is like painting the Mona Lisa with a milk mustache. Eeeww!
I empathize with those of you for whom cutting your dog's nails is a real struggle. I get it.
I was there too not that long ago. If you are in this group and would like a more step-by-step "how-to" approach to cutting your dog's nails, read How to Cut Dog Nails Stress-Free And Have Your Dog Actually Enjoy It and the other posts in my nail cutting series which address signs of stress, dog nail bleeding, consequences of dog nails being too long, and the top 7 myths about cutting dog nails.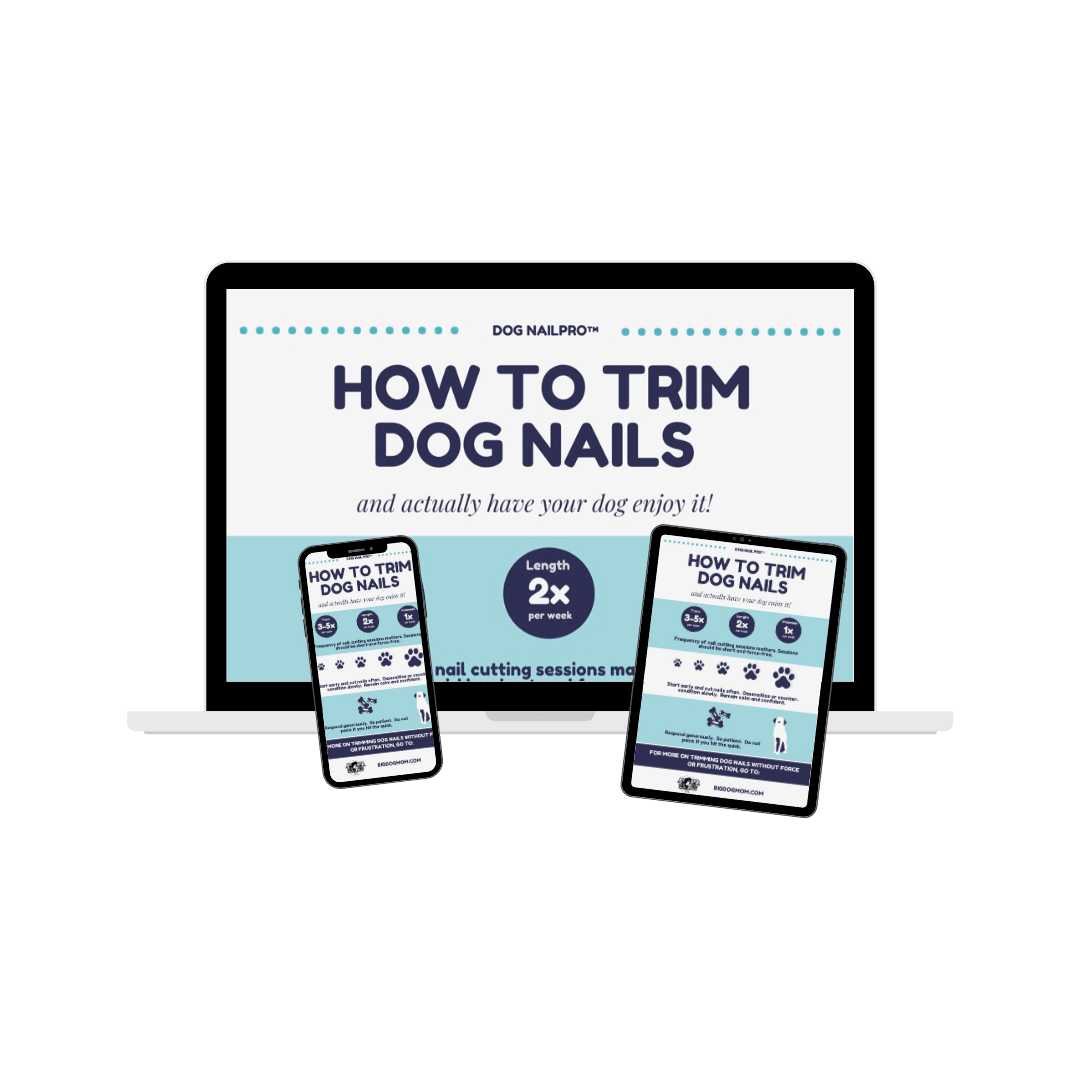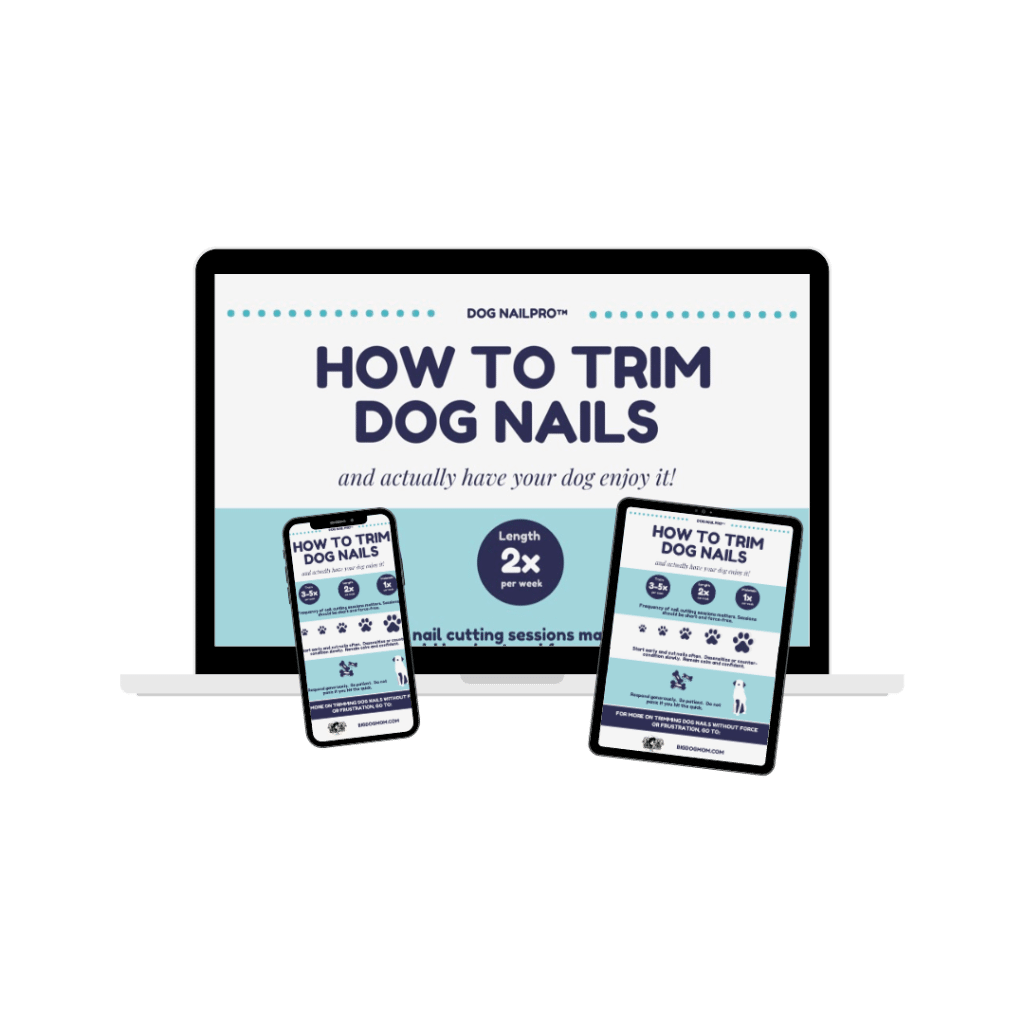 Does Your Dog enjoy nail trims?
In my course, Dog Nailpro™, I teach you how to cut your dog's nails without force, fear, or frustration. Join the waitlist today and get a FREE printable to get you started!
Dog Nail Grinders Win!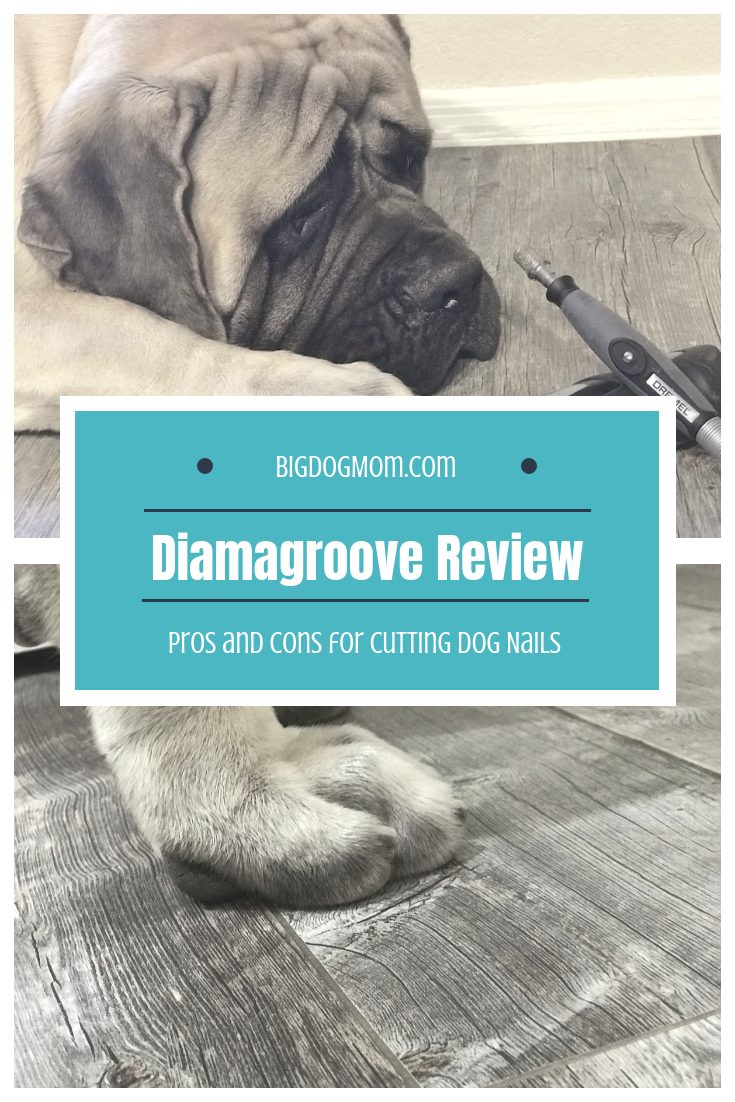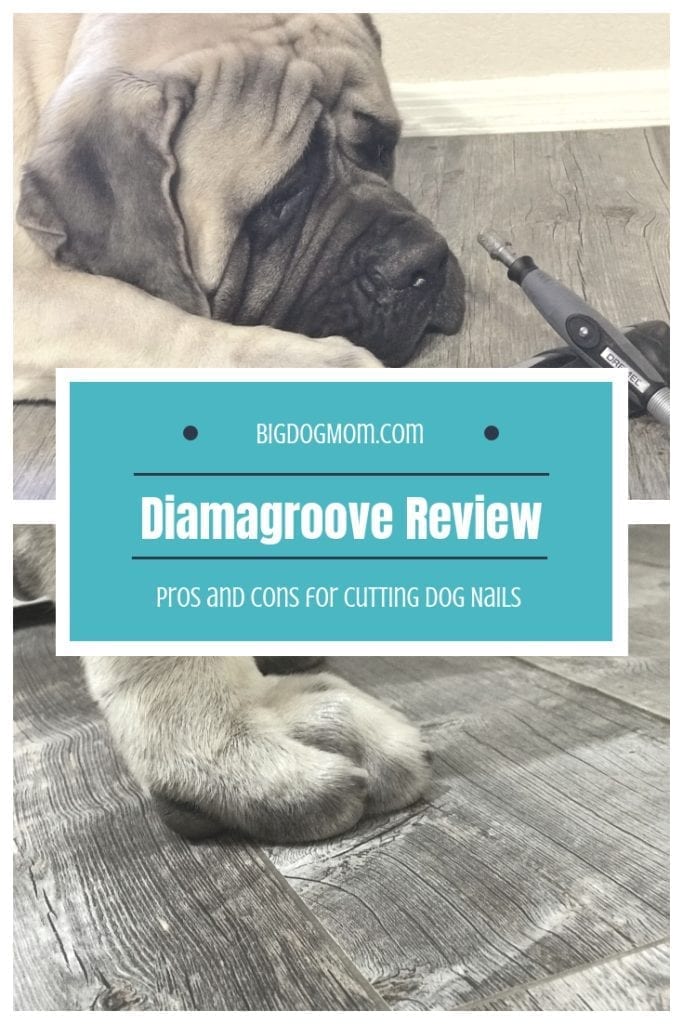 In preparation for this post, I reached out to the Big Dog Mom Facebook audience to see what equipment they were using for cutting their dog's nails.
The overwhelming majority of folks are using a Dremel.
Out of 81 people who voted, 63 are using a Dremel while 18 are using a traditional dog nail clipper.
In addition, several people commented that their use of a Dremel or clipper was completely dependent on specific dogs and based on how well they tolerate the sound of the Dremel.
Diamagroove™ is Significantly Cooler
The first time I put the Diamagroove bit on and used it, it seemed very warm to me.
In fact, by the time I transitioned to my second dog, it was almost too hot for me to hold comfortably. That was even with using a flexible shaft attachment for my Dremel.
Perhaps I didn't have the bit inserted correctly or something wasn't quite tight enough.
It makes sense to me that faulty insertion of the bit would increase friction and, as a result, cause it to heat up.
Fortunately, the dogs didn't seem to mind so my guess is their nails stayed at least as cool as they did with the traditional bit.
Interestingly, since those first few sessions with the Diamagroove, I have not experienced heat anything like this.
In fact, the flexible shaft attachment that I hold on to has been completely cool to the touch the last few times I have cut nails and the bit itself stays cool which translates to less heat on the dog's nail.
This, for me, has been one of the most significant advantages of the Diamagroove™.
One thing I love about using a dog nail grinder is my ability to get very close to the quick of the nail without actually nicking it and causing the nail to bleed.
Because the Diamagroove™ stays so much cooler, I have been able to take my time getting Junior's and Sulley's nails cut.
I usually keep the speed on my Dremel between 10,000-15,000 RPM due to the increased sound at the faster speeds. I have found that with the Diamagroove I am able to more quickly cut the boys' nails at the same speed.
And because it stays cooler than my old bit, I am able to take my time to shape and grind the nail close to the quick without hitting it.
Because I trim nails once per week, my Dremel bits get pretty worn out.
With a traditional Dremel bit, you can see the wear on the sandpaper as you are cutting the nail. And over time these bits need to be replaced.
In the short time, I've been using the Diamagroove Boxer I have not seen any wear on it whatsoever.
Testimonials from fellow big dog friends who have been using the Diamagroove for over a year have supported the company's claim that it will outlast other rotary tools or dog nail grinders. I am excited to test out this claim myself over the next few years!
2023 Update
After using the Diamagroove™ for over 6 years, with regular cleaning, it has remained in LIKE-NEW condition with no visible wear that I can see. I could NOT be more impressed and happy with this investment!
This model has a concave design and grit all the way to the tip.
It is specially designed to polish/grind the topside of the dog nail as well as grind the end of the nail making it a terrific option for dog groomers, dog breeders, and anyone who wants healthy short nails and gorgeous paws.
The combination of the Diamagroove and the flexible shaft attachment has made the entire experience of cutting big dogs' nails easy and efficient.
Made In the USA!
The Diamagroove™ is manufactured by Whitman Sharpening located in Michigan. I seek to support USA-made products whenever I can, so for me, this is an enormous plus!
Cost is Very High
The cost of the Diamagroove™ is $150.
You heard me right, $150, for a dog nail grinder bit.
You may be tempted to hit the back button right now, but let me explain why I feel this bit is worth the investment.
First, dog nails should be a priority.
Keeping your dog's nails at a healthy length not only looks better, but it's also better for them.
Long dog nails can cause pain both from compensated movement and from the nail being pushed up into the nail bed.
These are HUGE issues, especially for large and giant breed dogs.
Second, for those fellow left brains out there, here's how I like to think about this type of investment:
The total cost is $150.
If you divide that by 12 months in a year, the Diamagroove Boxer would cost you $12.50 per month.
I grind dog nails at least once per week.
So if I take that $12.50 and divide it by, say, 4 weeks per month, that equals $3.13.
With that number in mind, think about what else you spend $3.13 on each week; Starbucks, fast food, or even random toys or treats for your dog.
Perhaps there is room in your budget to eliminate one small item per week in order to start your Diamagroove™ fund?
I wanted the Diamagroove™ for several years before I got one and so far I am really happy with it.
Junior and Sulley seem to enjoy the cooler bit and more efficient nail grinding which are the most important metrics for me.
But given the substantial financial investment, I am interested to see how well it holds up over time and how that compares with the traditional bits that come with the Dremel.
Updated 2023
I remain extraordinarily impressed with the quality and performance of the Diamagroove Dremel bit!
With regular cleaning, it has withstood over five years of weekly grinding on two giant breed dogs. And, as the founder of the Dog Nailpro™ Method, and someone very particular about the health of my dog's nails and the process of grinding dog nails, this is not an easy standard to meet.
Add to that, my frugal nature and desire to save money where I can, investing $150 on a dog nail grinder was not an easy decision for our family.
Thankfully, the hefty price tag of the Diamagroove Boxer has been well worth the investment!
Stephanie – big dog mom
Summary
Do you have a Diamagroove™ Rotary Tool?
If so, I would love to know how my experience compares with your own. If you don't have one, would you consider getting one? Why or why not? Share your thoughts and experience in the comments below.