Some of the links below are affiliate links, meaning that at no additional cost to you, I will receive a commission if you click through and make a purchase. For more information, read my full affiliate disclosure here.
Learning how to cut large dog nails requires brains, not brawn. Here are 7 keys to successfully trimming a big dog's nails without force, fear, or frustration.
Dog Nails Are The Sleeping Giant
Learning how to cut large dog nails is a responsibility all big dog owners accept when they bring a puppy home.
Yet, when the topic of trimming nails comes up, it seems like it wakes the sleeping giant. It is a struggle that we all face and face regularly with our dogs.
To illustrate, if I asked you to choose between $1,000 or perfectly manicured nails on your big dog forever, my guess is 99% of you would choose the dog nails.
We all want beautifully manicured nails for our dogs, but very few of us know HOW to achieve it.
Achieve it without a significant amount of pain, anxiety and, in many cases, tears, that is.
I have heard countless stories about having to tag team and pin the dog down, use a crate so the dog doesn't escape, trick the dog or cut nails as the dog sleeps, or, much to the dismay of groomers everywhere, wait and let someone else do it.
Until today!
In this post, you will learn:
What makes large dog nails unique,
Why your trimming nails should be a top priority,
How often large dog nails should be cut, and
The 7 keys to successfully cutting large dog nails [with VIDEO tutorial linked below].
Effectively cutting a large dog's nails without force requires preparation, proper conditioning, commitment, confidence, and plenty of treats in order to be successful. Recognizing signs of stress and responding appropriately will significantly enhance the experience of both owner and dog during the process of nail trimming.
Let's dive into each of these in more detail…
Common Complaints About Cutting Large Dog Nails
"I'm afraid of hitting the quick and causing my dog pain!"

"My dog hates it!"

"My dog is too big for me to cut his nails by myself!"

"It just causes too much stress for me and my dog."
What Makes Cutting A Large Dog's Nails Unique?
This is where the big dog owners of the world get in a circle and hold hands in solidarity. Because there is just no comparison between cutting nails on a 230-pound Mastiff and a 4-pound Chihuahua.
It is true that Chihuahuas can be vicious. I live next to one. I know.
But if a 230-pound Mastiff is fearful or anxious, that nail battle can often require multiple people, force, and, in many cases, sedation.
As my motto states, "Size Matters!"
Big dog owners face some unique challenges as they set out to learn how to trim large dog nails. Among these are:
Big dog strength
Big dog size
Size and strength of dog nails
Cost of dog grooming prohibitive for many big dog owners
The risk to others if a big dog is aggressive
Breed sensitivity
Memory imprinting during socialization or fear period
Holding a big dog is not an option
Restraint is extraordinarily difficult
The severity of orthopedic consequences of long dog nails
Cost of

veterinary expenses

if nails need treatment or surgical intervention
Need I go on?
Let's boil this down to the crux of the issue.
Learning how to cut large dog nails requires brains NOT brawn!
Consequences of Overgrown Nails
Hearing dog nails on the ground is like fingernails on a chalkboard for me. Literally.
And aesthetically, I think they ruin an otherwise gorgeous paw. Yes, I am every bit of a nail snob when it comes to my dogs.
More importantly, dog nails that are overgrown can cause extremely painful feet.
When a dog's nails contact the hard ground, like a sidewalk or your kitchen floor, the hard surface pushes the nail back up into the nail bed.
This either puts pressure on all the toe joints or forces the toe to twist to the side. This causes the toes to become sore and the dog to fuss when you touch his feet.
Secondly, overgrown nails cause the dog to compensate for his movement in an unbalanced way leading to over-used muscles and eventually over-used joints. Over time this can result in lameness especially in their hind limbs, making it difficult to jump in cars, climb stairs, and even hard to get up from lying down.
If all this wasn't enough to convince you, here are some additional reasons you may never have considered: Dog Nails Too Long? The Truth About Why Length Matters
While this is not going to be a quick fix, I can guarantee you, if you follow my 7 keys to success, your experience, and your dog's nail health WILL improve over time.
I know because I have used them with my own 18-month 160-pound Mastiff that was deathly afraid of getting her nails cut.
After a year-long struggle culminating in her having to have surgery for her nails, I decided enough was enough. Never again would I let my beloved companion suffer emotionally and physically due to long dog nails!
I learned, through that experience, how to condition a dog to love nail trims.
Maya went from a giant dog requiring a heavyweight wrestling match to one that would come happily and hand me her paws to get them cut.
NO FORCE was ever used or needed to get her to that point.
Just patience, kindness and time. That's it.
When your dog outweighs you, you have to use your brain, not your brawn to cut their nails.
7 Keys to Successfully Cutting Large Dog Nails Without Force, Fear, or Frustration
1. Begin With the End In Mind
As Stephen Covey wisely put it in The 7 Habits of Highly Effective People,
"Begin with the end in mind."
Live your life by design, not default. Don't merely accept what IS. Focus on what CAN BE.
This applies to cutting dog nails as much as it does business.
Have a goal and take baby steps to achieve it. Remember, it's a marathon, not a sprint.
Do not spend one more second feeling guilty. Decide today to do something about it.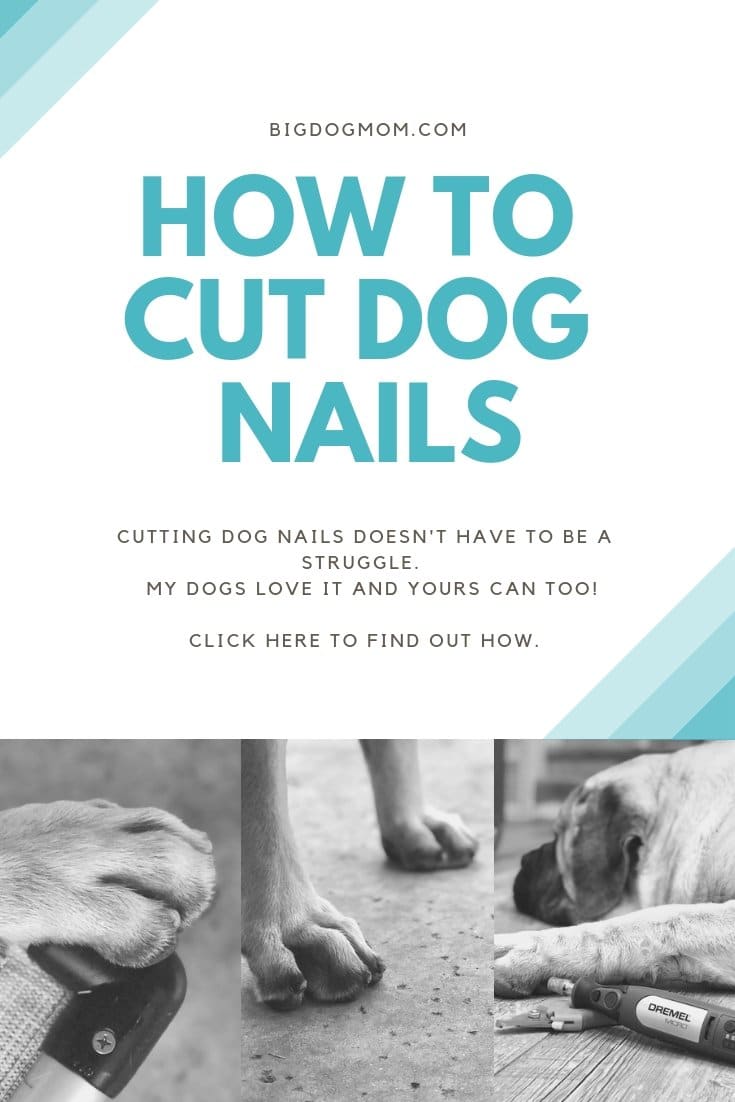 2. Start Early & Cut Often
Ideally, your breeder will have started manipulating and playing with their paws as early as when the puppies are first born and through 8-10 weeks.
A breeder can and should also expose the puppies to a Dremel, or a similar dog nail grinder, and/or dog nail clipper during this time as well.
When you bring your new puppy home it is imperative that you start cutting your dog's nails immediately and OFTEN.
So many people ask me, "How often should I be trimming my dog's nails?"
My perspective is that trimming nails is as much an exercise in preventative health maintenance as it is in training and socialization.
You wouldn't keep your puppy from interacting with new people for a month or longer, would you? You know that their early and frequent exposure to new friendly people is critical to them growing up to be well-socialized, friendly adults. If you don't, read Puppy Socialization: 5 Common Mistakes You Don't Want to Make.
So why wait that long to cut your dog's nails?
I recommend never going longer than one week between sessions. And for the vast majority of big dogs who are anxious or fearful, I recommend you work with your dog much more frequently.
Check out the graphic below and this video for a more detailed explanation of my recommendations regarding how often you should be cutting your large dog's nails and why.
3. Desensitize And/Or Counter-Condition Your Dog Slowly
As I stated above, conditioning a large dog to love nail trims does not happen overnight. There are no quick fixes or magic bullets.
And to all those slathering peanut butter on your foreheads, listen up.
If you are using restraint, confinement, coercion, or any other means of force in order to clip your large dog's nails, let me ask you a question….
Do you or your big dog enjoy the process?
Whether you use these methods as a means to an end, or because you have convinced yourself they are the magic pill curing your dog's anxiety, think again.
The only way to condition a big dog to truly enjoy nail trims is with time and patience.
In Dog Nailpro™ I go into much more detail about conditioning, but for now, let's cover a few terms that are important for a high-level understanding of the process.
Counter-conditioning works to change your dog's already established association with something he or she doesn't like or that fear from negative to positive by pairing it with something they love (treats, usually).
On the other hand, desensitization addresses changing the pairing over time at a safe distance, sub-threshold.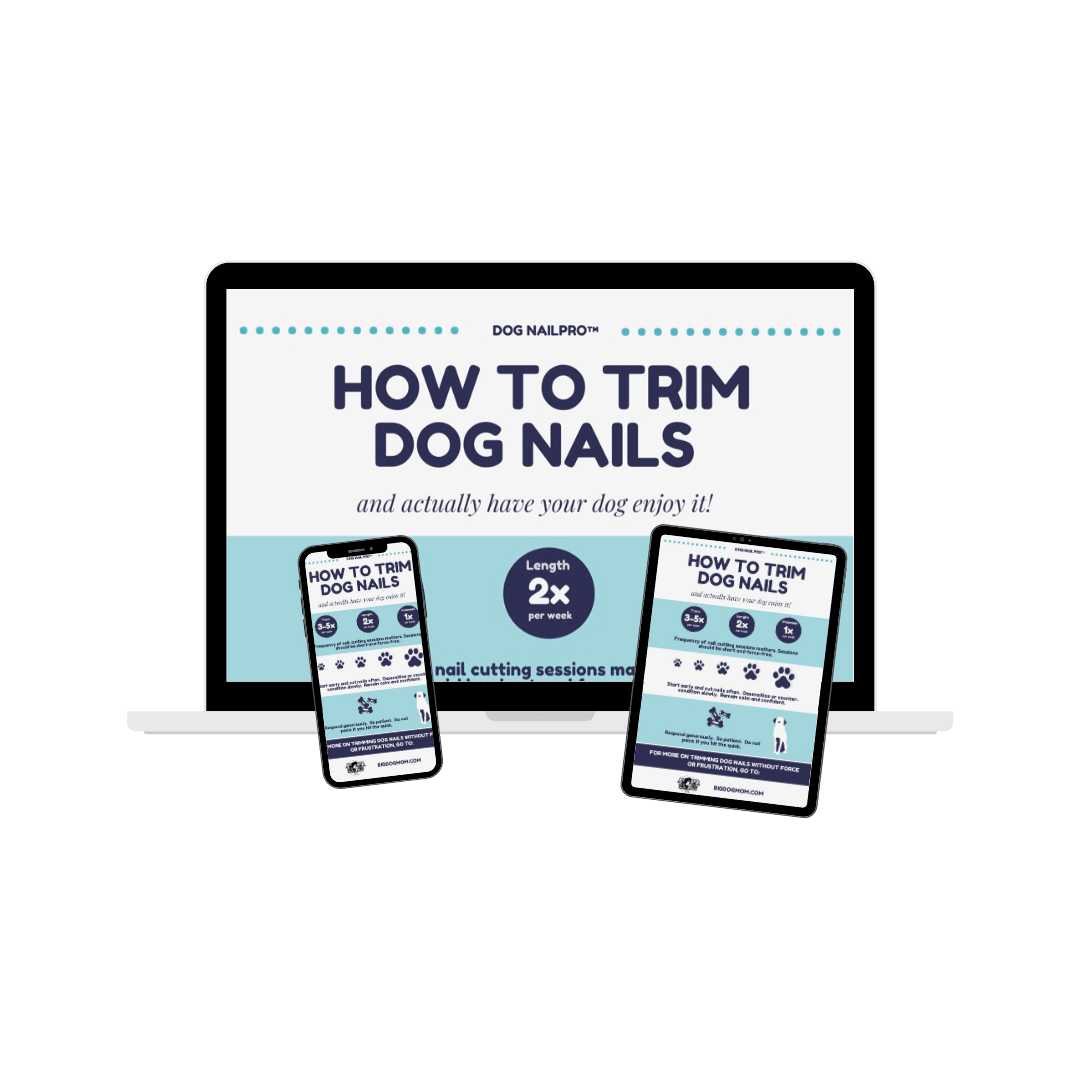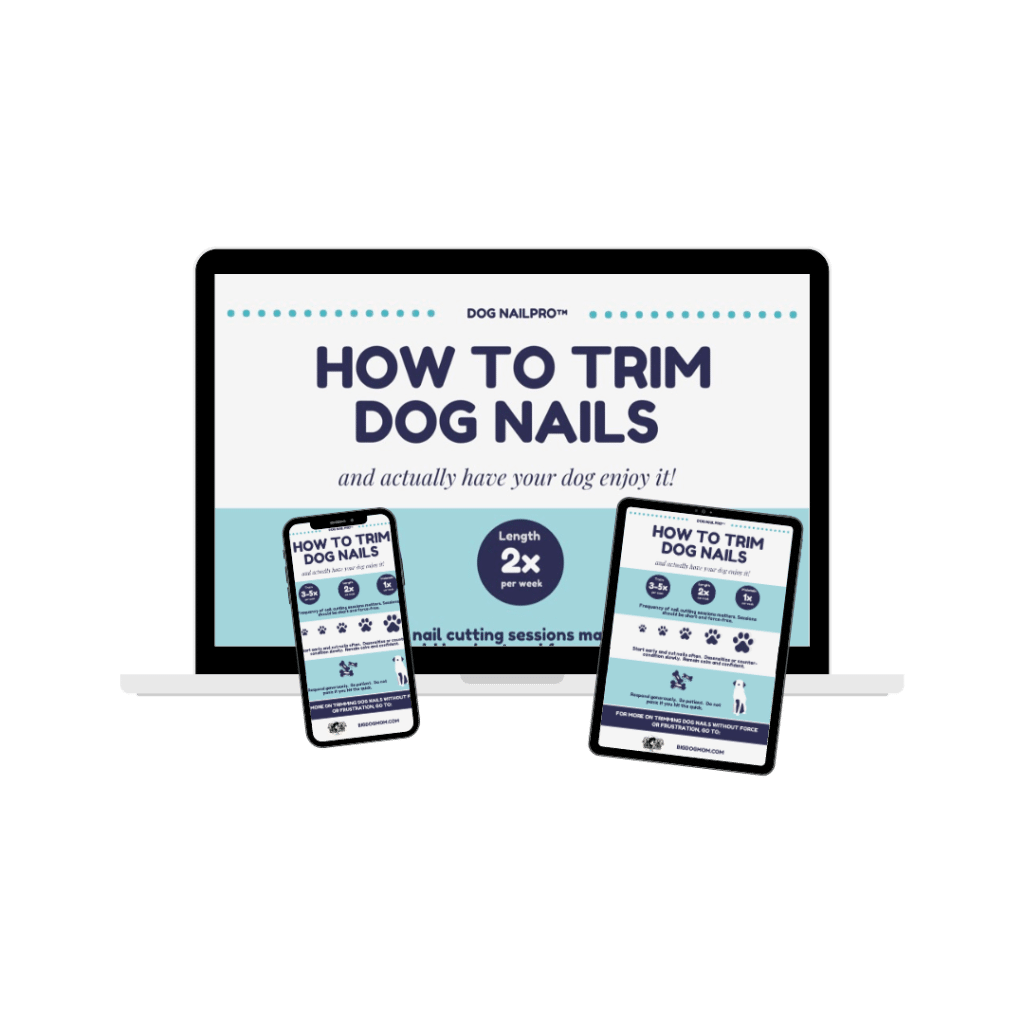 Does Your Dog enjoy nail trims?
In my course, Dog Nailpro™, I teach you how to cut your dog's nails without force, fear, or frustration. Join the waitlist today and get a FREE printable to get you started!
4. Treat Generously
I use treats liberally because food is something that dogs inherently understand.
However, I do not use treats as a reward when I trim my large dog's nails. Nor do I use treats to "occupy" or coerce my dog to sit still.
While these methods may work to appease a very food-motivated dog initially, using treats in this way will not result in changing how he or she feels about it.
My method, the Dog Nailpro™ Method, uses treats in a very specific way as a response.
I prefer to use tiny treats that are quick and easy for my dog to consume. These range from commercial dog treats to cut-up pieces of steak or cheese. Anything your dog loves will work.
I have quite a few favorite commercial dog treats that I use for cutting my large dog's nails. If you would like to check them out, here they are in a convenient one-stop-shop on Amazon.
5. Remain Calm and Confident
This one is very important! If you are nervous, your dog will be nervous. Your nervousness will reinforce his or her fear.
Remove your emotional connection to the outcome and your dog will begin to relax as well.
Your dog will feed off of your emotion and respond accordingly. If you express frustration that your dog keeps pulling his paw away or runs away when you get the clippers out, he will learn that nail trimming is not such a positive experience.
Instead, relax.
Remember what I said in Life Lessons From an Ipad, Flip-Flops, and Two Giant Dogs,
Worrying does not help Junior or my children. Living and loving do. So here is my advice. Look in the mirror and "RELAX." Control what you can control and let the rest go.
stephanie (big dog mom)
6. Be Patient With Your Dog and Yourself
The most important piece of advice I can give you is to follow your dog's lead.
Invite your dog into the driver's seat and let him tell you when he is ready to advance to the next step.
As I have stated several times, go slow.
I am sure you have heard the saying "Life is a marathon, not a sprint." The more patient you are through this process with your dog, the more he will trust you. Work at his pace, not according to your desire to "just get it done."
Watch your dog's body language and respond accordingly.
7. Do NOT Overreact If You Hit the Quick!
The last key to successfully cutting large dog nails is this… Do NOT freak out if you accidentally hit the quick. It happens even to the best of us.
For those that are unfamiliar with it, the quick is the soft cuticle inside the nail that is rich in blood vessels and nerves. Unfortunately, as the nail (claw) grows, the quick grows too.
However, as you apply constant pressure on the quick through cutting, the quick slowly recedes.
But as I said, you will, at some point, accidentally cut into the quick. It is going to happen.
I can assure you it is not the end of the world, for you or your dog. Keep some Kwik Stop, or styptic powder, on hand just in case. You can also use cornstarch, baking soda or flour if you don't have Kwik Stop on hand.
Just take a little pinch of powder and press it onto the nail. That usually stops the bleeding pretty quickly.
---
Do you fear hitting your dog's quick? Grab your FREE QUICK Starter Guide with everything you need to know – what the quick is, how to avoid hitting it, and what to do if you do.
---
Tools you'll need
You will only need to choose one of these tools. That said, while my primary tool is a Dremel, I like to keep a pair of nail clippers on hand as a backup. They are cheap and last forever.
How To Trim Large Dog Nails Video Tutorial
Summary for How to Cut Large Dog Nails
1. Begin With The End In Mind
2. Start Early & Cut Nails Often
3. Desensitize & Counter-Condition Slowly
4. Treat Generously
5. Remain Calm & Confident
6. Be Patient
7. Do NOT Freak Out If You Hit The Quick – Just Be Prepared
---
Your Turn!
On a scale of 1 – 10, how much do you struggle with trimming your large dog's nails?
Put your number in the comments below and share what your biggest challenge is.
And if you have a big dog lovin' friend who could benefit from this information, please share it!
Good luck and Get Cutting!!!
If you would like more great information about cutting dog nails my way, here are a few posts from the archives:
MY Favorite
Cutting Dog Nails Posts