Some of the links below are affiliate links, meaning that at no additional cost to you, I will receive a commission if you click through and make a purchase. For more information, read my full affiliate disclosure here.
Finding the best car travel bed for large dogs is not easy. With so many options, find out if the Big Barker Backseat Barker SUV dog bed is worth your money.
Travel With Dogs
Some car travel dog beds are too thick. Some are too thin. Some SUV dog beds don't cover your car's cargo area, while others cover too much.
This is the journey we have been on the last few years – trying to find just the right dog bed for our Navigator that will be easy to clean and maintain while providing maximum support and safety for my Mastiffs.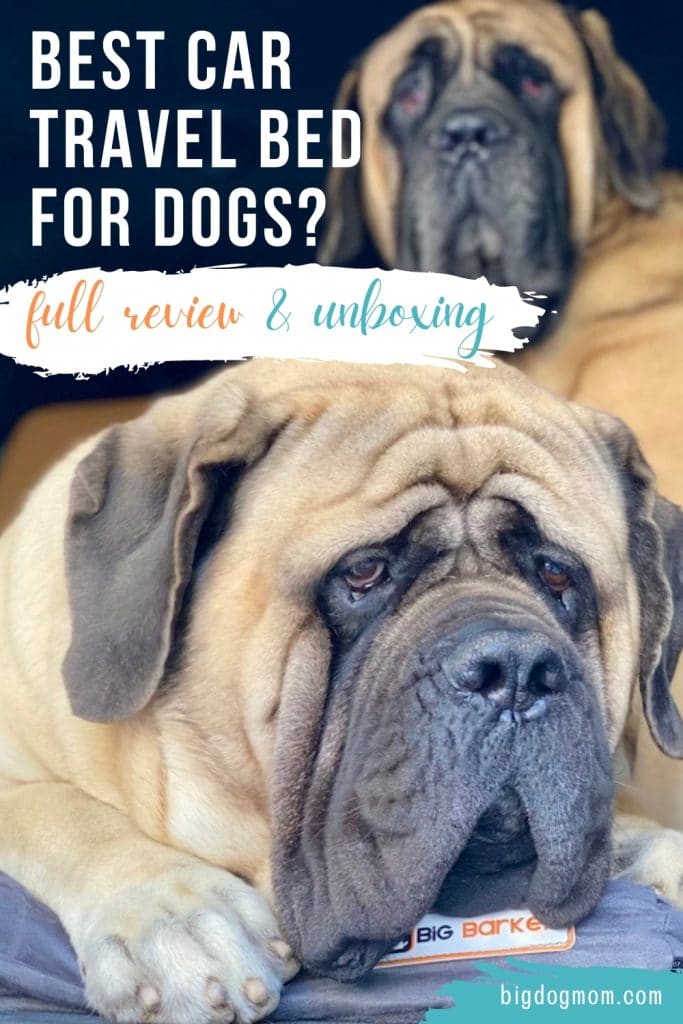 In this post (and video), I will share with you our review of the Big Barker Backseat Barker, a car travel dog bed specially designed for large breed dogs.
Traveling with Junior and Sulley for nearly 2000 miles this week gave us more than enough experience with which to share with you our honest review of this dog bed.
Is it really the best car travel bed for dogs? Is it worth your money?
Let's find out…
Disclaimer
Big Barker sent me a Backseat Barker SUV Edition for this review, however, all of the content is based on our experience – both positive and negative.
Current Cargo Liner
Finding a car travel bed for my Mastiffs has been a multi-year saga.
With our first liner being a failure of epically embarrassing proportions, I set out to find an SUV cargo liner that would do what our first one failed to do; keep my car clean.
Enter our WeatherTech Cargo Liner.
Let me first say, I love this liner!
After using it for several years, here are the pros and cons of the WeatherTech SUV cargo liner for large dogs:
Pros
Keeps carpet underneath clean
Prevents imbedded slobber in carpet
No shifting of liner while car in motion
Durable and long-lasting material
Easy to clean
Cons
Dogs slip and slide while car in motion
Hard surface not very comfortable to lay on
Items placed in the back with the dogs will shift
Friction & pressure on elbow joints worsening elbow calluses
WHY is a car travel bed important for large and giant breed dogs?
As my Mastiffs have gotten older and are approaching their senior dog years, it has become more and more evident to me that their bodies need more support and that the WeatherTech cargo liner, while clean, was just not cutting it.
Here are just four factors to consider if you are debating whether or not you should invest in a dog bed for your car:
1. Car Travel Safety
As I mentioned above, with just the liner alone, there is a significant amount of shifting that takes place while the car is in motion. This includes items placed in the back as well as the dogs themselves.
It only took one road trip with a cooler in the back with Junior and Sulley to quickly realize what a mistake that was.
With every turn the cooler would shift a little causing the dogs (ahem… Sulley) to overreact and move as far away from the cooler as possible.
On at least one occasion, this resulted in Sulley climbing into the cabin area to flee the runaway beverage box.
With a car travel bed, your dog will remain much more stable during turns and acceleration, and if you need to store other items in the back with your dogs, prevent the two from colliding.
And with respect to the Big Barker Backseat Barker specifically, the bolsters (pillows) protect the dogs from being pushed against the sides while turning as well.
2. Orthopedic Support
Consider the impact that starts, stops, and bumps in the road have on a giant breed dog riding solely on the trunk floor or with just a thin liner.
Every bump and turn can easily jar a dog's joints, especially at higher speeds.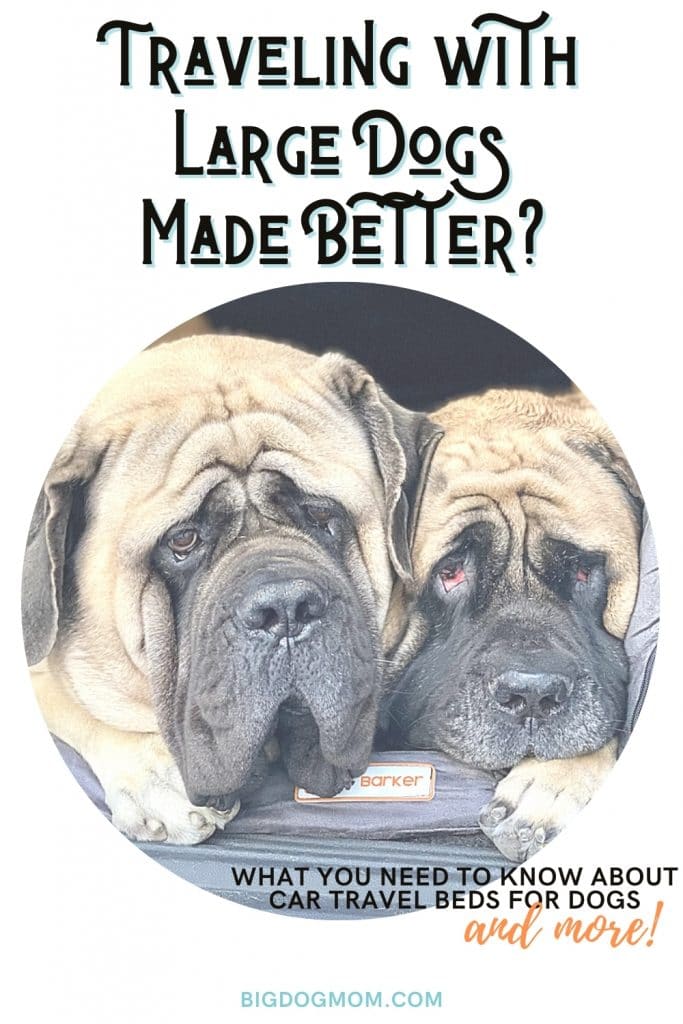 Consider that what seems like a comfortable ride in the driver's seat feels more like an uneven gravel road to your dog in the back.
Laying on hard metal and plastic provides zero shock absorption, resulting in progressively worsening damage to your dog's hips and joints.
Handcrafted with the same super-supportive OrthoMedic™ Foam, the Backseat Barker SUV Edition supports big dogs' bones and joints as they sink into the foam, just like their premium Big Barker Dog Beds do.
According to a groundbreaking new research study out of PennVet University of Pennsylvania Veterinary Clinical Investigations Center, Big Barker therapeutic mattresses provided osteoarthritic 70+ pound large dogs with:
significant reductions in pain and joint stiffness,
significant improvement in joint function, gait, energy, and quality of life,
75% of dogs showed significant improvement in nighttime restfulness.
While the UPenn research was conducted with the 7" dog bed, the American-made proprietary foam and therapeutic support are the same with the 3" Backseat Barker.
Click here to read the entire study and see what the experts are saying about the results.
3. Protection for Dog Elbow Calluses
In Dog Elbow Callus: Are They Inevitable or Preventable? I discuss at length how dog elbow and hock calluses develop and how to minimize their growth.
In addition to applying elbow butter (DIY Elbow butter recipe here), orthopedic bedding and soft surfaces are critical components to improving the health of your large dog's elbow and hock calluses.
In a moving vehicle, your dog will slide on the hard surface with every bump and turn of your car, potentially worsening calluses.
The addition of a quality car travel bed for dogs can reduce the amount of friction between your dog's elbows and hocks and the surface beneath him due to the increased stability and orthopedic support.
No more playing Road Trip Slip & Slide.
A car travel dog bed like the Backseat Barker SUV Edition from Big Barker will hug and protect your dog's elbows from further damage.
4. Comfort
Big dogs are creatures of comfort.
Whether it's a comfy couch, your king-size bed, or a pile of dirty clothes, large breed dogs are drawn to soft bedding.
Therefore, if nothing else, one of the biggest advantages of the Big Barker Backseat Barker SUV dog bed is the added travel comfort for your large dog.
Whether you are taking a short trip to the pet store or a long road trip to Alabama, your dog deserves the same level of comfort as you are getting from your premium driver's seat foam and electric lumbar support.
VIDEO: Best Car Travel Bed for Large Dogs | Big Barker SUV Bed Review | WORTH THE MONEY?
Big Barker Backseat Barker SUV Dog Bed Review
Life as a Mastiff owner is generally focused on two things – cleanliness and durability. If a product fails in either of those two qualities, it's a no-go for me.
Why waste my money?
So when I consider the category of Ease of Use, my review is primarily based on how easy it is to clean and maintain.
As I shared in my Big Barker Dog Bed review, the traditional 7" Big Barker dog beds are super easy to clean while not losing a bit of the integrity of the fabric over time.
With the Backseat Barker SUV Edition, the top cover has hidden zippers that extend a full 70% around the foam construction – making the foam easy to take in and out as you clean the cover.
I also found that the bolsters, or pillows, on the sides were easy to remove and put back on.
So while time will tell with the integrity of the fabric, so far the SUV dog bed is holding up to the standard of all other Big Barker beds as expected.
So, for Ease of Use, we give Big Barker an easy 5 out of 5 paws for awesomeness!
Like all other Big Barker products, I am always impressed with their quality American-made construction.
With the tremendous beating large and giant breed dogs have on just about everything, it is wonderful to have a company that designs its products with our unique needs in mind.
The quality of the seams, zippers, fabric, and proprietary OrthoMedic™ foam construction is unrivaled in the dog world when it comes to the needs of big dogs.
100% made in the USA, all of the Big Barker products are built to last.
Hands down, another 5 out of 5 paws for awesomeness!
In terms of affordability, I really feel the Big Barker Backseat Barker is priced competitively and worth every cent.
While not as clean as my WeatherTech, the combination of the liner and the dog bed seems, for us, to be a match made in Heaven!
Keep in mind, if your cargo space is not set up like mine, you do not need to buy a liner in addition to the car travel bed.
If the Backseat Barker lays flush to the sides (without covering any vents), you will be fine to save your money on an extra liner.
Available on the Big Barker website, linked in the description below, are waterproof liners if you want one.
This is probably not a bad idea if you have a puppy or live where your dog may be getting in and out of the wet such as near a beach or lake.
And something to consider is that Big Barker also sells refurbished Backset Barkers in all three sizes if you don't mind buying used to save some money.
On average it looks like you can save about $60 that way, which is great!
That said, I am deducting half a paw just simply due to the higher premium price point, which, let's face it, is not in every dog owner's budget.
These beds are an investment, not a pet store splurge.
My Mastiffs loved the Big Barker Backseat Barker. So much so, Sulley didn't want to come out of the car the first time he sat on it!
I am deducting a half a paw simply due to the issue with the air conditioner vent in our Navigator.
While not the fault of Big Barker, it is something that impacted my dog's comfort initially until I figured out why Junior was so hot.
Once I shifted the bed 90 degrees away from the vent, he slept soundly and comfortably.
If your air conditioning vents open from the top, you will have no issues.
How to Order Your Backseat Barker SUV Edition
The Big Barker car travel bed comes in three sizes, so you will want to take a few measurements before you place your order.
Because the wings of the Backseat Barker adjust to the width of your car, the primary measurements you will need are the width and depth of your cargo space. The foam should not be wider than the floor space so that the bed fits snug with the wings resting on the sides as pillows.
The most important measurement you need to take is the depth, which is the amount of space needed between the backseat and the trunk door. There is a 10-inch depth difference between each size.
Here are the measurements for each size. The widths shown are as measured with and without the pillow wings.
Medium
55" wide x 25" deep x 3" thick
Inner Foam: 30" wide x 25" deep x 3" thick
Large
58" wide x 35" deep x 3" thick
Inner Foam: 33" wide x 35" deep x 3" thick
Extra Large
61" wide x 45" deep x 3" thick
Inner Foam: 36" wide x 45" deep x 3" thick
Watch our video for an in-depth illustration of how to measure and place your order.
Is the Backseat Barker the Best Car Travel Bed For Dogs?
While it is not perfect, the Backseat Barker SUV bed is a significant improvement over the simple cargo liner we were using.
Here is a summary of the pros and cons from our recent 2000-mile road trip with the Backseat Barker:
Pros
Premium comfort – the dogs didn't want to get out of the car and snored through half of the trip.
Increased stability while car in motion
Improved safety due to lack of shifting
Easy to clean and maintain
Fit perfect with pillows on sides for added comfort and stability
3" OrthoMedic foam provided more than enough support
Thick, but not too thick, for the dogs to jump onto from their Twistep
Cons
Bolster (pillow) on the right side covered the air conditioner vent. This is likely a unique issue with our model SUV, and was easily resolved by shifting the bed 90 degrees.
Dog hair is a problem – You may want to purchase an additional cargo liner to cover the carpet or get a dog hair remover tool like the ChomChom Roller. The dog hair issue for us was worse because we couldn't position the bed properly due to the vent issue.
With all of that said, I give the award for Best Car Travel Bed For Dogs to the Big Barker Backseat Barker SUV Edition!
If you do not yet have a car travel bed for your dog, I highly recommend you check out the Big Barker!
With FREE shipping and a 365-day return policy, you have nothing to lose. Grab yours today!
Wishing you and your dog(s) many safe and happy miles on the road. 🚙