Some of the links below are affiliate links, meaning that at no additional cost to you, I will receive a commission if you click through and make a purchase. For more information, read my full affiliate disclosure here.
With a mission to empower, educate and inspire one big dog owner at a time, Big Dog Mom serves large and giant breed dogs on a journey that starts here…
If you are new to Big Dog Mom™, I welcome you with open arms and some very big paws! As I sit here and type this post with my two faithful mastiffs at my feet, I am reminded of the instrumental role large and giant breed dogs have played in my life.
From my earliest memories as a child, I loved and was loved and adored by a big dog.
Each one of my dogs will receive a post (or two, or three…) of their own eventually, but for now, I just want to introduce them.
By the time you finish reading this, the Big Dog Mom™ brand will garner a whole new meaning.
The Early Years
On an Army base in Colorado, with the innocence of a toddler, I mistakenly sat on the Lazy Boy that was claimed by Jeda, our beautiful (and very heavy) black Great Dane. She showed me the error of my mistake by promptly sitting on me.
Years later, having shown Irish Setters prior to having children, my mother purchased her first show quality (I hate that term and will explain why in a future post) Great Dane.
Keola was a beautiful fawn brindle male.
As a preschooler, I hardly understood the importance of health testing, what it meant to be a reputable breeder, or the special care that would need to be taken in order to care for and support giant breed dogs like Keola.
My mother was absolutely devastated when she found out that Keola's difficulty walking was due to hip dysplasia.
Fast forward several years… I was in fourth grade when I fell in love with a neighbor's new Great Dane puppy.
Watching the will to live fade from this once happy, silly puppy afflicted with parvovirus was one of the saddest experiences of my young life.
I was obsessed with dogs from as far back as I can remember. My first letter to Santa Claus (age 4 or 5) included just two gifts; a big book of dog breeds and a medical encyclopedia. True story.
These were the early years…
Adult Years
I have been so blessed to share my adult life with some amazing large and giant breed dogs!
Maya, my first heart dog, was a beautiful apricot brindle mastiff and my first venture into the world of Mastiffs as an adult. Three months after my husband and I picked her up we brought home little Burton, a gorgeous yellow Labrador Retriever.
Burton and Maya were my kids before kids.
They traveled with us across the country, joined us camping, hiking, and fishing, shared the joy of bringing our daughter into our family, and eventually moved with us to Arizona where they both spent the last years of their lives.
Maya was diagnosed with osteosarcoma five months before her 10th birthday. Cancer forced us to say a premature goodbye to our firstborn four months later.
We were heartbroken. Maya will always have a special place in my heart.
Journey With Linus
While Burton was still leaping into the pool at 14 years old, it was obvious to us that a piece of his heart was left with her.
Burton joined Maya in heaven 6 months shy of his 16th birthday.
He spent his last two years with us trying to impart his wisdom and experience to our sweet, but very troubled, mastiff puppy, Linus.
My journey with Linus could take up this entire blog for the next year, but for now, I will just say that I learned more in the 18 months with Linus than I had in the 35 years prior about canine behavior and temperament.
He was a blessing from God and I will spend the rest of my life searching for answers for him and for other big dogs who struggle with inner demons they can't seem to escape.
Read more about our story in Life With An Aggressive Dog: A Letter To My Sweet Baboo.
Big Dog Mom Today
Now to the big furballs at my feet and about whom I have no doubt you will fall in love with as I have.
Sulley, our big, gorgeous fawn mastiff, turned two on December 4, 2016. He earned his AKC STAR Puppy and Canine Good Citizen titles with ease and is in the process of training to be a therapy dog.
Sulley is my second heart dog and one of the loves of my life.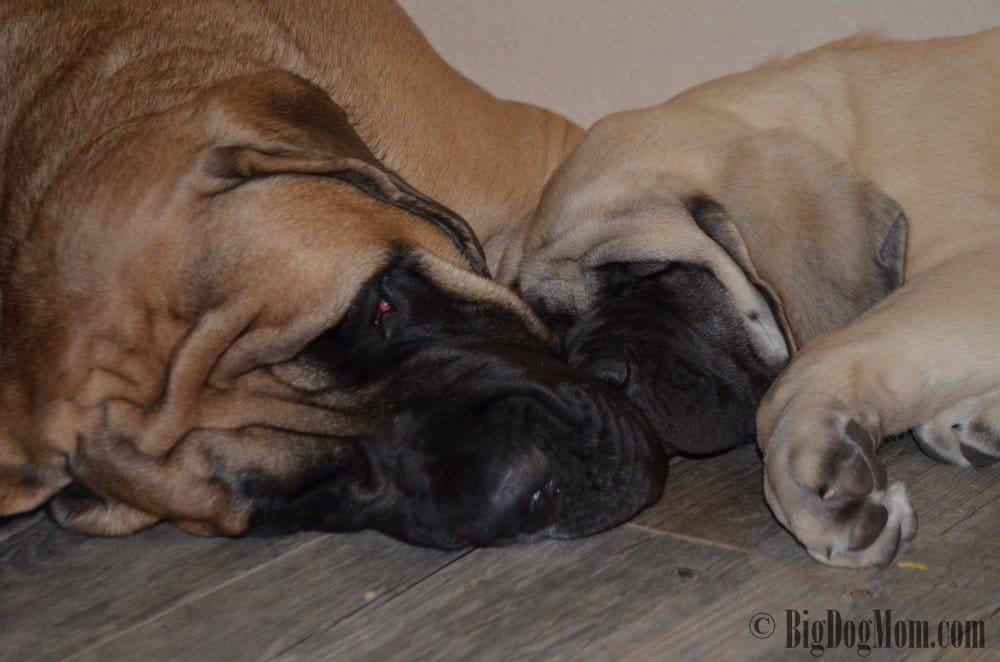 All who know Sulley know just how much he loves people, children, and especially, other dogs. He became quite possibly the happiest dog on earth when we brought home (not so) little Junior on December 27, 2016.
Junior is co-owned with our dear friends Tina and Todd at Jadem Mastiffs and he is a stunningly handsome, incredibly silly fawn boy who is still learning how to pee-pee outside.
Getting back to my title…
Big Dog Mom – Knowledge without all the Fluff
In addition to being a place where I hope you will come to be entertained, Big Dog Mom is a place where you will find rich and informative content that will help and empower you to provide the very best care for the dogs in your life.
My choice of the word "Fluff" is not meant to be derogatory, but it is meant to convey the double meaning to include our smaller (fluffy) companions.
I love all dogs and believe all of them have unique and special gifts.
However, Big Dog Mom™ will cater to all things related to large and giant breed dogs.
From training and health to showing and breeding, including all those who dedicate their lives to assistance, service and therapy work.
If you own a BIG DOG or want to, Big Dog Mom™ is the place to be!
BIG DOGS have unique and special needs that deserve a place dedicated just to them!
I have a little bit of experience in all sorts of areas as I outlined earlier, but I am far from being an expert.
The strength of the Big Dog Mom community will be dependent on folks like you who share my mission of improving the lives of large and giant breed dogs everywhere.
Together we will grow and learn and become better dog moms and dads in the process.
Please follow me on Facebook, Instagram, Pinterest, and SUBSCRIBE to the Big Dog Mom YouTube Channel!
Together we will improve the lives of big dogs everywhere and those of us that adore them!