Some of the links below are affiliate links, meaning that at no additional cost to you, I will receive a commission if you click through and make a purchase. For more information, read my full affiliate disclosure here.
Every year around this time I begin asking myself, "What should I get my big dog for Christmas?" But really what I am asking is, "What are the BEST gifts for large dogs?"
Because let's face it our dogs aren't just ANY dogs. They are a member of our family and should be honored as such during the holiday season.
This does not mean that you need to spend a fortune showering them with dog gifts. Many of the gift ideas for dogs I have shared on Big Dog Mom are relatively inexpensive, from a few dollars to less than $20!
In this year-end review of Big Dog Mom's Favorite Things of 2022, or more accurately the best gifts for large dogs, I am including amazing products that fit all big dogs and all budgets.
Before I dive into this year's list, I highly encourage you to check out my Favorite Things lists for 2019, 2020, and 2021 for additional gift ideas for your dog.
Ok, let's get started…
Best Gifts for Large Dogs
As in years past, I am listing Big Dog Mom's Favorite Dog Gifts in no particular order. These are just 10 awesome gift ideas for you and your large dog.
Keep in mind that these products DO NOT take the place of the dog gifts that have made it to the BEST OF list in years past. They are ADDED to it!
For example, you will see that Big Barker and Twistep, ROOMBA, Diamagroove, and Daily Dog are not included on this year's Big Dog Mom's Favorite Things list.
This year I made the executive decision to include only NEW and UNIQUE dog items that have never before been featured in a big dog gift guide.
You have grown to love and look forward to Big Dog Mom's Favorite Things every year and I want to ensure this list truly represents the wild adventure and constant evolution of my life with giant breed dogs.
Every item on this list has been fully vetted by me and my Mastiffs, Junior and Sulley. And, while two of the products were sent to me by the manufacturer (I purchased the other eight), that IN NO WAY influenced my decision to add them to this list.
Each and every one of these products has earned its placement through our very positive experience using it this year.
And with all of that out of the way, let's get on with the best gifts for large dogs in 2022!
VIDEO: The BEST Gifts for Large Dogs (& the People Who Love Them) | BIG DOG MOM'S FAVORITE THINGS OF 2022!!
1. SpotOn GPS Fence
If you are looking for a way to contain your large dog, but are unable to erect a physical fence on your property, look no further than SpotOn GPS Fence.
In case you are unfamiliar with SpotOn or GPS fences generally, here are a few of the best features that truly set SpotOn apart:
Create and save up to 20 individually-activated fences of ANY size, shape, and over ANY type of terrain from ½ acre to over 1,000 acres!
Most accurate and reliable GPS fence on the market through their patented True Location technology and with connections to four different constellations of satellites
Forest Mode maintains the accuracy and reliability of boundaries even in heavy tree coverage, like our property!
Because there are no wires or installation, SpotOn fences can be created and saved anywhere you go – camping, to your inlaws, a second home, or even if you move.
Once we set up our SpotOn GPS Fence and got the dogs trained, which took a few weeks, and once I started to see it working, it was as if an enormous weight had been lifted from my shoulders.
No more fear. No more anxiety.
Our SpotOn Fence has truly given us our freedom back and the boys and I couldn't be happier!
If you are sold and would like to bless yourself and your large dog with the gift of a life unleashed with SpotOn GPS Fence, click here. And if you purchase during their Black Friday sale (11/18/22 – 11/28/22 at midnight) and use the code BIGDOGMOM25, you will get 25% off! If you miss this sale, use the code BIGDOGMOM and you will get $100 off, which is still pretty amazing!
And lastly, if you would like to learn more about SpotOn GPS Fence, check out the following for much more information:
No More Roaming Rover! A Revolutionary Wireless Dog Fence for Large Dogs
Will SpotOn GPS Dog Fence Work for Large Dogs? | Unboxing & Wireless Fence Setup [INITIAL REACTION]
Life Unleashed: 10 Cutting-Edge Features of SpotOn GPS Dog Fence
10 Ground-Breaking Features of SpotOn GPS Fence | Wireless Fence for Dogs | EASY Boundary Training
SpotOn GPS Dog Fence Interview with Inventor and Chief Technologist
SpotOn GPS Dog Fence Interview with Inventor | Your TOP 12 FAQs Answered | MUST WATCH!!
2. Duo 'American Direct' No Pull Dog Harness
Duo-Gear dog harnesses have been a favorite of mine since I got my first one about 2 years ago.
When Junior was diagnosed with Wobbler Syndrome at 21 months old, I began searching for a dog harness that would allow me to walk him without putting undue pressure on his neck and spinal cord.
I tried numerous harnesses, as shown in this video and in The BEST Dog Harness for Large Dogs [Definitive Buyers Guide], but unfortunately, few were right for Junior.
In most cases, they were too small for his abnormally wide girth, while others cut across his shoulders which put increased pressure on his chest and arms thereby inhibiting his gait as he walked.
When I discovered the Duo-Gear American Adapt Dog Harness I fell in love instantly. It was hands down the BEST dog harness on the market!
All of the Duo-Gear dog harnesses are made from 500D Cordura, 1000D Ballistic Nylon, Milspec webbing, and buckles, and EVA shock absorbent foam right here in the USA!
Ok, but today we aren't talking about the Duo-Gear Adapt, are we?
Recently, Duo-Gear shared with me their brand new dog harness, the Duo 'American Direct' No Pull Dog Harness.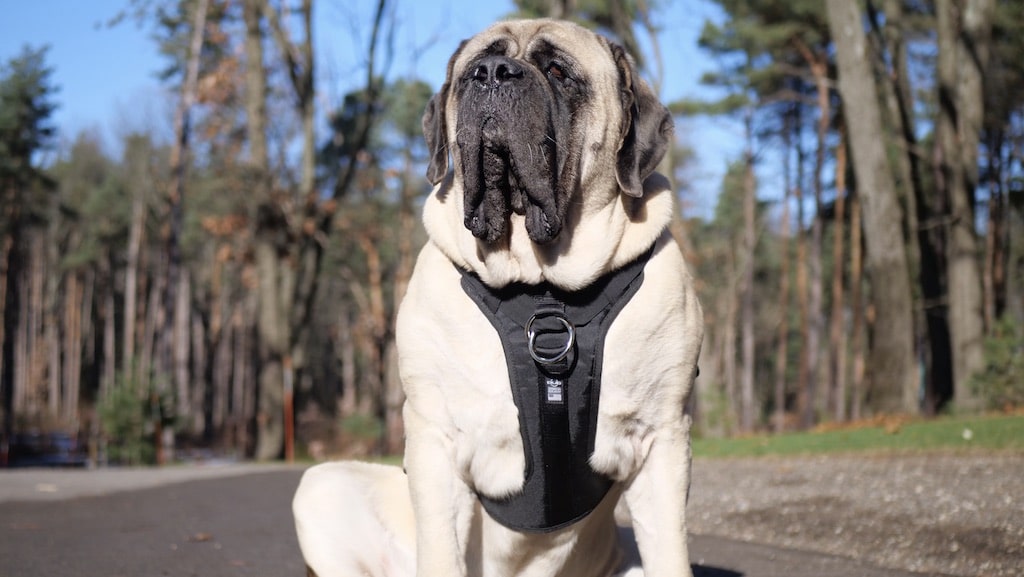 While I will be doing a full review of this particular dog harness and the topic of loose-leash walking, I wanted to share just how much I love it so far.
As embarrassing as it is to admit, it took me a very long time to get a handle on Junior's proclivity for pulling on the leash.
He was an adolescent during the summer in Arizona and that prohibited me from being able to do as much leash walking as I would have liked given the heat.
As such, Junior never received as much leash training as Sulley did outside of conformation dog shows which he competed in until his Wobblers diagnosis.
I feel like I missed a huge window of opportunity with him and, ever since, have been trudging uphill in this battle to control him when he wants to "say hello."
Show collars have been the only thing very effective at controlling him at times, but now with Wobbler Syndrome, the skinny show lead on his neck is out of the question.
The Duo 'American Direct' No Pull Dog Harness is the solution I've been looking for and so far I absolutely love it!
The biggest difference between the Adapt and Direct No Pull is where the cinching action occurs. On the ADAPT, the cinching action occurs from the top ring as shown in this video.
The DIRECT is specifically designed to deter heavy pullers, like Junior, and reactive or difficult-to-control dogs. It does this by moving the cinching action to a front pull ring which redirects your dog's pulling energy by turning them to the side as they lunge.
Included on the Duo-Gear Direct No Pull Harness is a top ring as well for an additional control point, however, the only one that cinches is the front pull ring.
If you have a large dog that is difficult to control on a leash or you are tired of being dragged down the street, this extraordinary harness is for you!
They come in sizes from XXS to XXL and if you include your dog's measurements with your order they will ensure a custom perfect fit every time for no additional charge!
If you would like to learn more about Duo-Gear the company, how they came up with their unique harness design, and what keeps them committed to manufacturing in the USA, click here.
And lastly, if you are interested in buying a Duo-Gear dog harness, click here and use my code BIGDOGMOM at checkout and get 20% off your order!
3. Furminator De-Shedding Tools
Let's face it. All dogs need grooming.
They all need to be bathed and combed on a regular basis for general good hygiene and overall wellness.
I have been using the Furminator comb for many years and absolutely couldn't live without it.
For my short-haired Mastiffs, I use this version, however, Furminator makes several different combs for all coat types.
They also make a shampoo and conditioner that smell amazing and effectively reduce shedding during the most prolific dog hair seasons like spring and fall.
One thing I love the most about the Furminator is how effectively it gets to the root to clean out the undercoat while simultaneously raking off the dead overcoat.
I've used other types of rakes and brushes on my Mastiffs and other large breed dogs, but none of them have been as effective and easy to use as the Furminator.
If you don't have one yet, this inexpensive little tool would make a fantastic stocking stuffer!!
4. Himalayan Yak Chews
Junior and Sulley are, how should I put it, proficient at chewing bones. They are raw-fed (most of the time) and chew whole raw meaty bones regularly.
So when it comes to recreational chewing of bones inside the house, I have been left with very few options.
Most chews are either too small, too messy, or simply too expensive for the time it takes for my dogs to devour them.
A typical 12+" bully stick lasts about 2 minutes in our home and leaves a white frothy slime everywhere. Definitely not worth the money in my opinion!
So, while looking for alternatives to the chews we've tried in the past, I stumbled upon these Himalayan Yak Chews by Devil Dog Pet Co.
All-natural Himalayan Yak Chews are made in the mountains of Nepal with just four ingredients; yak milk, cow milk, salt, and lime juice.
They are nutrient-dense, long-lasting (though not as long as an antler), and relatively clean compared with other chews.
And especially if your large dog doesn't regularly get to chew on raw meaty bones, these Himalayan Yak Chews provide fantastic stimulation for dogs!
One thing that is particularly unique about Himalayan Yak Chews is that none of it goes to waste.
When Junior and Sulley eat a bully stick, I allow them to eat about 6-8" of it and when it gets to the point just before it disappears under the folds of their pendulous lips, I offer a tasty enticement and take the stick away to prevent them from choking or swallowing it whole.
The short leftover pieces usually get shoved into a West Paw toy for a bit more enjoyment, or donated to a small dog friend who can enjoy it more safely.
So for us, chews like that are just not worth the money.
Not so with Himalayan Yak Chews.
Once your dog gets the chew to a size that is not yet but becoming, too short for them to safely chew on, you simply take the leftover end piece, microwave it for 60 seconds, and your yak chew becomes a delicious homemade cheese puff for your dog to enjoy!
Just be sure to all the puff to cool for at least 2 minutes before giving it to your dog!
No waste. No mess. That's a win-win in Big Dog Mom's book!
5. Nu-Stock & Coat Defence Trouble Spot Drying Paste
Switching gears slightly, let's talk about yeast.
While certain types of yeast can be fantastic for making delicious cheeses as we just discussed, more often we experience yeast as a chronic and uncontrollable pest that torments us and our large dogs.
Yeast are spore-producing fungi that are always present on a dog's skin, usually in low numbers, as part of the normal flora. They live with the bacteria and viruses that also reside on your dog and everywhere in our environment.
A yeast infection happens when the balance is disrupted for some reason and there's an excessive amount of yeast in a certain area.
Yeast infections in dogs are quite common and can occur anywhere on the skin, including the ears.
As is often the case, the actual yeast infection is usually more of a symptom of a larger, more systemic root issue. Anything that diminishes the normal defenses in the skin can make yeast infections more likely.
Ok, so why are we talking about yeast infections in a gift guide for large dogs?!
Here's why…
Because we as large dog owners spend an absolute fortune on veterinary care for our dogs.
Unless your dog has a full-blown infection, minor yeast overgrowths, like that on the paws, stomach folds, jowl folds, etc that are SO common for large and giant breed dogs, you are able to control yeast issues at home for very little money.
Junior has one rear paw that he tends to lick and chew which can turn a pinkish color on the top with a reddish inflamed skin in between the pads underneath. When it starts to get like this, I use the two following products to help me stop the yeast and get the skin to a healthy balance.
The first is called Nu-Stock. It is an all-purpose ointment that can be used for many different skin ailments, particularly hot spots, wounds, yeasty skin and ears, and even elbow calluses!
Nu-Stock is a sulfur-based product that is non-steroidal and safe for all animals (dogs, cats, cows, horses, etc).
I found out about this product many years ago when Junior was having so many skin issues after his bout with Valley Fever. After one application and seeing the unbelievable results, I became a lifetime fan of Nu-Stock and have repeatedly recommended it to big dog owners who are struggling with skin issues.
I purchase Nu-Stock on Amazon (or you can purchase it directly from the manufacturer here) in a large 12 oz bottle which is inexpensive and lasts for six months or more depending on how much I need to use it.
I have found I generally only need one or two applications to completely heal the troubled area. When more than one application is needed you do these three days apart.
One quick note about this product that I feel I should mention.
Nu-Stock has a medicinal odor which is quite strong at first but gets better as it dries on the dog's skin. It doesn't bother me and my family doesn't put up as much fuss as they do about Bag Balm. They almost sent me and the dogs packing with that product!
Once the skin is healed or the yeast resolved in a few days, you simply wash the dog or the spot and the Nu-Stock comes right off with no lingering smell. This product works SO WELL that I just deal with the smell. It's really not that bad.
In addition to Nu-Stock, I also use a product called Coat Defense Trouble Spot Drying Paste for regular application on Junior's and Sulley's paws and other areas to heal and prevent yeast overgrowth and promote healing.
Coat Defense is all-natural, and like Nu-Stock, proudly made in the USA! It is non-toxic, anti-bacterial, and anti-fungal.
Last year I featured the Coat Defense Preventative Powder and Clean Shampoo which are fantastic for regular maintenance of a healthy coat and balanced skin flora.
The Coat Defense Trouble Spot Drying Paste is more of a topical healing paste, not something I use unless there is an overgrowth of yeast or bacteria or a minor wound, sore, or insect bite that needs healing.
While made by the same company, these two products are uniquely different, so I felt it was appropriate to mention them in this year's large dog gift guide.
I cannot recommend highly enough getting both of these products to keep on hand in your dog storage room or in your go bag for emergencies.
You will thank me. I promise!
6. WeatherTech Pet Partition
For the last six years, we have had a love-hate relationship with our old Lincoln Navigator.
It is a great vehicle for large families or small families like ours that have very large dogs. When the third row of seats is laid flat, the cargo space is perfect for two (or three ;)) giant breed dogs.
Unfortunately, there is a large gap between the two bucket seats in the second row which Sulley and Junior have determined must be for them.
Long trips, car washes, and anytime we intentionally put luggage or bags in that center space, the dogs, especially Sulley, attempt to break through whatever makeshift barrier we have erected to block them.
I've tried everything; a cargo liner with an inconveniently placed zipper (read here for that epic tale), cardboard, wood, a metal pet barrier, and cheaper Amazon cargo barriers.
None of these attempts solved our problem of my Houdini dogs escaping the confines of their cargo area.
Until I found the Weather Tech Pet Partition, which is a seatback heavy-duty mesh barrier that provides an easy and safe way to keep both you and your large dog safe while driving.
The construction of this partition is excellent and the adjustable straps and clips that anchor to the headrests of the bucket seats are extremely easy to install and are made to fit in virtually any vehicle.
In addition, the Weather Tech Pet Partition has a handy storage pocket for your dog's leash, treats, toys, poop bags, or anything else your 12-year-old decides to shove in there.
Like all Weather Tech products, the Pet Partition is made in the USA.
And so if you are struggling with an entitled big dog who thinks the front seats aren't just for humans, I highly recommend the Weather Tech Pet Partition!
Not only does it keep your large dog safely in the cargo area so you can focus on the road, but it also brings back the joy of going bye-bye with your big dog.
7. Nina Ottosson Dog Brain Games
Stimulation for dogs comes in the form of both mental and physical.
Physical stimulation, or exercise, is just that… physical. Your large dog is moving.
Some wonderful forms of physical stimulation for your dog are long walks, short jogs, agility, obedience work, playing fetch, or even a simple game of chase or tug.
Mental stimulation on the other hand is often overlooked and undervalued. Dog owners mistakenly believe a walk every day is enough stimulation and wonder why their Labrador is eating hats and digging stuffing out of their couch.
The fact of the matter is all dogs need mental stimulation to optimize their physical and emotional well-being.
And when they aren't, some breeds will get very destructive if not given an outlet for boredom. Hence your Labrador digging to China from your brand-new sofa!
Exercising your dog's mind reduces destructive behaviors such as chewing, digging, and excessive barking.
According to Nina Ottosson, for every 15 minutes of mental stimulation (brain game or activity), that is equivalent to 30 minutes or more of physical exercise for your dog.
So what are some types of mental stimulation?
In How to Socialize A Puppy At Home: 15 Creative Tips (That Work) and in this video, I share numerous tips on mental games you can do at home with your large breed dog or puppy.
In addition to those ideas, I highly encourage you to check out Nina Ottosson's Games for dogs on Outward Hound, Chewy, or on Amazon.
While for years I resisted buying these games believing they weren't really appropriate for giant breed dogs like Mastiffs and those who slobber as much as mine do in the presence of food.
I recently grabbed a level one and level two game for Junior and Sulley just to test this theory out and here is what I discovered.
I love them and I'm obsessed with playing with my dogs.
Nina Ottosson provides numerous ideas on how to begin playing brain games with your dog and at what level to start. Little tips on how to engage a disinterested dog, what types of treats work best, and a plethora of other tips and tricks for optimizing mental stimulation for your dog.
Nina retells how she began to realize the importance of mental stimulation in her dogs…
"I had worked in health care for 17 years and when my two kids were born a year and a half apart, 1989 & 1990, I did not have time to activate my dogs the way they and I were used to. I had two Bouvier des Flandres that I used to train and compete with. My bad conscience made me start thinking about how to activate my dogs in a simple, fun and varied way indoors, together with the kids, and since 1990 I have worked with development and design of dog puzzle toys and games that stimulate the dog mentally, or "brainteasers" for dogs."

Nina Ottosson
Not only is she a fellow big dog mom, but I can also so relate to her story and the guilt of not doing enough for my dogs once my children were born.
I cannot recommend these inexpensive toys highly enough – no matter the size, age, or breed of dog you have, there is a game for your large dog!
I started with Dog Smart, a skill level 1 easy, and Dog Brick, a skill level 2 intermediate. Feel free to grab these or check here for her other suggestions on great game options for your individual dog.
Enjoy watching your dog work for his food and most of all, have fun!
8. Instant Pot
While the Instant Pot may seem a bit out of place on a gift guide for large dogs, allow me a moment to explain.
I scored my Instant Pot during a Black Friday sale in 2018 but was too scared to use it until early this year.
Yes, that is a true story.
A little gentle shaming from my sister, who cooks everything from mashed potatoes to meatballs in her Instant Pot, forced me to overcome my fear of the pressurized geyser going off in my kitchen.
Once I started using it, I fell in love!
No more starchy water stains on my stovetop from spilled-over rice water. No more forgetting the directions for how to hard boil eggs on the stove. And no more waiting 24+ hours for bone broth for the dogs!
Let me tell you… Instant Pot rice rivals even the best Asian restaurant and it couldn't be more simple.
Add equal parts rice and water and set the Instant Pot to 4 minutes of high pressure for each cup of rice you add. Allow it to fully natural release (i.e. no shrieking geyser) and enjoy. I start my rice about an hour before I start cooking and just let it sit in the pot until we are ready to eat and it's absolutely perfect every time.
For eggs, it's the super simple 5-5-5 rule.
Add your eggs with one cup of water and set the Instant Pot for 5 minutes of high pressure. Let it naturally release for 5 minutes. Then open and quickly chill (I add cold water and ice) for 5 minutes.
Easy enough for Big Dog Mom and the eggs perfectly peel every time!
And lastly, if you aren't convinced you MUST HAVE an Instant Pot, let's talk about bone broth.
In How to Make Bone Broth for Dogs: Slow Cooker Bone Broth Recipe and my tutorial video, I shared the slow-cooker method I've been using for years to make bone broth for dogs.
That method is also extremely easy, however, it takes at least 24 hours to fully cook while generating a pungent smell in your kitchen for several days. Bone broth is not as bad as dehydrating liver, but not a lovely smell.
Alternatively, you can make bone broth from start to finish in the Instant Pot in about 3 hours with virtually no foul odor!
I have a video in the editing stage that will be coming out shortly with directions on how to make bone broth in the Instant Pot for dogs, so be sure to subscribe to Big Dog Mom on YouTube and turn on your notifications so you don't miss it.
9. Passionate Penny Pincher Home Planner

As I shared in How To Have a Clean House With Large Dogs – 9 Sanity-Saving Tips and in this video, maintaining a clean house with large dogs is not easy. There were many times, especially before guests would come over, that I would feel overwhelmed and hopeless about the profuse amount of dog hair and slobber all over my house.
That is until I found the Passionate Penny Pincher Home Planner.
I have been using the Passionate Penny Pincher Checklists since early this year and love them, so much so that I jumped at the chance to get the full home planner when it launched a few weeks ago.
From budgeting your finances to accomplishing the little daily tasks that help you maintain sanity through a clutter-free (and in my case drool-free) home, the Passionate Penny Pincher Home Planner makes a wonderful gift for any woman.
And with plenty of extra space to ensure your home doesn't "go to the dogs," the daily tasks in the Home Planner allow big dog owners to keep up with dog hair and slobber on a regular and consistent basis so your home stays guest-ready at all times.
The Home Planner is a 12-month planner that starts in January. As a bonus, you will receive a digital PDF planner for the remaining months of this year when you purchase.
Watch this video to see how I use my checklists and what a typical day of cleaning looks like for Big Dog Mom.
10. Big Dog Mom Merch
My two children and I drove to the Answers In Genesis College Expo a few weeks ago to learn about and visit with representatives from Christian colleges from around the country.
It was an amazing experience for all of us, especially my 12-year-old son who was overjoyed at all the free college "swag" as he called it; pens, mugs, stress balls, and even t-shirts!
Annoyed with her brother's lack of marketing sense, my daughter corrected him every time "It's not called swag! It's merch."
Swag, merch … potato, potahto.
So, whether you want to call it swag or merch, Big Dog Mom has created some awesome big-dog-inspired designs just for you and the big dog lover in your life.
With awesome designs for both men and women, big dog moms and dads, and even a few Mastiff-specific designs, the unique gifts in the Big Dog Mom Shop will make a fantastic Christmas gift!!
There are a plethora of items to choose from – premium t-shirts, sweatshirts, mugs, hats, stickers, aprons, and more – so many options to fit any preference, style, or size.
Here are a few of the items I've purchased for myself and love, but definitely take some time and look through my shop while you are doing your online shopping this Christmas.
And if you grab your Big Dog Mom Merch on Black Friday, you will save a whopping 35%!!
Don't miss out!
Best Christmas Gift For Your Large Dog?
What are you planning to get your dog this holiday season? Do you have any of the products on this list? Which ones interest you most?
Let me know in the comments below.
One last thought before I officially close out 2022.
Look, I know the world is a bit upside down at the moment and many of us are struggling to keep up with rising costs of goods and services and uncertainty about the future.
What I want to assure you is that Big Dog Mom is here to stay and my commitment is to continue to provide you awesome and FREE big dog content for as long as you want it.
My prayer is that Big Dog Mom continues to be your haven for value and entertainment, with information and resources that bless you and your large dog's lives.
Happy Thanksgiving and Merry Christmas to you and your big dogs…
God bless!