Some of the links below are affiliate links, meaning that at no additional cost to you, I will receive a commission if you click through and make a purchase. For more information, read my full affiliate disclosure here.
In this review of the PetSafe Automatic Ball Launcher for dogs, you will learn how well this unique interactive dog toy performed for two ball-crazy Mastiffs.
Many large dog owners have asked me, "How can I help my dog lose weight?" And for those whose dogs are at a proper weight, I hear, "How can I keep my dog fit and healthy?"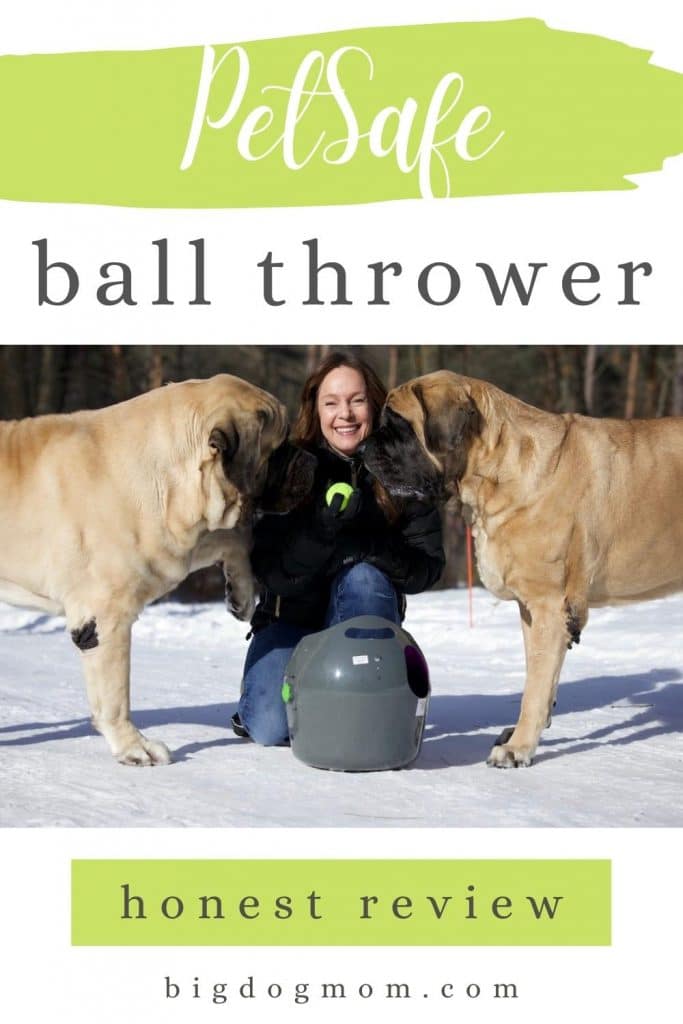 Whether it is losing weight or maintaining it, all of us want our dogs to be fit and healthy. The trick is finding the right balance of food and exercise for each individual dog to make that a reality.
In this post (and video), we will concentrate on the exercise component of health and fitness for dogs.
Over the last month, we have been testing out the PetSafe Automatic Ball Launcher for dogs and are excited to share the results of this review with you today!
You will learn:
Why proper weight on a dog matters
The importance of exercise for dogs, even in the winter
The Pro's and Con's of the PetSafe Automatic Ball Thrower for dogs
Whether the PetSafe Automatic Ball Launcher is a product that is worth the money for large and giant breed dogs
What type (breed and temperament) of dogs are a best fit for this unique interactive dog toy?
This will be the first in a series I will be doing on this topic of weight loss and fitness for dogs. Stay tuned to Big Dog Mom for those posts and videos in the coming weeks.
Disclaimer
PetSafe sent us an automatic ball launcher to test out for this honest review, however, all of the information I am sharing is based on our experience and my opinions – the good and the bad.
Proper Weight on a Large Dog
I recently polled my Instagram followers and asked if they had an overweight dog. Only about 13% said they did.
But here's what is interesting.
According to the American Animal Hospital Association,
"Researchers found 51% of the more than 1.9 million adult dogs seen at Banfield's [more than 1,000 pet hospitals] were classified as overweight."(1)
Pet (and human) obesity is an epidemic.
Excess fat on dogs negatively impacts a dog's health and longevity and the best way to get your dog to his or her proper weight is through diet and exercise.
But let's address how to tell if your dog is overweight briefly.
As mentioned above, this is a topic I will go into much more detail about in my next post in this series. For now, I simply wanted to touch on a few rules of thumb when it comes to weight on a dog.
First, according to the World Small Animal Veterinary Association, there are nine levels when it comes to body score, with a range from under-ideal to over-ideal body weight. (2)
If your dog is at a proper weight he will have ribs that are easily palpable (but not visible) with a clear tuck up at the waist and an hourglass figure from above.
Keep in mind that this scale applies to large and giant breed dogs.
Second, watch your dog when he or she is moving.
Can you see a deposit of fat at the base of the tail or fat rolling from side to side as he/she is walking or running?
How about your dog's stamina for exercise? Do they tire out quickly with minimal exertion?
While these are just a few things to keep in mind when it comes to proper weight on a large dog, the fact of the matter is all dogs need exercise.
And most need MUCH more than we are giving them!
Importance of Exercise (Even in the Winter)
I know what you are thinking, "exercise, schmexercise."
With ever-increasing demands on our time, exercise for dogs (and humans) tends to fall pretty far down on the priority list.
In 2008, the US Department of Labor reported that only 16% of Americans aged 15+ engaged in any type of exercise per day on average. (3)
This was BEFORE the domination of technology in our lives, so I have no doubt this percentage is even lower today.
But, please, if this sounds like you, reconsider how you are structuring your day so that it includes some form of exercise for both you and your dog.
Exercise is an essential part of a healthy dog's life because it:
Maintains proper weight and/or weight loss
Builds muscle and maintains muscle tone for strength and orthopedic support
Provides physical and mental stimulation
Increases longevity
Maintains healthy digestion
Decreases destructive behaviors and boredom
Decreases attention-seeking behaviors like barking and whining
Improves relationship and bond-building with your dog
Keep in mind, exercise doesn't have to be a 3-mile walk that you need to pencil into your morning routine every day. While some breeds will need this much exercise to maintain fitness and health, most thrive on significantly less.
In addition to a 30-minute brisk walk outside (weather permitting) several times a week, exercising your dog indoors, especially in the wintertime, has never been easier!
Let's face it… Neither you nor your dog enjoys 5-degree temperatures walking on snow at 6 am.
Thankfully, there is a much better way to give your dog exercise in the winter!
Pros of the PetSafe Automatic Ball Launcher
The PetSafe Automatic Ball Launcher is an interactive dog toy, an indoor and outdoor fetch system, that can be used with or without help from the dog owner.
If your dog enjoys playing with balls of any kind, I encourage you to read the rest of this review to see if this unique automatic ball thrower for dogs is right for yours.
Here are a few of the pros based on our experience:
Water-resistant – particularly helpful with slobbery dogs in the snow!
Audible sounds are perfect for conditioning
Lightweight and super easy to use both indoors and outdoors
Motion sensor safety – The ball won't throw unless the dog is at least 7 feet from the sensor
Completely adjustable for nearly all spaces
Can be used with and without batteries
Cons of the PetSafe Automatic Ball Thrower for Dogs
No product is perfect. Especially when it comes to meeting the needs of large and giant breed dogs.
The following are a few of the drawbacks we uncovered in our short time using this ball thrower:
Slight delay in response time between the sensor and the ball throwing. This can be confusing for some dogs.
Balls lack durability for large dogs
Cost may be a deterrent for some (see comments below)
Requires training if you want your dog to use the ball launcher independently
VIDEO: Best Winter Exercise for Large Dogs | HONEST REVIEW | PetSafe Automatic Ball Launcher | My Dogs LOVED It!
Big Dog Mom Review Results of the PetSafe Ball Launcher
As always, I review pet products in four categories that are particularly relevant for large dog owners and rate them on a scale from 1 to 5 paws for awesomeness.
Quality: How well is the product made? From seams to materials, is the product built with a beating from big dogs in mind?
Durability: Did the product withstand the beating from my Mastiffs, Junior and Sulley.
Affordability – Does the quality and durability for large dog owners match the price they are asking for the product? In other words, is the product worth the price?
Drool Score – This is where Junior and Sulley input what THEY think. Did the product wow them, or not?
With our categories defined, let's dive into how the PetSafe Ball Launcher performed in our tests.
Quality

After using the PetSafe Ball Launcher for several weeks inside and outside with Junior and Sulley, there was nothing about the product that seemed cheap or flimsy to me.
The unit itself is made of thick plastic and the sensors (distance of the dog from the unit, trigger sounds, and weight of the ball(s) ready to launch) performed as expected.
The two tennis balls that came with this interactive dog toy were typical tennis balls you would buy in a sports store or pet store, so easily replaceable.
Overall, the quality of the PetSafe Automatic Ball Launcher is terrific, with only a minor deduction for not being manufactured in the USA.
For superior quality, we award the PetSafe ball thrower a solid 4.5 paws for awesomeness!
Durability

In order to properly review the durability of the PetSafe Automatic Ball Thrower for dogs, we need to take each component one by one.
First, how was the durability of the ball launcher itself? The physical unit.
Based on our experience so far, we would rate the durability of the electronic ball thrower to be 5 out of 5 paws. There was nothing about the physical unit that I feel would break down when used with large or giant breed dogs since the dogs aren't actually touching it.
The second component of the PetSafe Ball Launcher is the sensors and knobs.
The sensor performs two important functions – sensing the ball in the thrower and sensing the dog's distance from the thrower. Beyond those, the dog ball thrower can be customized to adjust the angle of the ball being thrown and the distance you want it to go. Simply adjust the tennis ball dial on the side to launch between 8 and 30 feet and the second paw-shaped knob to adjust between 6 angle settings.
In the weeks that we've been playing with the PetSafe Ball Launcher, we did not experience any issues with either the sensor or adjustment knobs.
So for this component, we award the ball launcher a 5 out of 5 paws for durability.
This leads me to the last component – the BALLS.
Sadly, this is where we experienced a slight breakdown when used with giant breed dogs.
The two tennis balls that came with the ball launcher are your typical green tennis balls.
The kind Junior and Sulley LOVE a little TOO much! These balls were saturated with slobber and split in half within the first day of playing with them.
This was no surprise to Big Dog Mom.
I came prepared with a few more durable options which I will describe in more detail below.
So, for the simple fact that the balls were not durable for giant breed dogs, I am deducting half a paw of awesomeness. It would be a full paw or more, but I was able to find a workaround that proved to be more than sufficient for my big dogs.
Affordability

At a price point of over $150, the PetSafe Ball Launcher is an investment. It is not a purchase made on a whim, especially for large dog owners who live in a state of skepticism when it comes to toys for their big dogs.
So, here's where I landed when it comes to affordability and how I would weigh this purchase decision.
If you have a large dog that fits ANY of the following criteria, I would rate the PetSafe Ball Launcher a solid 5 out of 5 paws.
☑️ Super ball crazy – lives for playing with a ball over any other toy
☑️ Has a soft mouth and doesn't seek to destroy balls
☑️ Is a highly trainable breed that can be taught to bring the ball back and drop it in the thrower
☑️ Needs to lose weight (or is prone to gaining weight) and enjoys running after balls
☑️ Is not bothered by beeps and sounds
☑️ Is a puppy – especially if less than 16 weeks – and you are looking for a fun, stimulating activity with which to socialize him/her
☑️ Is a Labrador retriever, Golden retriever, or another breed of retriever, German Shepherd, Doberman Pinscher, any breed of Pointer, any breed of shepherd or setter, or any ball-crazy molosser breed.
If your large dog fails to meet at least ONE of the above criteria, I would rate the affordability of the ball launcher a solid 4 out of 5.
For dogs that simply don't enjoy balls or ball games, this is not the product for you. While I have never had a dog like this, I'm sure they are out there.
I start all of my puppies with ball games, so they learn to love this sort of exercise and activity.
For your reference, I would rate the affordability of the PetSafe ball thrower for dogs a 5 out of 5 paws for Sulley, and a pretty solid 4 out of 5 paws for Junior.
When it comes to exercise for large dogs, the ball launcher was perfect for Sulley. He genuinely loved running and chasing after the balls.
Junior, on the other hand, would wait at the other end of the room for the balls to come to him. This obviously defeats the purpose of the tennis ball launcher being used for weight loss or any form of meaningful exercise for him when used indoors.
Drool Score

The PetSafe Ball Launcher was a huge hit in the Big Dog Mom house!
Not only did the dogs love it, my kids really enjoyed turning it on and playing with the dogs. This is a double bonus in my book – a product that exercises my big dogs AND my kids!
As I mentioned above, Sulley went crazy over the ball launcher. So crazy, in fact, he would stand by the launcher and bark at it to throw the ball already.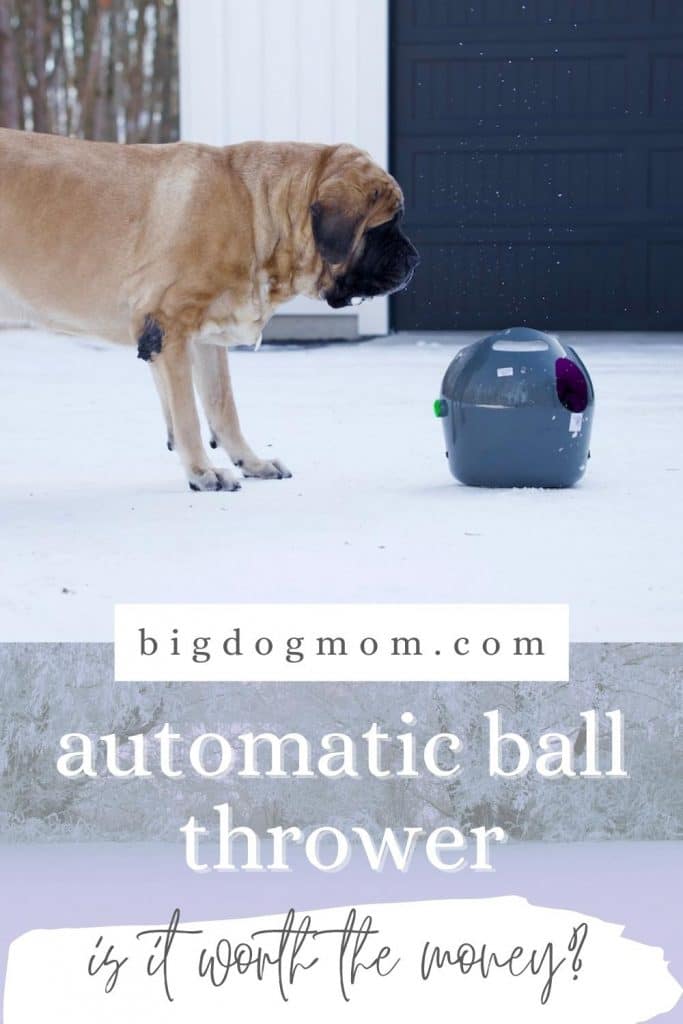 This presented the challenge of getting him to stand back far enough that the sensor would allow the ball to get thrown. When the dog is within 7 feet of the sensor, it won't throw.
Poor Sulley still hasn't figured that out and needs a little training on where to stand.
And while Junior is even more ball crazy than Sulley, he was a little lazy when it came to the ball launcher.
Part of the reason could have been our slippery floors where I have the ball launcher set up. He has a few health conditions which exacerbate when he exercises and the slippery floors definitely present a challenge for him. He was more interested in waiting for the ball to come to him and then chewing it in half.
Using the ball thrower outside proved to be much easier on him and more productive in terms of actual exercise.
And lastly, the balls you choose matter a lot.
As I mentioned above, the tennis balls didn't last at all with my dogs. Tennis balls are put together with a seam that is instantaneously split under the chewing force of a big dog mouth.
My boys don't set out to destroy balls. They just DO.
That said, I stopped into our local pet store and picked out a few other options that I thought might be better for Junior and Sulley – more engaging and more durable.
The two versions that have held up so far were a Kong Squeezz ball and one called Playology. Junior and Sulley go insane over anything that squeaks or makes noise, so these were a much better fit for us.
I HIGHLY recommend getting these two balls if you decide to purchase the PetSafe Automatic Ball Launcher for your big dog!
Investment in Fitness AND Fun
Whether you are looking for a way to keep your dog in shape during the long, cold winter months, or are simply wanting a fun alternative to yet another boring walk, the automatic ball thrower just might be the product for you.
Remember, this is an investment in your dog's fitness and fun.
Save your arm and grab your automatic ball thrower today!
References