Some of the links below are affiliate links, meaning that at no additional cost to you, I will receive a commission if you click through and make a purchase. For more information, read my full affiliate disclosure here.
Transitioning your big dog to raw food is a big decision. How trial, error, and a whole lot of research led one big dog owner back to a raw food diet.
I am not new to raw food for dogs. I recommend raw feeding and have been an advocate of a raw diet for dogs for many years.
In fact, I can't think of a single better choice an owner can make that will benefit their dog's health. After all, aren't whole foods better than processed foods for us?
I believe deep down we all know this.
However, as with so many areas of our lives, our feeding decisions don't always reflect our knowledge.
This is the raw dog food paradox.
My Journey With Raw Food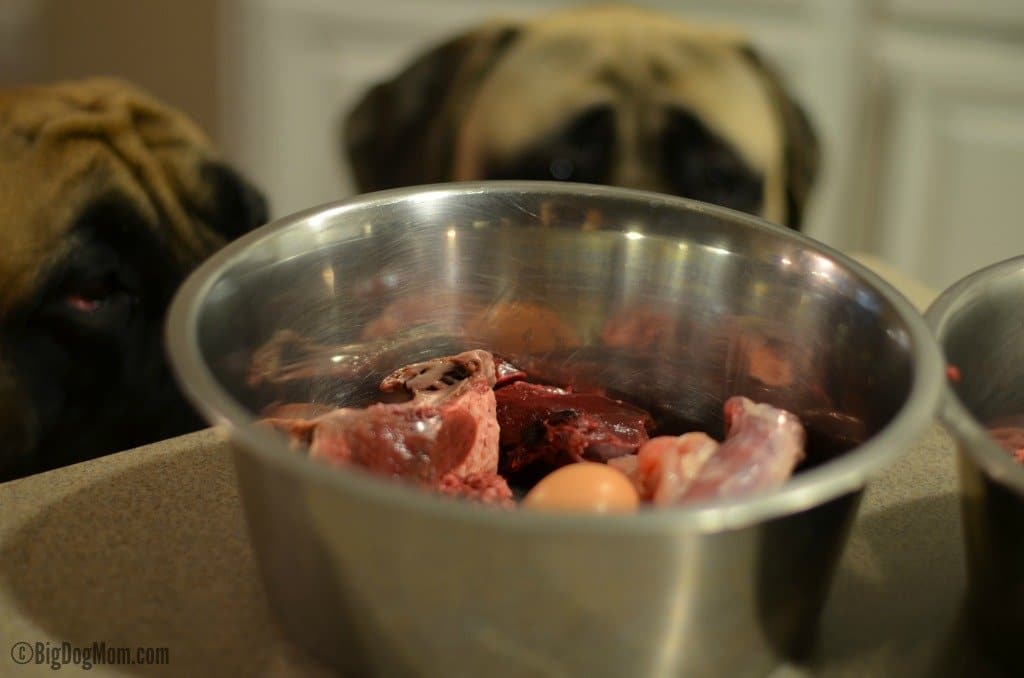 Sulley did phenomenal on raw food from 10 weeks until 2 years old. Constant ear infections and a tight budget caused me to put a pause on raw food for him until I could figure out a more economical way to get around having to feed chicken, the cause of his allergy.
Bringing Junior home was the impetus I needed. I jumped back in with my mallet and meat grinder and started both dogs on raw food. Junior was 11 weeks old.
I knew what I was doing. Raw was easy. Balance over time. Prey Model Raw suggests 80% muscle meat, 10% bone, 10% liver, and offal. Got it.
Not so fast.
Raw Food Unbalanced
My self-confidence and bravado turned to insecurity and horror as Junior failed to thrive on raw.
Why? What the heck was I doing wrong? I had neither the patience nor the confidence to continue and the last thing I wanted to do was hurt my new puppy.
I was heartbroken and embarrassed. The advice from elders in the Mastiff community was to switch Junior back to kibble so, with my head in my hands, that is what I did.
Junior improved over the course of a few days and I was left scratching my head.
While those against raw feeding will say, "See, I told you so," I never believed it was the diet that failed Junior. It was me and my lack of knowledge.
On the day Junior got his first bowl of kibble, I promised him I would figure out what I did wrong and get him and Sulley back to the diet they were born to eat.
Questioning Kibble
How often do you dip that cup into a bag of dry kibble and ask: "Is this dog food right for my dog?" "Is this dog food nutritious for my dog and providing all that he needs to be healthy?" "Would I want to eat this every day?" "The health problems my boy is having. Could they be caused by this dog food?"
And if you're like me, you throw in this question on a daily basis, "what the heck am I going to add to this dog food to get my boys to eat it?!"
Dip. Question. Repeat. Twice a day, every day.
With every whiff of kibble, I became more and more sickened.
Before the advent of Pet Fooled or outspoken leaders in the raw feeding community like Dr. Karen Becker or Dr. Ian Billinghurst, I knew the truth. I knew the AAFCO seal of approval was nothing more than lipstick on a pig.
That is not to say AAFCO (Association of American Feed Control Officials) doesn't serve a purpose. It is to say that the AAFCO designation of "complete and balanced" should not be confused with "ideal or healthy."
Tipping Point
Until three weeks ago, I had been feeding Sulley and Junior a combination of kibble and raw. It was the balance I found that worked for us.
I was able to give my dogs the whole raw meats they craved on a bed of kibble confidence. Between the two dog food diets, I believed Sulley and Junior would receive all they needed to be healthy and happy. [Read: What To Do About Dog Food? First, Let Go Of The Guilt!]
So, what changed?
Knowledge.
Since Junior's bout of lameness 8 months ago, I educated myself. I sought answers from raw feeding and breed experts and tapped into the plethora of raw feeding resources out there. I joined Raw Feeding Facebook Groups like Raw Fed Mastiffs.
I had countless conversations with Junior's breeder, my veterinarian, and other trusted dog lovers in my life; not all of whom feed a raw food diet to their dogs.
Knowledge is power!
Empowered
For the third and last time, I transitioned Sulley and Junior back to a 100% raw dog food diet.
The day I ran out of kibble was the day I declared, "Better now than never!" It was time for me to put my newly acquired knowledge into action on behalf of my best friends.
5 Reasons Why I Now Feed My Dogs Raw Food… Again.
1. Kibble Was Not Right For Me Or My Dogs
I don't judge those who feel differently and I certainly understand those (especially big dog folks) that feel they don't have an alternative to for economic reasons.
For me though, kibble represented defeat.
I felt as though every scoop of kibble mocked my ignorance and trepidation about raw feeding. And that only served to piss me off.
And the fact that in 8 months I went through 6 brands of kibble in search of just one my dogs liked only solidified that kibble wasn't right for my dogs either.
I felt as though every scoop of kibble mocked my ignorance and trepidation about raw feeding.

2. My Dogs LOVE Raw Food!
This is not an exaggeration.
Junior now whines as I weigh out his food, lovingly drooling at my feet. And when the bowls are ready, Sulley hops in circles barking at me to set the bowl down.
These actions might seem ill-mannered and annoying to some, but for Big Dog Mom, they are a heartwarming and welcome sight that I get a kick out of.
And BONUS – No toppers or goodies needed. Instead of using Primal Freeze-Dried Raw as a topper to get my dogs to eat, I can now use it to supplement when I travel or simply when I want to mix it up a little.
[READ: The Labrador Retriever May Hold Answers To Feeding Woes In Big Dogs]
3. Renewed Health and Vitality
In just three weeks I can already see small improvements in Junior's and Sulley's coat, teeth, and overall energy levels.
Accurately assessing health and vitality will be a long-term, ongoing process, and I have full faith and confidence we will see a return on investment as time goes on.

4. Better Hydration and Less Poop
With respect to #2 (ha!), I went from filling an empty 33 lb dog food bag halfway in a week's time with 3-5 large, smelly stools a day per dog, to 1-2 tiny, relatively stink-free stools per day per dog.
Living in the desert, hydration is something we take very seriously. Because their raw diet inherently contains significant amounts of water, Junior and Sulley want to drink less.
On kibble, they seemed to stay in a constant state of dehydration which resulted in them gulping and drinking large volumes of water at times. Now, I find myself having to encourage them to drink. A welcome change for a breed at risk of bloat.
So, in three weeks' time, my part-time job as Poop Pile Picker and Water Bowl Wiper has been replaced with Meat Prep Momma.
A welcome role for a weary back.
5. I Am In Control.
I decide what goes into their bowl and what doesn't.
There will be no mystery meals, byproducts, or cancerous preservatives in my dogs' food. My dog's raw food will be sourced from animals that are fit for human consumption, not 4D meat (dead, dying, diseased or disabled animals). I can add or subtract supplements as necessary while catering to each of my dog's individual needs.
As long as I continue to learn and grow as a raw feeder, I am confident in my ability to rise to this level of responsibility.
I believe we all have an inner raw feeder that is desperately trying to come out.
Whether you are prepared to take the plunge as I did, or you are more comfortable with raw food baby steps, the following are some terrific resources that I encourage you to check out.
9 Terrific Raw Food Resources
Perfectly Rawsome: One of the best resources for raw feeding on the web!
Real Dog: They make and deliver a monthly box of fresh species-appropriate treats and chews. **Tell them BIG DOG MOM sent you and you will get a FREE bag of TREATS in your first box!
Raw Paws Pet Food: Save 10% on ALL orders by using my special code: BIGDOG10, or

shop HERE for Raw Paws 50% off Sale

.
Darwin's Natural Pet Food: Highest Quality Raw Pet Food Delivered to Your Door.

Click HERE to read my full review of Darwin's

.
Dr. Karen Becker @MercolaHealthyPets. Her You Tube Channel has some terrific starter videos as well.