Disclosure
This post contains affiliate links from which I may receive a small compensation.  There is NO ADDED COST to you should you use these links.  I thank you very much for your support!
22. Have the freedom to slobber and shed everywhere as they are welcomed with open arms into our homes… and beds.
21. Are held to such high esteem that children are left declaring "you love the dogs more than me!" This is not true of course, but I prefer to leave that little window of doubt open for no other reason than to take advantage of the opportunity when it arises… "well, they don't talk back to mommy…"
19. Cause their owners to lose sleep at night worrying about them.
17. Receive professional veterinary care even when the diagnosis is they have an upset belly and just need a week of boiled chicken and rice to make them feel all better. With mastiffs, I can tell you from experience that's a lot of chicken and rice!
16. Are so loved and adored that dog owners actually debate the essentiality of vaccines, grain-free diets, and raised water bowls, all in the spirit of wanting to provide the best care for their big dogs.
15. Are pompously featured on bumper stickers blissfully unaware that they are competing with Honor Students everywhere.
14. Poop is regularly obsessed over for reasons ranging from sickness to wellness to the occasional waiting game for a valuable possession to resurface (so to speak).
13. Are met with laughter when they pretend to be lap dogs….until it hurts.
12. Early development and socialization are the topic of entire books, training sessions, Facebook groups and countless conversations between friends.
MyPet Petyard Passage 8-Panel Pet Containment
Price: $71.89
(120 customer reviews)
8 used & new available from $61.11
11. Are the recipients of more toys, treats, and gifts than their owners at Christmas.  Last year Santa blessed me (us) with a TwisStep and a Puppy PlayYard.
Heininger 3052 PortablePET Twistep Dog Hitch Step
Price: $249.95
(192 customer reviews)
13 used & new available from $249.95
10. Get new toys because the owner's joy of giving supersedes the logic behind their purchase or the obvious fate of death for the toy. Case in point – the emoji stuffy we bought which died exactly 5 minutes from it's arrival into our home.  The nerd emoji, while adorable, was not a smart purchase.
9. Get pictures taken rather than spankings when they are naughty.  Leave it to children to call us out on this hypocrisy.  "If we had done that….!"
8. Receive accolades, awards, ribbons, titles and rankings all on account of just being themselves. Big Dog Mom says that's ok for big dogs, but definitely NOT for kids.
7. Flourish with hundreds of dietary choices and have the luxury of turning their nose up when the mood strikes them. This of course causes us to scratch our heads and add more "goodies" so our beloved best friends don't go hungry.  Well played Big Dogs… well played.
6. Sleep peacefully and snore loudly, yet rather than telling them to move, we turn up the volume on the TV. Brings new meaning to the phrase "let sleeping dogs lie."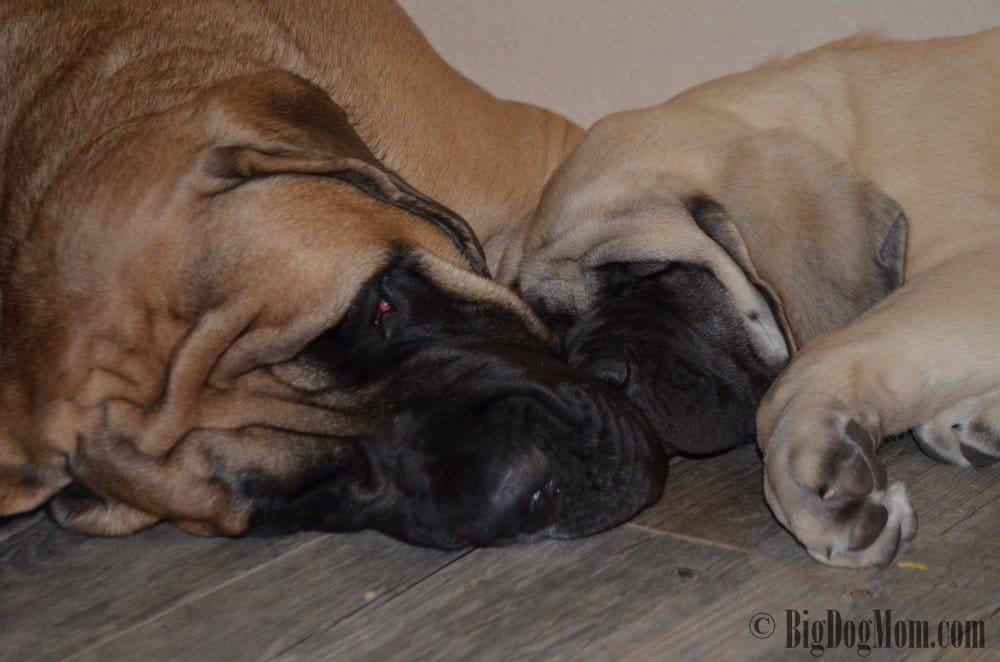 5. Have more pictures of them sleeping than all humans combined. Let's face it, people aren't that cute when they sleep.  Dogs, however, could not be more adorable!
Big Barker 7" Orthopedic Dog Bed with Pillow-Top (Headrest Edition) | Dog Beds Made for Large, Extra Large & XXL Size Dog Breeds | Removable Durable Microfiber Cover | Made in USA
Price: $279.95
(3175 customer reviews)
2 used & new available from $279.95
MidWest Homes for Pets XXL Giant Dog Crate | 54-Inch Long Ginormous Double Door Dog Crate
Price: $122.79
(1063 customer reviews)
18 used & new available from $110.51
Ruffwear WAVE ORANGE DOG FLOAT COAT and RED HYDRO PLANE TOY ♦ NEW 2018 PREMIUM LIFE JACKET BUOYANT SECURE REFLECTIVE ♦ ALL SIZES (Large)
Price: $104.90
(3 customer reviews)
1 used & new available from $104.90
RUFFWEAR - Swamp Cooler, Graphite Gray (2017), Large
Price: $59.95
(27 customer reviews)
7 used & new available from $59.95
2. Have entire BLOGs dedicated to them… crazy, I know!
1. Are loved and adored as members of the family. From the day that wrinkly little baby comes home until he is carried gently over the bridge, our lives revolve around our big dogs. And I don't know about you, but I wouldn't have it any other way!
I laughed as I put this short list together, reflecting on my crazy life with Junior and Sulley.
My dogs have these freedoms by virtue of their existence.  They selflessly give unconditional love and we attempt to match that with a loving, supportive home and a sense of humor.  I can only imagine how our lives would be different if we did not live in this country.
It is on this Fourth of July, we celebrate our independence and honor all those who so bravely fought for the cause of freedom.   We, and our dogs, are supremely grateful citizens of this great nation and feel blessed to be able to call America our home.
22 Reasons Why My Big Dogs Are Proud To Live In America
ultima modifica:
2017-07-04T09:09:08+00:00
da